Remittance at New Low: Inflow slides on oil price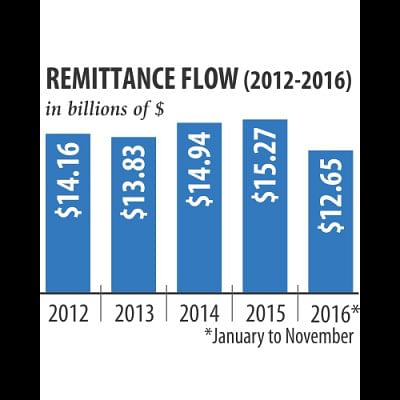 Remittance inflow fell by $1.3 billion in the last 11 months this year compared to the same period last year due to low oil prices on the global market and transfer of money from abroad through hundi, an illegal way to transfer funds.
The central bank statistics show remittance inflow was $12.65 billion from January to November this year, while it was $13.95 billion in the same period last year.
Last month's remittance totalled $951.37 million, which was $1142.49 million in the same month last year.
Except for a month or two, remittance has been on the slide every month since December last year.
This was mainly because incomes in the Gulf Cooperation Council economies are affected by low oil prices, which dropped to its historic low in January.
Bangladesh gets bulk of its remittance from the Gulf countries.
"The bonus and overtime payments have come down. Their [migrant workers] per capita income has gone down, while their living cost has gone up, cutting their savings," Zahid Hussain, lead economist at the World Bank's Dhaka office, told The Daily Star yesterday.
The remittance is on the decline despite a significant increase in the number of Bangladeshi workers abroad.
According to a WB development update report, 6.8 lakh Bangladeshi migrant workers went abroad in fiscal 2015-16, up 48 percent year-on-year. And 71.3 percent of them went to the GCC countries.
Saudi Arabia accounted for the highest incremental share, while a significant number of the workers went to Oman, Qatar and Malaysia.
There is anecdotal evidence that the real income of migrants is waning in the GCC countries, as prices for staple goods and public services have increased, according to the WB report released in October.
Saudi construction firms have been hit hard due to the lower oil prices, which have curbed and, in some cases, delayed government spending on major infrastructure projects. If the ongoing fiscal consolidation in the GCC countries is sharper than expected, remittance flows could slow sharply, the WB said.
Zahid Hussain said that the sending of money from abroad through hundi has increased, causing a slide in inflow of remittance through official channels.
The rate of US dollar in informal market is more than that in the official market. This encourages migrant workers to send money through hundi instead of official channels, he said. 
One gets Tk 82 for $1 in informal market but less than Tk 78 in official market.
The demand for US dollar has risen in the informal market, said Zahid Hussain.
One of the reasons is that militant attacks in different countries, including Bangladesh, have led banks and other financial institutions to enforce strict compliance of anti-money laundering laws in transferring funds. This has resulted in a rise in costs of money transfer through official channels.
Both the finance ministry and Bangladesh Bank have identified that hundi was a major reason behind the slide.
Last month, the issue was raised at a meeting of the fiscal coordination council with Finance Minister AMA Muhith in the chair.