Bangladesh Power Projects
Reliance, Adani to invest $5.5b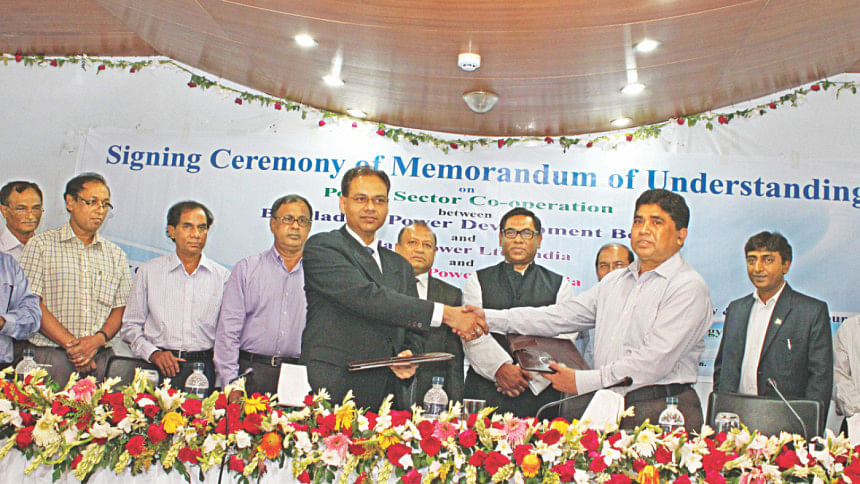 India's Reliance Power Ltd and Adani Power Ltd yesterday signed separate deals with Bangladesh Power Development Board to invest $5.5 billion here to generate 4,600 megawatts of electricity.
Reliance plans to spend about $3 billion to set up a 3,000-megawatt power plant based on imported liquefied natural gas, said Sameer Kumar Gupta, vice-president of Reliance Power.
Vneet S Jaain, chief executive officer of Adani Power, Zahurul Haque, secretary of BPDB, and Gupta signed the deals at a programme at Bidyut Bhaban in Dhaka.
The deals were signed at a time when Indian Prime Minister Narendra Modi is on a two-day visit to Dhaka to strengthen bilateral ties.
Reliance Power will also set up a floating storage and re-gasification unit in Maheshkhali.
"If implemented, the company will be the first to set up a large scale LNG-based power project and FSRU terminal in the country. It will be the largest foreign investment also in the country," said Gupta.
The location for the project has not been finalised.
Gupta said the first plant would be ready by 30 months.
"The country has a huge need for power. So we are encouraged to explore opportunities here. We hope to begin long-term power business in Bangladesh."
Reliance Power, a part of the Reliance Group, is India's leading private sector power generation and coal resources company.
Gujarat-based Adani Power, which is the largest private sector power producer in India, plans to invest $2.5 billion to build a 1,600 megawatts coal-fired power plant, said Raza Hasnain, adviser to the chairman of the company.
"The future of Bangladesh and the northeastern India is intertwined, and the project is good in commercial sense."
BPDB Chairman Shahinul Islam Khan said the plant would be set up in Maheshkhali island or any other suitable place in Bangladesh.
Adani Power has outperformed Indian rivals, including Reliance Power and Tata Power, to become India's largest private electricity producer. The group is also among India's biggest importers of coal.
Nasrul Hamid, state minister for power, sought India's cooperation in importing electricity from Bhutan and India.
Bangladesh now imports 500 MW of power from India and will import another 100 MW by next year and 500MW in the next two years, he said.
Hamid also said the allocation for the power sector has been doubled in the budget for the upcoming fiscal year so that the government can remove faults in transmission and distribution systems. "The faults will go within three years."
The state minister also said the government has resumed providing electricity connections to industries.
Monowar Islam, power secretary, urged the Indian companies to develop plants so electricity can be added to the national grid within three years.
Two other deals, which had earlier been planned to be signed with these two companies, have been dropped at the last moment.
The deals were: Adani's export of power from a coal power plant in India to Bangladesh and Reliance's sale of hydro-power from eastern India to Bangladesh.
Bangladesh last year had asked Reliance to sell a good part of power from its upcoming 1,200MW hydro power plant in Arunachal Pradesh.
Since last October, Reliance had been pursuing a proposal to build a two-part power plant with a capacity of producing 3,000MW.
The first part would be built by relocating its existing 2,400MW gas-fired plant from Samalkot in South India to Meghnaghat (which would have an installed capacity of 2,250MW); and the second part in Maheshkhali.
But the BPDB chief earlier said the government is not interested in any old power plant.
Yesterday's deal with Reliance did not mention where the LNG-based power plant would be built.
Bangladesh is looking for outside help to meet its growing demand for power. The country now generates, on average, 7,500 MW of electricity, catering to only two-thirds of the population. The government plans to generate 24,000 MW by 2021.