Protests rage through country, students fume
Case transferred to CID; police suspect strangulation; army wants quick probe, trial of culprits: ISPR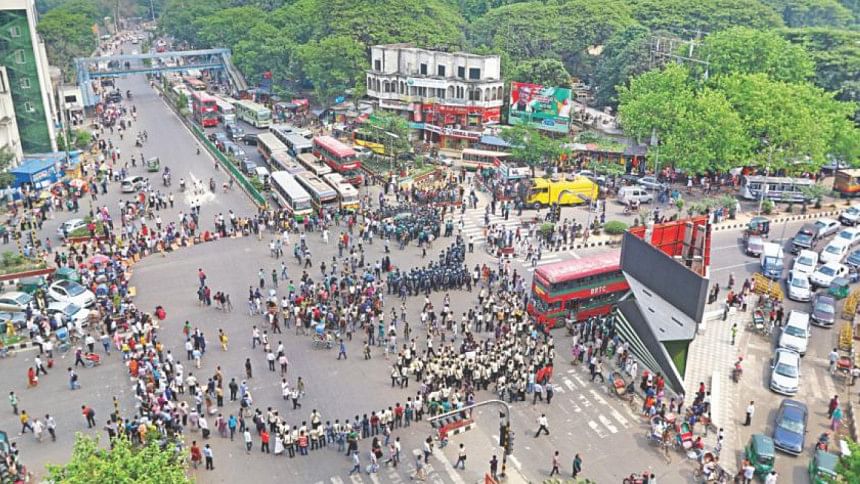 The case over the Tonu murder, which had touched off huge protests throughout the country, was transferred to the Criminal Investigation Department (CID) yesterday.
Comilla Superintendent of Police Shah Abid Hossain said they had received an official letter from the police headquarters over transferring the case to the CID.
Handover of the case to the CID from Comilla Detective Branch (DB) of police might take a day or two, he added. 
The DB, which got the charge of the investigation on Friday, was at the stage of analysing evidence and sending it to lab for forensic test, according to the SP.
On transferring the case from local police to the DB, a top official in Comilla police on Sunday said detectives are more skilled than local cops. They were asked to take over the case because of its merit and sensitivity.
A second-year history student of Comilla Victoria College and a cultural activist, Sohagi Jahan Tonu was found dead about 400 yards from her house inside Comilla Cantonment on the night of March 20, according to her family members.
As the demand for justice grows louder and protest surges across the country, people from all walks of life, especially students, yesterday demonstrated in many districts, including Dhaka, Comilla, Chittagong, Pirojpur and Gaibandha.  
Protesters condemned law enforcers' failure to detain any one though Tonu's father Yaar Hossain, an employee of Comilla Cantonment Board, filed the murder case just the day after finding her dead.
Local cops not even quizzed anyone apart from the family members.
Tonu's family members, including her parents, were interrogated by detectives and Rab on Saturday.  
Following a court order, investigators are supposed to exhume the body of Tonu today for a fresh autopsy. She was buried at her ancestral village Mirzapur under Muradnagar upazila of the district on March 21.
SP Shah Abid Hossain yesterday told the BBC Bangla that they sought exhumation of the body for a fresh autopsy as they needed more evidence.
He said they primarily suspected that Tonu was strangled. But, without a complete report, they cannot say whether she was raped before being murdered.
"Her lung was congested, heart congested and brain congested. She might have been killed through strangulation," he said.
Also yesterday, in a press release issued by Inter Services Public Relations (ISPR), the army yet again vowed to continue its cooperation in the murder probe, and demanded the culprits be brought to trial following a quick probe.
It said the body of Tonu was found in the bordering area of the cantonment around 11:00pm on March 20 and probe began according to the law.
Public representatives and officials from the administration, rights body Ain o Shalish Kendra and law enforcement agencies visited the crime scene and talked to her family. 
The army has been cooperating with the investigators since the beginning. But still a vested quarter has been making speculation-based statements about the army on the incident and creating confusion among the public. This is not expected, said the release.
"Tonu is our child" and her father is a member of the army family, it said, adding that every army person is shocked at her tragic death. 
In this situation, the army expects responsible statements from all.  
PROTESTS ON
Meanwhile, students of Dhaka University yesterday called for a daylong strike at all educational institutions in the country on April 3, demanding punishment to the killers of Tonu.
Several hundred students blocked the busy Shahbagh intersection for more than two hours from 1:00pm to press home their demand. They also brought out a procession from the DU campus to the intersection.
The protest disrupted traffic on the busy street.
Later, more protesters, mostly students from schools and colleges, joined the DU students, carrying placards and banners.
Ujma Tazrian, a DU student, gave the call for the strike on behalf of "general students" while briefing reporters at Shahbagh.
An alliance of 13 left-leaning and progressive student bodies expressed solidarity with the April 3 strike.
Ashraful Alam Sohel, co-ordinator of the alliance, said the culture of impunity lead to recurrence of incidents like murder and rape.
The protesters carried banners, including the one that read, "Your silence legitimises rape and murder one after another."
Some protesters stopped a car which was coincidentally passing through the area carrying an army official's wife. They pasted some posters on the windowpane but allowed it to pass by unharmed, said witnesses.
The Workers Party of Bangladesh (WPB) formed a human chain in front of the Jatiya Press Club in the capital yesterday.
At the human chain, its Polite Bureau Member Nur Ahmed Bakul, demanding justice for Tonu said the nation needs to come out of a culture of impunity, reads a press release.
Sammilito Sangskritik Jote, a platform of cultural organisations, will submit a memorandum to the home ministry on April 4 if investigators fail to make visible progress.
Its President Golam Kuddus announced the programme from a rally in TSC area.
Hasan Arif, general secretary, sought prime minister's order to the law enforcement agencies to carry out the murder probe without the slightest negligence.
Left-leaning student body Bangladesh Chhatra Union yesterday held a torch procession at Shahbagh and TSC areas following a rally at Raju Sculpture. Biplobi Nari Mukti also staged a protest march in front of the National Museum.
Students of Home Economics College, Dhaka, formed a human chain demanding highest punishment to murders of Tonu and security to women in all sectors, said a press release.
On Comilla Victoria College campus, several hundred students demonstrated from morning on the Shaheed Minar premises, now called "Tonu Chattar", to press home their demand.
Cultural activists and others continued their protest at Pubali Chattar of Kandirpar area at the heart of Comilla town yesterday.
They also went to different educational institutions as part of their campaign for justice.
At Chittagong University, students and teachers of dramatics department through a play protested the murder of Tonu, who was theatre activist. They formed a human chain and brought out a procession, demanding capital punishment to the perpetrators.
Protests were staged by students in Pirojpur district town while locals in Mathbaria upazila formed a human chain.
In Gaibandha, several hundred students and teachers of different educational institutes demonstrated on DB Road, demanding exemplary punishment to the killers without any delay.
[Our correspondents from Comilla, CU, Pirojpur and Gaibandha contributed to this report]