SCBA Polls
Pro-AL lawyers win eight out of 14 posts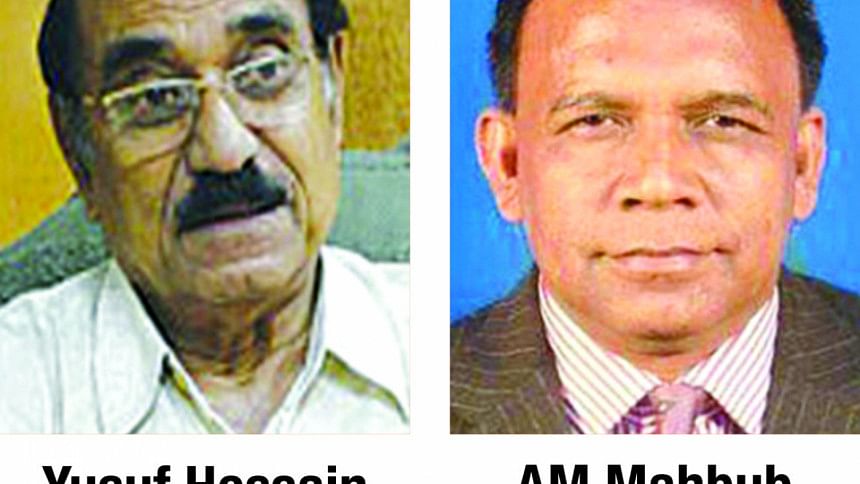 After six years, a candidate from the ruling Awami League-backed panel, Sammilito Ainjibi Samonnoy Parishad (SASP), has been elected as the president of Supreme Court Bar Association (SCBA).
The panel members bagged eight out of the 14 executive posts, also including that of the treasurer, in this year's SCBA polls. Pro-BNP lawyers' body Jatiyatabadi Ainjibi Oikkya Panel (JAOP) got the rest of the posts.
AL Advisory Council Member advocate Yusuf Hossain Humayun became the president while BNP leader AM Mahbub Uddin Khokon retained the post of the secretary.
Of the 3,921 votes that were cast, Yusuf Hossain Humayun got 2,047 votes while his rival Zainul Abedin, a BNP leader, 1,779 votes.
Mahbub Uddin Khokon bagged 2,057 votes. His opponent Azhar Ullah Bhuiyan secured 1,789 votes.
The other winners of SASP are Taherul Islam (vice president), Ramzan Ali Sikder (treasurer), AKM Rabiul Hasan Suman and Sheikh Sirajul Islam Siraj (assistant secretaries), Khan Mohammad Shameem Aziz, Abdul Aziz Mia Minto and Nashreen Siddiqua Nina (executive members).
The other winners from JAOP are Fahima Nasrin Munni (vice president), Kamal Hossain, Nasir Uddin Samrat, Nasir Uddin Ahmed Ashim and Rezaul Karim Reza (executive members).
The two-day SCBA polls ended on Thursday afternoon and the results were announced early yesterday.
The pro-BNP JAOP had been dominating in the elections since 2010.
Last year, the panel had won in nine posts, including those of the president and the secretary.
Talking to The Daily Star yesterday, Supreme Court lawyer Khurshid Alam Khan, also the editor of Dhaka Law Reports, a publication of SC judgements, said the lawyers have voted for the AL-backed panel members as they wanted change.