Pope praises Bangladesh for harmony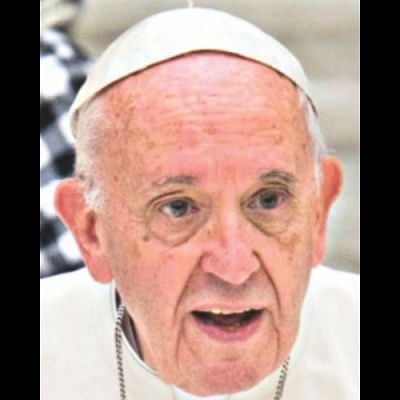 Pope Francis appreciates Bangladesh's inter-religious harmony and cultural diversity, which he will celebrate during his visit here next week, Catholic Church officials said yesterday.
"People of various faiths and ethnicity are living here peacefully. This is our tradition and culture," said Cardinal Patrick D'Rozario during a view exchange with journalists at Ramna Cathedral.
Pope Francis, the spiritual leader of the world's 1.29 billion Catholics, will visit Bangladesh during November 30-December 2 after his two-day visit to Myanmar and is expected to shed light on the refugee crisis caused by armed and communal conflicts in Rakhine State.
Cardinal Rozario said the pontiff is concerned about the Rohingya refugee crisis and would speak on it at various levels.
Meanwhile, the Pope, in a video message on the occasion of his visit, has called for fostering mutual understanding among people of all faiths and ethnicity as members of one human family.
"We are living at a time when religious believers and people of goodwill are called to foster mutual understanding and respect and to support each other as members of our one human family," he said in the message screened at the view exchange.
In his message of greeting and friendship to all people of Bangladesh, he thanked all who are working hard for making his visit a success and asked everyone to pray that his days here become a source of hope and support for all.
"I come as a minister of the Gospel of Jesus Christ, to proclaim its message of reconciliation, forgiveness and peace," the Pope said, asking all to open their hearts to others, especially to the poor and those in need.
During his visit, the Pope will visit the National Martyrs' Memorial in Savar and Bangabandhu Museum in Dhanmondi. He will also meet the President and Prime Minister.
He will celebrate Holy Mass, a prayer service at Suhrawardy Udyan, attend a civic reception at Ramna Cathedral, a youth gathering in Notre Dame College and hold meetings with religious leaders of different faiths and Catholic religious leaders.
Detailing the visit of the head of Vatican, Cardinal Rozario said the Pope will touch upon the issues of poor people, farmers, workers and the victims of climate change.
"The Pope will express solidarity with those who are marginalised. He would speak of inclusiveness," said Dr Alo D'Rozario, former executive director of Caritas Bangladesh, the social services wing of Catholic Church.
Pope's simple way of life, compassion for the common people and the principle that all people have the right to a dignified life is expected to inspire all during this visit, he said.
Bishop Shorot Francis Gomes of Dhaka said there are poor people in Bangladesh, but they have values of multiculturalism and harmonious coexistence, which will be significantly highlighted during his visit.
The people all over the world would get to know the more positive aspects of Bangladesh as the world media would be covering the papal visit, he noted.
Father Kamal Corraya, convener of the media committee, also spoke on the occasion.