Pintu dies in jail
It's a killing, says family; Khaleda blames PM, others for 'murder'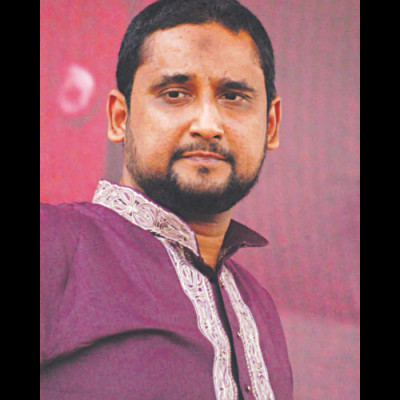 Former BNP lawmaker Nasiruddin Ahmed Pintu died of "cardiac arrest" yesterday.
He was 48.
The BNP assistant organising secretary was "brought dead" to Rajshahi Medical College Hospital from Rajshahi Central Jail at 12:15pm, Brig Gen AKM Nasiruddin, director of the hospital, told The Daily Star.
Relatives of Pintu have left for Rajshahi to bring the body to Dhaka. His namaz-e-janaza would be held in front of the party central office in Naya Paltan at 11:30am today.
Rois Uddin, head of cardiology department at RMCH, told this correspondent that Pintu had suffered cardiac arrest and the jail authorities delayed bringing in him.
Meanwhile, BNP chief Khaleda Zia and Pintu's family termed it a murder. 
Pintu was serving life-term for his involvement in the BDR carnage in Pilkhana on February 25-26, 2009, which left 57 army officers killed. He was moved to the Rajshahi jail on April 20 from Narayanganj jail.
He left behind his wife and two sons -- one studying at the University of Toronto and another at Scholastica school in Dhaka.
Doctors at RMCH brought allegations of negligence against the jail authorities. The allegations were denied by the jail authorities and State Minister for Home Affairs Asaduzzaman Khan Kamal.
Rois Uddin claimed that Pintu, who had been suffering from different ailments, including heart diseases, hypertension and diabetes, had died 20 minutes before he was taken to the hospital.
Following Pintu's death, Rois, in presence of the media, blamed the jail authorities for bringing him in late.
Superintendent Shafiqul Islam Khan of the Rajshahi jail, who was present there, was silent then.
Talking to The Daily Star, Rois said following a request from the jail authorities, he had gone to the jail for Pintu's medical check-up on May 2 but was denied access to Pintu.
Pintu was undergoing treatment at Bangabandhu Sheikh Mujib Medical University when he was in Narayanganj jail. April 25 was the date for his next check-up, doctors and family members said.
On security grounds and the long distance, Rajshahi jail authorities decided to treat him at RMCH and he was taken to the hospital on April 26, jail sources said.
Jail Superintendent Shafiqul claimed that they had taken Pintu to the RMCH immediately after he complained of severe chest pain at 11:45am. Talking to The Daily Star, he refuted all allegations of negligence.
He explained that they had requested the RMCH authorities on April 23 for sending doctors to the jail by April 25.
As no doctors went to the jail, the authorities took Pintu to the RMCH the following day.
On the allegation of Rois that he was not allowed to see Pintu inside the jail, Shafiqul said, "We have already treated Pintu at the RMCH [on Apr 26] and there was no need to treat him further."
He claimed that Pintu had told him that he was in "good condition" when the two talked on Saturday last.
"We were always in touch with him about his health," added Shafiqul.
Binning Rois's claim that Pintu was taken to the hospital dead, Shafiqul said, "If we had taken him dead to the hospital, then why had the emergency medical officer sent him to the cardiology department?
"They even admitted him [Pintu] to Ward-32."
Pintu had earned the trust of the BNP Chairperson Khaleda Zia and her son Tarique Rahman and became general secretary and later president of Jatiyatabadi Chhatra Dal, the pro-BNP student body.
He became a lawmaker in 2001 from then Dhaka-8 constituency.
He had filed for nomination to run for mayor in the April 28 Dhaka South City Corporation polls but his nomination was cancelled.
"IT WAS A MURDER"
Family members of Pintu alleged that he was killed in a planned way in jail.
"I want fair trial of my son's murder," Hosne Ara, Pintu's mother told journalists.
Pintu's brother Rintu said, "The High Court had ordered the jail authorities to treat him at a specialised hospital. Despite that, my brother was taken to Rajshahi from Narayanganj jail on April 20. He was not treated there."
"HASINA, OTHERS INVOLVED"
BNP Chairperson Khaleda Zia last night alleged that Prime Minister Sheikh Hasina was involved in the "killing" of her party's assistant organising secretary Pintu.
"I want to clearly state that Pintu has been murdered and a trial of this killing must be held. Hasina and others involved in the murder will not be spared," she said while exchanging greetings with the Buddhist community members on the occasion of Bouddha Purnima at her Gulshan office.
She questioned why the jail authorities "had not followed the court order to ensure Pintu's treatment".
"Nothing happens without Hasina's order. Pintu was taken to Rajshahi jail from Dhaka at her behest. Hasina is responsible for the killing," she said.
Describing him as a dedicated and tested party man, Khaleda expressed her grave shock at the death of Pintu and conveyed her sympathy to the bereaved family members.
"We have heard that a doctor went to the jail to treat him but he was not allowed to enter. Will you call them human beings?" she said.
She said Pintu was a lawmaker but the authorities were not allowing his namaz-e-janaza to be held at the South Plaza of the parliament as customary.
On the missing BNP joint secretary general Salahuddin Ahmed, Khaleda said the law enforcers had picked him up. "We want to know where Salahuddin is? Return him to his family unharmed. None will be spared if anything happens to him," she warned.
"We cannot sit idle when our leaders and activists are being killed one after another. We want peace, democracy, development and people's security. The government must ensure those. Otherwise, people will decide which path to take, peaceful or violent, to get rid of this repressive killer and lady Hitler."
She called upon people to unite and take to the streets peacefully to lodge their protest against the government.
Referring to the recently held city polls, Khaleda said massive rigging and capturing of polling stations by the ruling party cadres have proved their decision to boycott the January-5 national election was the right one.
She said Chief Election Commissioner Kazi Rakibuddin Ahmad was worthless and blind.