Pain they still bear
Victims narrate life 12 years after the blasts
Mahbuba Parvin is living with around 1,800 splinters in her body, two in her brain.
Her photo appeared in newspapers after the August 21 grenade attack. In blood-stained sari, she was seen lying among the dead on Bangabandhu Avenue.
She had a lifeless look and people took her to be dead.
After three days in coma, she started to move her limbs, and she regained full consciousness after 25 days.
"For me, being alive has become a curse. Every member of my family has been suffering for me," said Mahbuba, a leader of Dhaka district Swechchhasebak League.
 "The pains drive me crazy. I feel like destroying everything around me," she told this newspaper during a programme, held on Bangabandhu Avenue to pay tribute to those who lost their lives in the August 21 grenade attack in 2004.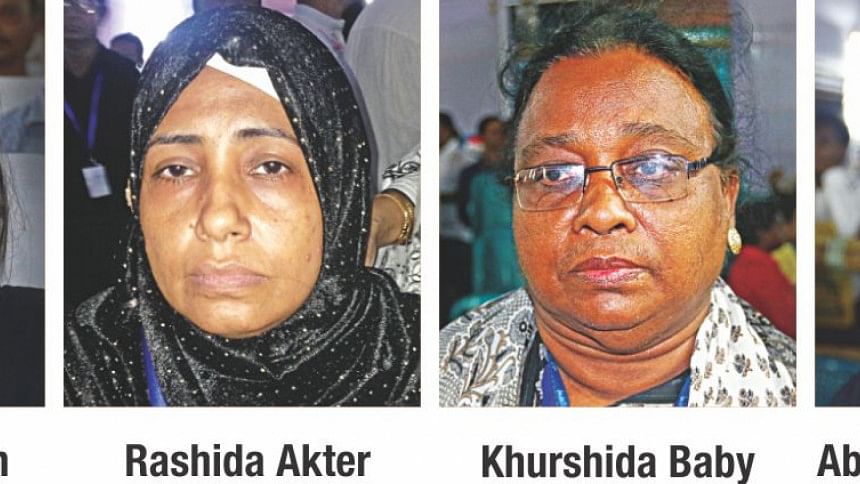 "Before August 21, I used to live like a queen. Now I am like a beggar," she said, adding she could not live a day without the assistance of doctors and others.
She was on crutches as she attended the event.
The grisly attack, on an Awami League rally on Bangabandhu Avenue, left 24 people dead and more than 300 others injured.
AL chief Sheikh Hasina, then leader of the opposition, narrowly escaped death but suffered damage to her right ear. Ivy Rahman, wife of late president Zillur Rahman, was among the dead.
Twelve years after the incident, survivors and family members of the deceased yesterday came to the same venue.
Some of the survivors told The Daily Star how the gruesome attack crippled them both mentally and physically.
Rashida Aktar Ruma, who is bearing 700 splinters in her body, said the pains make her mad.
"I was always physically fit. But because of the grenade attack, I have become a sick person for the rest of my life," she said, adding she is living with severe abdominal and ear pain.
"It would have been better had I died that day. Escaping death, now I feel the taste of death every moment," said Ruma, woman affairs secretary of Ward 69 of Dhaka city Mahila League.
"My pain will be eased to some extent if the culprits are punished," she added. 
Like Ruma, victims and families of the dead want justice. 
"The August 21 grenade attack turned my life upside down," said Khurshida Baby Hena. "I'm living with unbearable pain every moment."
Hena, a central committee member of Dhaka city Mahila League, joined the rally on August 21, 2004 after marching in a procession around 10km from Mohammadpur. Yesterday, she went there with the help of another Mahila League leader.
"When the pain intensifies, I feel it would have been better if I had died that day," she said.
Hena has long been suffering from diabetes and for this she could not undergo necessary surgery.
Abul Hossain Mollah was near the dais during the rally on August 21, 2004. Splinters hit his left thigh, rectum and head.
"In full moon or new moon, I feel intense pain. In hot weather, I suffer itching and in cold, I have some chilly feelings inside me," said Mollah, an activist of Awami League.