Hasina blames govt, asks it to quit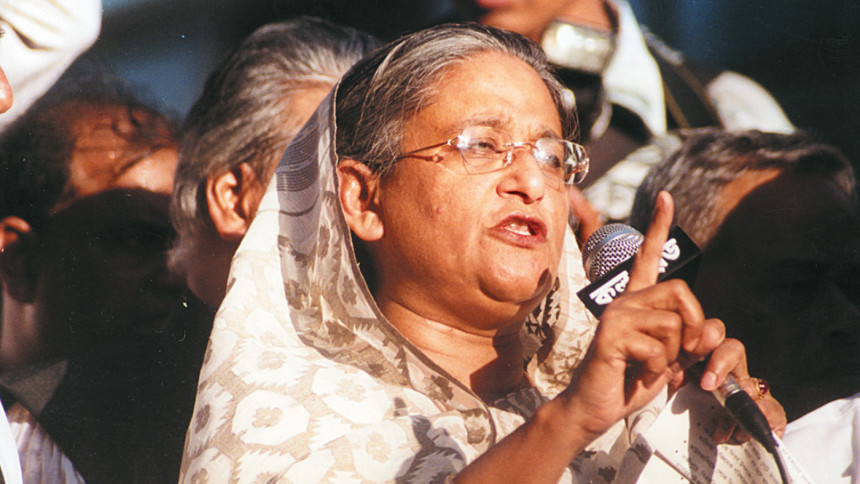 Leader of the Opposition Shiekh Hasina blamed the BNP-led coalition government for yesterday's bomb and gun-attacks that she had narrowly escaped and demanded its immediate resignation.
"When the bombs were hurled, my leaders and workers shielded me in such a way that I could escape the attacks," Hasina, also president of the main opposition Awami League (AL), told the BBC Bangla Service last night.
"The leaders and workers of my party saved me from the attacks at the cost of their lives," she said in an emotion-choked voice.
The AL chief demanded immediate resignation of the government, saying such bomb blast one after another across the country could no more be tolerated.
"According to the information I have received so far from the medical [Dhaka Medical College Hospital (DMCH)], 16 Awami League leaders and workers have died and Ivy Rahman [a frontline leader of AL's women wing] is fighting for her life," Hasina told the BBC Radio.
She also alleged the injured were not getting proper treatment at the DMCH and the government was indifferent to the violence.
The opposition leader lambasted the government for its failure to nab the criminals behind the bomb attacks that had been taking place across the country after it had taken over.
She also condemned police for baton-charging and arresting innocent AL leaders and workers when they rushed forward to rescue the wounded from the place.
"The activities of police prove that the government masterminded the bomb attack to kill Awami League leaders and workers including myself," Hasina argued.
On when her party would pacify its angry supporters on protest across the country, she said, "It is only natural that people will protest across the country, as many lives were lost in the attack."
On the party's next course of action, Hasina said the AL Central Working Committee would meet soon to decide on it.
"How can we take a decision on agitation now, when most of our leaders are either injured or dead by the bomb attacks," she asked.