Waiting for relief
Fever, diarrhoea cases rise amid heat wave across the country; children are the worst affected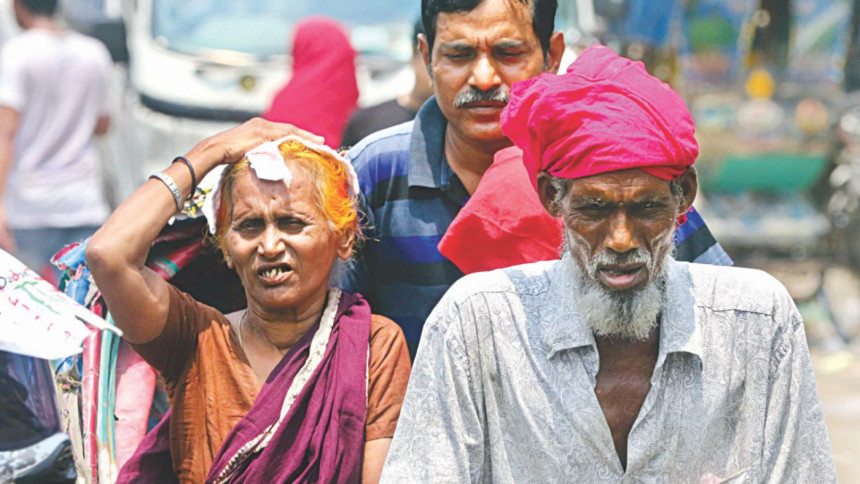 The weather is expected to cool down from tomorrow to the relief of people who have been experiencing a hot spell covering most of the country including the capital.
The weather forecast suggests that the mercury will begin to fall on Friday, said Ruhul Kuddus, a meteorologist at Bangladesh Meteorological Department. It may also rain in some places including Dhaka that day.
The highest temperature recorded by the Met office yesterday was 37.4 degree Celcius in Satkhira followed by 37.2 degree Celsius in Khulna and 37 degree Celsius in Jessore. Dhaka's temperature was recorded at 36.2 degree Celsius. 
Temperature during the day and night may remain almost unchanged across the country today, according to the Met office.
Mild heat wave has been sweeping through Dhaka, Barisal and Khulna divisions, and Rangpur, Dinajpur, Rajshahi, Pabna, Chandpur, Maizdicourt in Noakhali, Hatiya and Cox's Bazar, the Met official said.
Amid this sweltering weather, more and more people are suffering from fever, diarrhoea, cold and cough. Children are the worst affected.
Fifteen-month-old daughter of Mehbuba Haque, a resident of East Rajabazar in Dhaka, got fever. Her temperature was crossing 104 degree Celsius. 
"It is difficult to control children. They always run around and keep sweating," said the mother, adding that though she was staying home, she often felt unbearable heat, especially during cooking.
Usually 500 to 600 patients visit doctors at the outdoor facility of Dhaka Shishu Hospital, but now the number has gone up to 750 to 1,000 a day, said a physician at the hospital yesterday.
Day labourers, rickshaw-pullers and others working in construction or factory sites under the sun are facing the wrath of the heat wave. Many are seen drinking water or watermelon from roadside shops. 
Azharul Islam Khan, chief physician and head of the International Centre for Diarrhoeal Diseases Research, Bangladesh (icddr,b), said drinking unhygienic water outside and eating sliced fruits sold by the roadside might cause diarrhoea.
On average, 550 to 600 diarrhoea patients are visiting the hospital every day now.
"In this peak summer season, this number is usual. But this is of course higher than that in other times," he said.
Azharul said viruses become active in high temperature, which was why there were higher numbers of patients with fever. He suggested drinking adequate clean water, eating fresh fruits and taking rest as long as this hot spell lasts.
WORKERS FALL SICK IN HEAT WAVE
Meanwhile, 350 workers of 11 readymade garment factories in Kashimpur Industrial Area of Gazipur fell sick amid the mild heat wave.
Garment workers suddenly felt dizziness and stomach ache an hour after joining work in the morning, police and workers said. Some of them even suffered eclampsia.
Those who fell sick were rushed to Sharif General Hospital, Popular Hospital, Konabari Clinic and Haque General Hospital.
In such a situation, other workers became panicked and left work for home. Factory owners then declared yesterday off.
Dr Babul Ahmed Sharif of Sharif General Hospital in Konabari said that while heat might have caused some workers to fall sick, others might have been victims of hysterical conversion reaction disease.
"If one feels dizziness and collapses, someone close to him/her can do the same. Even it can happen in the case of heat stroke."