Agonising wait for organ transplant act amendment
World Kidney Day today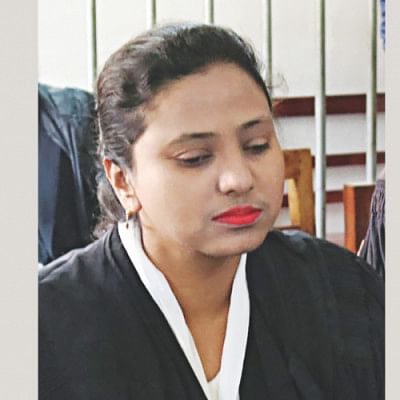 Still bearing the trauma of her last dialysis, Marjia Rabbani Shoshi was speaking with a smile until the subject of the Organ Transplantation Act 1999 (amended in 2018) came up.
"I worked hard to finish my studies, earned my licence, but now I cannot practise," said Marjia, the first blind lawyer of Faridpur Bar Association and a recipient of The Daily Star and IPDC Finance's Unsung Women Nation Builders Awards 2020.
With frustration, the 26-year-old explained how restrictions in the law have been an obstacle between Marjia and her dream.
Marjia suffers from end-stage renal failure and requires a kidney transplant. Having no eligible and willing donor in her immediate and extended family as defined by the law, her only hope is a nonrelative donor or a cadaveric one.
Though the law allows cadaveric transplant, the social taboo about removing organs from the body of a brain-dead patient makes the option an unlikely solution for patients like Marjia.
On the other hand, kidney from an unrelated donor can only be possible once the law is amended.
Last December, in response to a petition filed by the mother of another end-stage renal disease patient, the High Court ordered an amendment to the Organ Transplantation Act 1999 within six months, incorporating a provision to allow voluntary kidney donations.
At present, the Ministry of Health and Family Welfare is drafting the necessary amendments, said Barrister Rashna Imam, who represented the petitioner at the High Court.
Contacted, Law Minister Anisul Huq said, "Until it [the draft] comes to us, we cannot do anything in this regard. But what we will do is that we will urge them [health ministry] to finish the process and send it to us as early as possible."
Abdul Wahab Khan, joint secretary at the health ministry, said thedrafting was at a primary stage and more time would be needed.
THE SUPPLY-DEMAND GAP
The High Court in its verdict mentioned that an estimated 20 million people suffer from some form of kidney disease in Bangladesh and every year 35,000 to 45,000 of them die of kidney failure.
The court also observed that the estimated annual demand for kidney transplant is between 5,000 and 9,000 and only about 120 to 130 end-stage renal failure patients can find healthy donors and undergo kidney transplant per year in the country.
Many patients go abroad, especially to India, for a kidney transplant.
Chief Dialysis Technician and Trainer Tajul Islam of Gonoshasthaya Dialysis Centre said based on prescriptions of patients who come to the centre for post-transplant medicines, every year, 1,200 to 1,300 people go to India for kidney transplant, around 200 go to Singapore, 50 to Sri Lanka and about 100 to different European countries.
In an interview with The Daily Star on this issue last December, Chief consultant and founder president of Kidney Foundation Hospital and Research Institute Harun-ur Rashid said the Indian law allows donations that are based on emotion.
But in Bangladesh, relatives of many renal failure patients, through a network of agents, contact poor people willing to sell their organs illegally.
The agents reportedly approach potential sellers, who are screened and selected after rigorous medical test, and finally taken to the neighbouring country for the transplant.
One such patient with renal failure, wishing anonymity, told The Daily Star that after suffering from the disease for six years, he recently found a donor.
"I had to pay Tk 800,000 to the agent for searching a donor. I have to spend a total of Tk 25 lakh to Tk 30 lakh for the transplantation," he said, adding that the kidney seller would only probably get Tk 300,000.
He said if the law is relaxed soon, he can find an emotional donor and have the transplant in the country within Tk 3 to 5 lakh.
"I think this could be manageable for many patients like me," he said.
Although there are some private hospitals that have dialysis machines, these are not affordable for the poor, he added.
KEEPING HER FINGERS CROSSED
Meanwhile, dialysis is putting a financial strain on Marjia's family too. At present, she has to undergo two-three dialysis per week.
Each month, they have to spend around Tk 40,000 for dialysis and medicine, said her mother.
Besides, the treatment is taking a toll on Marjia's health.
The resilient young woman could not even attend the "Unsung Women Nation Builders Awards 2020" event, organised by The Daily Star and IPDC Finance on March 6, that was held to honour her and eight other brave women who made extraordinary contributions to the society.
"You cannot imagine how talented my daughter is! Her whole life was a struggle and she fought bravely," Afroza Rabbani, Shoshi's mother said at the event. She came to receive the award as Shoshi was at the ICU of a private clinic in the capital.
"My husband has passed away recently. If I lose my daughter, for whom I have fought since giving birth to her, can you imagine how I will live? " Afroza asked.
Marjia said, "I wish they would give my case special consideration," she hoped, talking to these correspondents after returning from the clinic. She said she has been trying to meet the Prime Minister to request her to expedite the amendment process.
The young woman is not ready to give up yet. With hope in her voice, she said, "If the operation [transplantation] is done this year, next year I will contest at the Faridpur Bar Council election.
"I want to be a good lawyer, so that people will know me by my name."