UNHCR concerned by Bhasan Char demo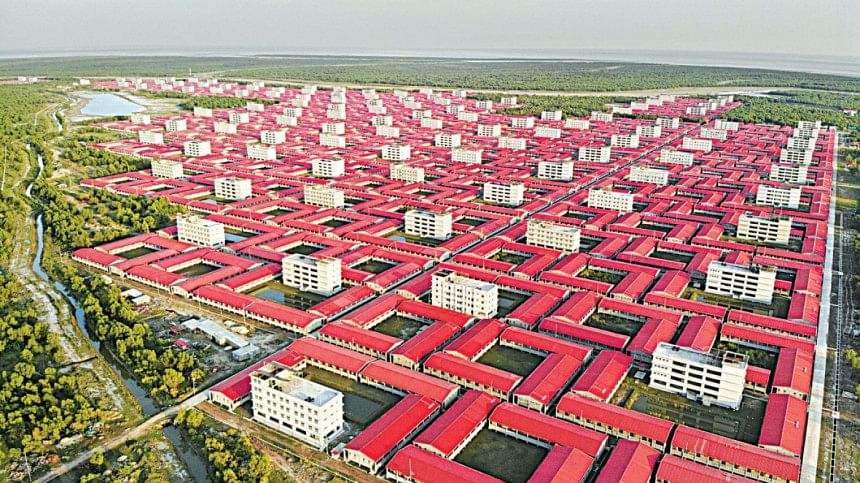 The UN Refugee Agency has expressed deep concerns over reports of events in Bhasan Char where several thousand Rohingyas demonstrated as two high UNHCR officials visited the housing project for the refugees.
"We are deeply concerned to learn of reports of refugees who have been injured during today's events on the island. We regret that those affected reportedly include children and women," the UNHCR said in a statement last night.
It did not elaborate how the Rohingyas were injured, but media reported that thousands of Rohingyas yesterday demonstrated in Bhasan Char when two high officials of the UN Refugee Agency headquarters visited the housing project.
Several thousand Rohingya staged "unruly" protests Monday against living conditions on a cyclone-prone island off Bangladesh where they were moved from vast camps on the mainland, police said, reports AFP.
The protest involved up to 4,000 people, police said, and coincided with an inspection visit by officials from the United Nations refugee agency (UNHCR).
"The Rohingya who are there became unruly the moment the UNHCR representatives landed [on the island] by helicopter today," local police chief Alamgir Hossain told AFP.
"They broke the glass on warehouses by throwing rocks. They came at the police... Their demand is they don't want to live here."
One Rohingya man confirmed to AFP that bricks were thrown and that police prevented them from entering a building where the UNHCR officials were present.
An international rights activist said police used batons to disperse the protesters. Quoting Rohingya sources, he said several protesters were injured.
Police rejected the claim.
A police spokesman said Rohingya protesters attacked officers, injuring several of them. They also damaged cars on the island, he said.
Some 20,000 Rohingyas were relocated to Bhasan Char since December last year. Bangladesh Navy constructed the facility for 100,000 Rohingyas for relocating them from Cox's Bazar camps where some one million Rohingyas took shelters, mostly after the brutal military crackdown in Myanmar's Rakhine State in 2017.
The Bangladesh government has been seeking UN's engagement in Bhasan Char, but the UN said it was in discussion with the government on the specifics of how to engage though a UN team after a visit to Bhasan Char in March this year made positive remarks on it.
A UNHCR delegation including the UNHCR Assistant High Commissioner for Operations and the Assistant High Commissioner for Protection to Bhasan Char visited Bhasan Char yesterday. Later, they flew to Cox's Bazar.
UN Refugee Agency, following the visit, in a statement said the safety and wellbeing of refugees is their main priority.
"We continue to urgently seek additional information on the condition of those affected and urge that they receive adequate medical assistance."
During yesterday's visit, the UNHCR delegation was able to meet with a large group of refugees and to listen to the various issues that they raised, which the delegation will further discuss with the Bangladesh authorities.
The delegation will visit the Rohingya refugee camps in Cox's Bazar today before returning to Dhaka to meet with senior government officials, the statement added.