Trump cutting US ties with WHO
Moves toward ending HK privileges in volley on China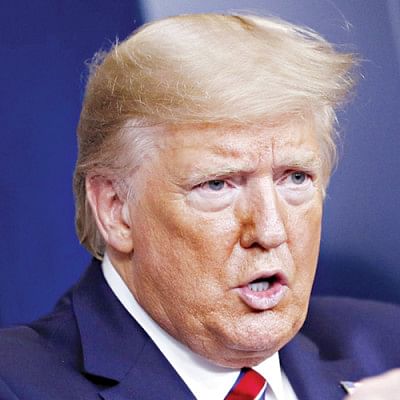 The United States will end its relationship with the World Health Organization over the body's handling of the coronavirus pandemic, US President Donald Trump said on Friday, accusing the UN agency of becoming a puppet of China.
The move to quit the Geneva-based body, which the United States formally joined in 1948, comes amid growing tensions between Washington and Beijing over the coronavirus outbreak. The virus first emerged in China's Wuhan city late last year.
Trump also ordered his administration to begin the process of eliminating special US treatment for Hong Kong to punish China, but stopped short of calling an immediate end to privileges that have helped the territory remain a global financial centre.
Speaking in the White House Rose Garden, the US president said Chinese officials "ignored their reporting obligations" to the WHO about the virus - that has killed hundreds of thousands of people globally - and pressured the agency to "mislead the world."
"China has total control over the World Health Organization despite only paying $40 million per year compared to what the United States has been paying which is approximately $450 million a year," he said.
Trump's decision follows a pledge last week by Chinese President Xi Jinping to give $2 billion to the WHO over the next two years to help combat the coronavirus. The amount almost matches the WHO's entire annual program budget for last year.
Trump last month halted funding for the 194-member organization, then in a May 18 letter gave the WHO 30 days to commit to reforms.
"Because they have failed to make the requested and greatly needed reforms, we will be today terminating our relationship with the World Health Organization and redirecting those funds to other worldwide and deserving urgent global public health needs," Trump said on Friday.
It was not immediately clear when his decision would come into effect. A 1948 joint resolution of Congress on US membership of the WHO said the country "reserves its right to withdraw from the organization on a one-year notice."
The World Health Organization did not immediately respond to a request for comment on Trump's announcement. It has previously denied Trump's assertions that it promoted Chinese "disinformation" about the virus.
The European Union yesterday called on the US to "reconsider" the decision to sever ties with the WHO over its handling of the coronavirus pandemic.
TRUMP STRIPS HK PRIVILEGES
Trump used some of his toughest rhetoric yet against China, saying Beijing had broken its word over Hong Kong's autonomy by moving to impose new national security legislation and the territory no longer warranted US economic privileges.
At the White House news conference, Trump called this a tragedy for the people of Hong Kong, China and the world, having already attacked Beijing over the coronavirus pandemic, which began in China. Trump said China's "malfeasance" was responsible for massive suffering and economic damage worldwide.
"We will take action to revoke Hong Kong's preferential treatment as a separate customs and travel territory from the rest of China," Trump said, adding that Washington would also impose sanctions on individuals seen as responsible for "smothering - absolutely smothering - Hong Kong's freedom."
He did not name any of the potential sanctions targets. Trump said his announcement would "affect the full range of agreements we have with Hong Kong," from the US extradition treaty to export controls on dual-use technologies and more "with few exceptions."
"Our actions will be strong, our actions will be meaningful," Trump added.
China's state-run Global Times newspaper called Trump's announcement "recklessly arbitrary."
Trump gave no time frame for the moves, suggesting he may be trying to buy time before deciding whether to implement the most drastic measures, which have drawn strong resistance from US companies operating in Hong Kong.
He also said he was issuing a proclamation to better safeguard vital university research by suspending entry of foreign nationals from China identified as potential security risks.
Sources, including a current US official, told Reuters on Thursday that the latter move could affect 3,000 to 5,000 Chinese graduate students.
Financial markets saw Trump's announcement as more bark than bite and US stocks finished mostly higher as it was seen as less threatening to the US economy than investors had feared.
"I don't think a lot has changed," said Craig Allen, president of the US-China Business Council. "We haven't taken steps that really ratchet up the tension even more."
He said he interpreted the actions rescinding Hong Kong's special status as being first subject to review by various agencies and not happening immediately.