TIB survey on Dhaka Wasa: Rampant graft, poor service
Nearly 45 percent service seekers in the capital don't get the desired amount of water from Dhaka Wasa, Transparency International Bangladesh said yesterday citing its survey.
In slum areas, the shortfall against the demand is 72 percent while it is 45.8 percent in residential areas, 35 percent in commercial areas and 19 percent in industrial areas, TIB said.
Besides, about 35 percent service seekers complain of poor-quality water throughout the year.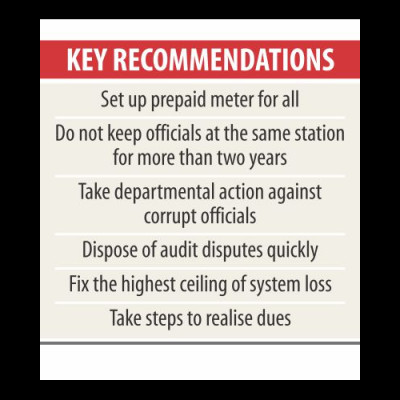 Because of this, 91 percent clients of the Water Supply and Sewerage Authority have to boil water before drinking, although it was already supposed to be safe for drinking, the study said.
On an average, this second layer of purification at the individual level costs natural gas worth Tk 332 crore every month, TIB Executive Director Iftekharuzzaman said, while presenting the findings at a press conference at his office in the capital.
Sixty-two percent of those seeking water and sewer connections from Wasa become victims of corruption, harassment and irregularities, according to the study.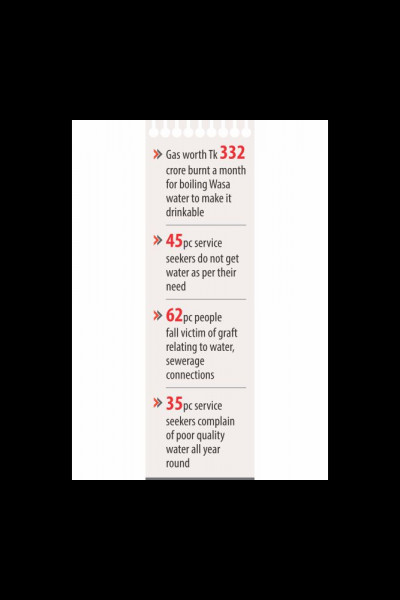 Corruption takes place at "mutual connivance". As a result, it's difficult to identify the corrupt person, Iftekharuzzaman said, adding, "But, it's still possible for the Anti-Corruption Commission [ACC] to unearth these rampant grafts."
TIB prepared the study, titled "Dhaka Wasa: Challenges of Good Governance and Way Forward", after surveying 2,728 connections and service recipients since April last year. The graft watchdog randomly picked 142 out of the 284 areas in 10 Wasa zones for the survey. A cluster of 72 connections was made in each area and 24 connections were taken as random samples.
Dhaka Wasa has a total of 3,74,034 water connections of different kinds --residential, commercial and industrial -- spanning over an area of 360 square kilometres in Dhaka city and Narayanganj.
Wasa claims the daily demand for water in those areas is 230 crore litres and it can produce 240cr litres.
According to the TIB study, Wasa depends on its underground source for 78 percent of the water supplied to 1.7 crore people. The rest of the water is treated surface water.
The TIB said Wasa remains "beyond accountability". The Collective Bargaining Agent (CBA) makes "unwanted interferences" in Wasa's activities, making governance difficult, it added.
Asked for comments, Wasa Managing Director Taqsem A Khan, in a text message, last night wrote, "I haven't read the [TIB] report yet. I will arrange a press conference on it soon." 
Md Shahanur Rahman and Md Sahidul Islam, two researchers of the TIB, read out the detailed findings at yesterday's programme.