TIB demands review of Digital Security Act
Says 'repressive' provisions must be dropped to ensure press freedom, free flow of info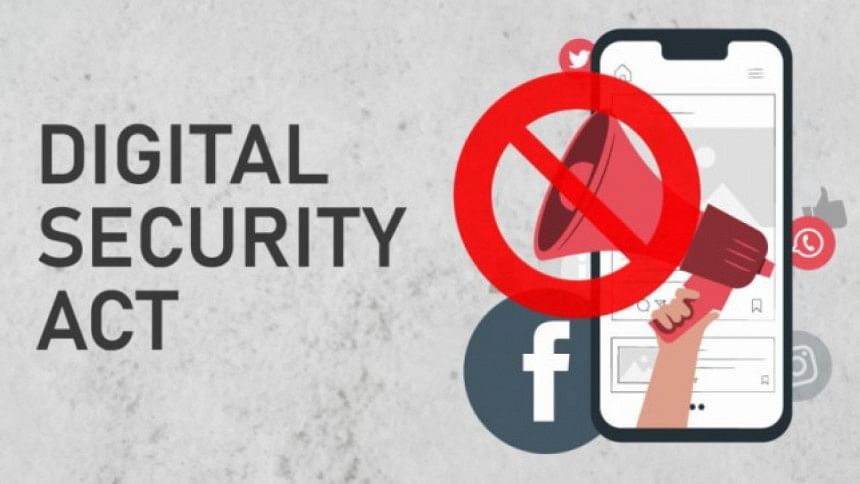 Transparency International Bangladesh (TIB) yesterday demanded that the Digital Security Act 2018 be reviewed with its "repressive" provisions dropped to ensure the free flow of information and press freedom.
Journalists and academics while attending a virtual discussion organised by TIB also said that the government's limiting of information was a big hurdle for universal access to information.
They also said that journalists should increase their skills and capacity for making investigative reports to make the authorities concerned accountable. Media houses should also encourage and help journalists to do more investigative reports.
Currently, the country's media is experiencing a suffocating situation, said Masum Billah, TIB's deputy programme manager (outreach and communication), in a keynote presentation at the discussion.
TIB arranged the discussion marking the International Day for the Universal Access to Information.
He said Bangladesh witnessed a number of corruption incidents in different sectors during the ongoing coronavirus pandemic.
But journalists faced harassment and repression for covering such corruption incidents, he said, adding that 37 journalists have been sued since the first coronavirus was spotted in early March.
He also said 67 cases were filed under the DSA during this period while at least 88 people were arrested for "spreading rumours and false information."
Masum said 180 journalists are currently facing cases under the DSA and section 57 of the ICT Act filed since the beginning of 2018.
He said the DSA should be reviewed in line with international standard.
During the presentation, he also mentioned that many journalists are losing jobs during the coronavirus crisis. If journalists cannot earn a living, the media sector will plunge into a crisis.
TIB Executive Director Iftekharuzzaman said the government organisations' limiting of information has put pressure on investigative journalism.
"This is an ominous sign for democracy", he said.
Pressure on journalism is a hurdle for curbing corruption and ensuring accountability, he said, adding, "This is suicidal and can turn into a boomerang."
Journalist-writer-researcher Prof Afsan Chowdhury, Dhaka University Prof Gitiara Nasreen and journalist Julfikar Ali Manik, among others, emphasised on the preparation, studies, enhancement of skills and capacities of journalists for their development.
They said if the journalists do not improve themselves they will not be able to make the authorities concerned accountable and challenge them for the betterment of the society.
At the programme, TIB announced names of four journalists and a TV programme for their significant roles in investigative reporting on corruption.
Arifur Rahman of The Daily Kalerkantho was awarded in the national print media category while Shafiq Shahin of NTV was awarded in the national electronic media category.
In the local print media category, Foysal Islam of Jashore-based daily Gramerkagoj and Mohammad Salim of Chattogram-based Weekly Chatgarbani jointly won the award.
Searchlight, a programme broadcast by Channel 24, won the award in the TV documentary category.
TIB has been giving the investigative journalism award since 1999.