Myanmar on Cusp of A Civil War: Another refugee influx on horizon?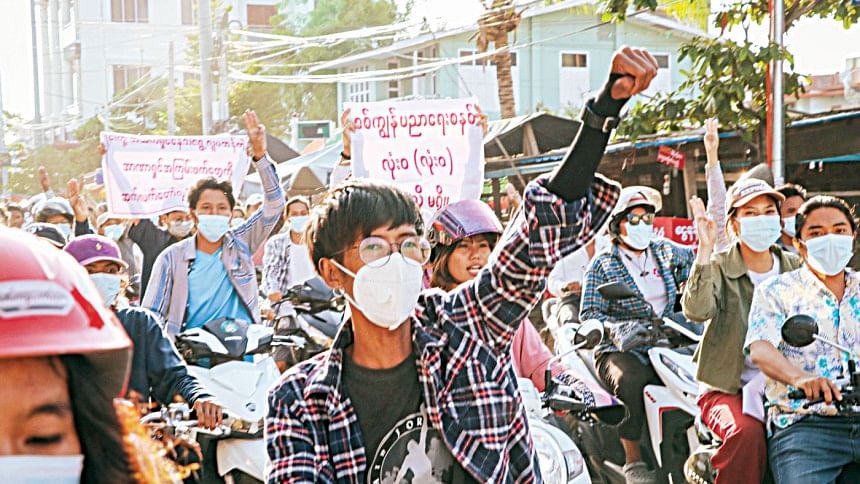 With a civil war brewing in Myanmar, Bangladesh has much to worry about, as the face-off between the junta and the National Unity Government and its allies could result in a refugee influx once again, according to security and international relations analysists.
Cases of human trafficking through the sea may also increase, they added.
The insurgents in the frontier regions may attempt to take shelter within Bangladesh territory if Myanmar slips into a full-blown conflict. Rohingya repatriation, as well as the regional connectivity, may be at stake, they said.
The crisis began following the February 1 military coup that overthrew the elected MPs of the National League for Democracy (NLD). Leaders, including Aung San Suu Kyi, were arrested. Crackdowns on the demonstrators left more than 850 dead so far.
In mid-April, the elected NLD MPs, representatives from different ethnic minority groups, including Karen, Kachin, Mon, Karenni, Chin, Kayan, and independent MPs, formed the National Unity Government (NUG) with Win Myint as the president and Aung San Suu Kyi as the State Counsellor.
The shadow government is seeking international recognition and bringing together pro-democratic forces, including numerous ethnic rebel groups, to reverse the military takeover.
It also formed an armed wing named "People's Defense Force" (PDF) to launch a revolution against the military junta and signed an agreement with the rebel Chin National Front in this regard.
The junta, however, termed the PDF a terrorist organisation on May 8, raising the possibilities of further confrontations, said analysts.
Local media reported that there have been sporadic attacks in various parts of Myanmar.
The latest attack was on June 5, in which at least 20 people were killed by Myanmar's security forces in the Ayeyarwady river delta region, after villagers fought back against troops searching for weapons.
"The people of Myanmar have been left with no other choice…," said Dr Sasa, spokesperson for NUG, in a statement, adding that the constant threat of military raids, arrests, torture and killings had pushed communities to take up arms.
"It is just the beginning. The situation will spin out of control. Even if it is one man in a village, they will not just bow in front of these murderers. The whole country is on the road towards a civil war."
Maj Gen ANM Muniruzzaman (Retd), president of Bangladesh Institute of Peace & Security Studies, said Myanmar is drifting towards a civil war.
Its military has the support of big powers like China and Russia, while the western powers have not cut off relations with Myanmar military as they have economic interests, even though they want the restoration of democracy. The ASEAN, Japan, Singapore and India all are still soft on Myanmar military, he said.
On the other hand, it seems the people in Myanmar are quite brave and continuing to resist the military.
Prof Delwar Hossain of International Relations at Dhaka University said the situation in Myanmar may remain unstable for a long time, as the powerful military, which has the history of killing civilians notoriously, will do its best to survive.
Security analyst and former election commissioner Brig Gen (Retd) M Sakhawat Hussain said the NUG has yet to gain any international support, but western powers may eventually support it.
Brig Gen (Retd) Shahedul Anam Khan said the events in Myanmar suggest that ethnic rebel groups will join forces to fight the military. There is no visible solution to the crisis with the international community taking no concrete actions till even yesterday.
He said conflicts in Myanmar, which have already displaced more than 100,000 people, can lead to an influx (of refugees). Already, several thousand Myanmar nationals have fled to India's Mizoram and Thailand.
Muniruzzaman said a civil war in a country also means trouble for its neighbours.
"If we look at the Syrian crisis, all the neighbouring countries were affected. During Afghanistan's crisis, Pakistan has been in trouble with a huge influx of refugees."
There are risks of human trafficking through the sea,  as discovered in 2015, he said, adding that major powers at play over Myanmar have serious security implications in the Bay of Bengal that could see suspicious maritime movement. 
Bangladesh needs to have its strategies ready considering different scenarios, Muniruzzaman said, adding, "We cannot afford to be caught off guard like in 2017, when an influx of Rohingya refugees took place."
Shahedul fears ethnic minorities, who will be the main target of the Myanmar military, may cross the border into Bangladesh. He suggested strengthening surveillance on the border.
Analysts think the progress towards implementation of cooperation mechanisms, like China-led Belt and Road Initiative or sub regional cooperation like Bangladesh-China-India-Myanmar and India-Myanmar-Thailand Trilateral Highway Project, will be hampered due to the long-term instability in Myanmar.
Also, the prospect of Rohingya repatriation, which has been hanging for about four years since some 750,000 Rohingyas fled a military crackdown, becomes slimmer as the internal security situation in Myanmar worsens.
"However, we need to keep pushing for it. We need to work for the Rohingya genocide case at the International Court of Justice. We cannot lose sight of it," Delwar said.