Students Amid Closure: Walled in by uncertainties
Shabeeb has been having trouble concentrating on his studies for the last few days.
Stuck at home for six months, the fourth grader of a reputed private school in the capital has become bored and depressed. Ever since his school was closed on March 17 because of the Covid-19 outbreak, he has been missing his playful peers at school and that small playground.
"I don't feel good to be at home all the time. I want to go outside, but my parents don't let me; it's too boring. I feel sad and lonely even though I have support around me," said the 11-year-old boy from Mohammadpur.
Shabeeb attends online classes, but he hardly sits for an hour a day to study at home. He spends most of his time playing with toys and watching YouTube videos, said his father, Mahmud Reza.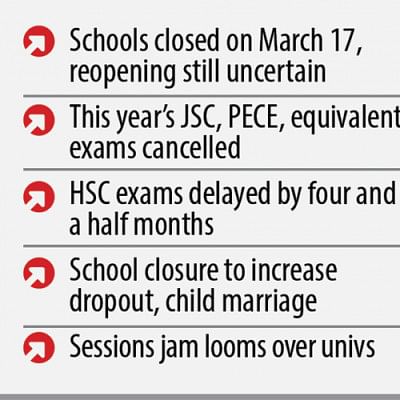 "Like many other parents, we are anxious about our son's future if things go on like this," he said.
Parents of tens of thousands of students are concerned about the effects of the unprecedented length of school closures.
On March 17, the government closed the schools to contain the spread of coronavirus. The authorities have yet to decide when to reopen the educational institutions. The long closure has led to the cancellation of exams and left academic calendars in disarray.
Probably most importantly, the closure drastically changed the daily lives of thousands of students. It also put considerable psychological effect on them.
Azizur Rahman, an honorary professor at Dhaka University's psychology department, said, "Due to the closure, many of the students are feeling suffocated, which is stressing them out.
"These students have become restless, uncontrollable, reactive and cannot concentrate on anything… This will negatively affect their mental and physical development," he said, adding that many of these children might not be able to forget the miserable memories.
Parents are also faced with the challenge of having to take care of the children at home all the time and manage their work.
LOSS OF LEARNING
School is not just for learning lessons, it is a source of social activities and human interaction, said educationists.
The learning gap will have long-term effects on children's future education, they added.
When schools are closed, many children and youth miss out on social contact that is essential to learning and development, according to UNESCO.
Despite the shutdown, schooling hasn't stopped completely. The school authorities, teachers and parents are working hard to impart lessons online, but the efforts are not likely to provide anything close to the quality of education delivered in classrooms, experts said.
The students in urban areas have access to learning through the internet, but the digital divide has so far proved to be a great disadvantage for the underprivileged learners as they face the prospect of dropping out, they added.
The annual school contact hours in Bangladesh has mostly been lower than the global average. But the shutdown has brought the contact hours further down.
Primary students lost between 320 and 680 school contact hours in the last six months and learning time at secondary schools also came down as they lost 109 days of class activities.
The international annual average of school contact hours is around 1,000.
"The students are being subjected to a learning gap as the government efforts to cover the loss through TV and internet falls short of meeting the need," said Prof Siddiqur Rahman, former director of the Institute of Education and Research at DU.
"These interim efforts are not likely to provide the quality of education that's delivered in classrooms. The students can hardly ask questions or participate in the classes."
While the precise learning losses are not known yet, existing research findings suggest that the students in grades 1-12 affected by the closures might expect about 3 percent lower income over their entire lifetimes, according to study by the Organisation for Economic Cooperation and Development (OECD).
For nations, the lower long-term growth related to such losses might yield an average of 1.5 percent lower annual GDP for the century, said the study.
As of today, students of grade I and II of double-shift primary schools lost around 325 school contact hours due to the shutdown, according to data from the Directorate of Primary Education (DPE).
Students of grade III, IV and V of the same types of schools lost 362 contact hours.
The secondary students are supposed to attend classes on about 228 days a year.
But many secondary institutions are used as centres for public examinations. Students of these institutions lose classroom learning in about 47 days as a result, said Belal Hossain, director of Directorate of Secondary and Higher Education.
"We cannot exactly say how many contact hours a secondary student lost. But they attend schools for five hours a day," he said.
Teachers said that on an average, a student attends five to six classes a day. Duration of each class is 50 minutes. So, the students' learning time at school is just over 4 hours a day.
After the school closure, the government started TV education through Sangsad TV for secondary and primary students.
But according to the government's Covid-19 Response Plan for the Education Sector, only 44 percent of the children aged between 5 and 11 in rural areas have a TV at home. In urban areas, it is 75 percent.
"This interim arrangement only partially fulfills the objective as many underprivileged and poor people do not have access to a TV and internet," said Prof Siddiqur Rahman.
Senior Secretary Akram-Al-Hossain of primary and mass education ministry said various steps have been taken to lessen the learning gap.
The ministry will study 20,000 schools to assess how much learning gap was created. "We will have a special plan to cover the gaps," he added.
DSHE Director General Prof Md Syed Golam Faruk said students who do not have access to digital devices and internet connections will suffer more losses.
The government is uploading all digital content at a platform so that students can take a look whenever they need, he said.
Education of university students across the country has also been affected due to the pandemic.
Many students are fearing session jams if the situation continues for a few more months.
The pandemic also left many teachers with reduced or no income. A number of schools, including the unregistered kindergartens, have faced closure, forcing many teachers to move to other professions.