Transcom, Star, Prothom Alo on top taxpayers' list
Transcom Group Chairman Latifur Rahman among highest taxpayers in Dhaka; Mahfuz Anam, Matiur Rahman among top taxpaying journalists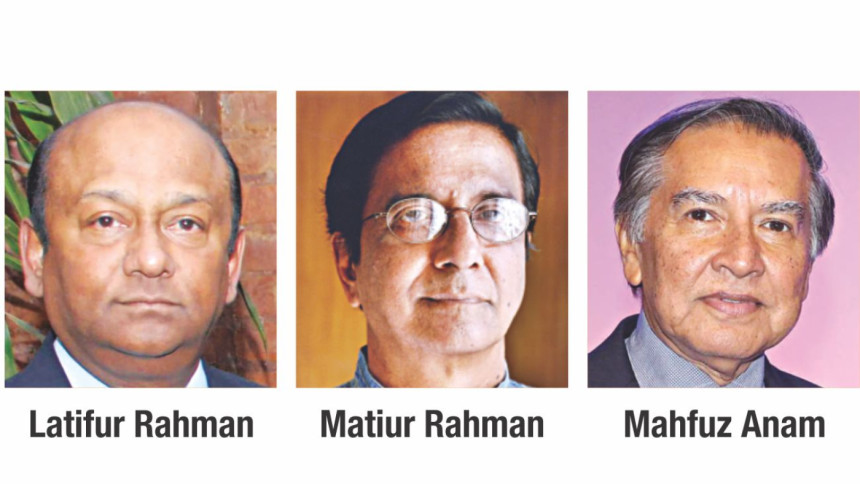 Transcom Group Chairman Latifur Rahman is one of the top taxpayers in Dhaka city corporation area. The Daily Star Editor Mahfuz Anam and Bangla daily Prothom Alo Editor Matiur Rahman have once again made it to the list of highest taxpayers in journalist category. Then, out of the four top taxpaying companies in print and electronic media category, three are linked with Transcom Group.
MA Malek, editor of the Dainik Azadi of Chattogram, Shykh Seraj, director and head of news of Channel I, and Naem Nizam, editor of Bangladesh Pratidin, are among the five top taxpayers in journalist category.
On the other hand, the three companies named highest taxpayers in print and electronic media category are The Daily Star's owning company Mediaworld Ltd, Prothom Alo owner Mediastar and the printer of the dailies Transcraft Ltd. East West Media Group Ltd is another highest taxpayer in this category.
Four of the five highest taxpaying journalists were on the previous year's list. Late Samakal editor Golam Sarwar was among the five journalists. This time, he has been replaced by Naem Nizam.
A National Board of Revenue notification issued on Thursday revealed the names of 141 top taxpayers, including individuals and organisations, for fiscal 2017-18. The move was made as per the National Tax Card Policy, 2010 (amended).
The NBR would honour them with tax cards likely on November 12, said one of its officials.
Tax cards would be handed over to individuals in two categories -- "special category" and "source of income or profession", according to the notification. Senior citizens, gazetted war-wounded freedom fighters and individuals under 40 are included in the "special category" while Businessmen, doctors, journalists, lawyers, engineers, architects, accountants, new taxpayers, players, actors, artists and others are included in "source of income or profession" category.
The NBR has been awarding tax cards to top taxpayers in separate categories for the last three years. Mahfuz Anam and Matiur Rahman were among the top taxpayers in 2016 and 2017. Transcraft Ltd, Mediaworld Ltd and Mediastar were also highest taxpayers in print and electronic media category in those two years.
Meanwhile, Transcom Beverage of Transcom Group has been named as top taxpayer as a company in "Food and others" category. The other two companies who made it to the list are Nestlé Bangladesh and Olympic industries.
Like previous years, the NBR has published the names of top taxpayers at city corporation and district levels and those of the top female and young taxpayers. Latifur Rahman, chairman and chief executive officer of Transcom Group, has been named one of the highest taxpayers in Dhaka city corporation area. 
Last year, the NBR honoured Latifur Rahman's family with the title of "Kar Bahadur Paribar" or tax icons family for paying big amounts of tax with exemplary compliance for a long time. This time, no new family, however, was given the title.