Sir Fazle Hasan Abed: 1 year since his passing, legacy shines through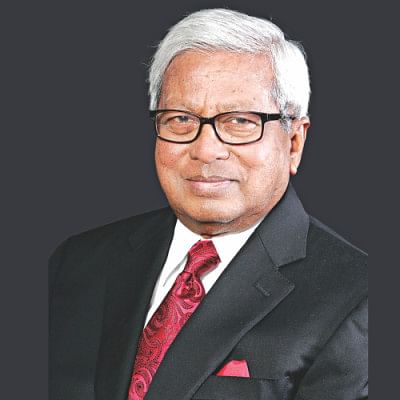 Today marks a year since the development sector's lighthouse had gone out.
On this day last year, Sir Fazle Hasan Abed, the larger-than-life spearhead of Brac, passed on from this world to the next after suffering from a malignant brain tumour.
In 1972, Sir Fazle had wrapped up his life in London as an accountant to move to his war-torn, newly-liberated country to establish Bangladesh Rural Advancement Committee, known to all as Brac.
At first it was just a small relief and rehabilitation effort carried out in a remote area of Sylhet division. Over the last 47 years, it expanded itself to provide services to over 100 million people in 12 countries of Asia and Africa.
"Brac now stands as a unique ecosystem interweaving microfinance, social enterprises, university, bank and multidimensional investments targeting the development of the poor and marginalised people," stated a press statement circulated by the NGO on the occasion of his first death anniversary.
Sir Fazle was honoured with numerous national and international awards for his achievements in leading Brac, the statement added.
These include the Yidan Prize for Education Development in 2019, LEGO Prize in 2018, World Food Prize in 2015, Spanish Order of Civil Merit in 2014, Inaugural WISE Prize for Education in 2011, David Rockefeller Bridging Leadership Award in 2008, Inaugural Clinton Global Citizen Award in 2007, UNDP Mahbubul Haq Award for Outstanding Contribution to Human Development in 2004, Olof Palme Prize in 2001 and Ramon Magsaysay Award for Community Leadership in 1980.
The press statement further added that in 2010, Sir Fazle was appointed Knight Commander of the Most Distinguished Order of St. Michael and St. George by the British Crown in recognition of his services to reducing poverty in Bangladesh and internationally. In addition, he was honoured with a Dutch Knighthood in 2019.
Sir Fazle was a member of the Group of Eminent Persons appointed by the UN Secretary-General in 2010 to advise on support for the Least Developed Countries.
In 2014 and 2017, he was named one of Fortune Magazine's World's 50 Greatest Leaders.
The many honorary degrees received by him include those from Princeton University (2014), the University of Oxford (2009), Columbia University (2008) and Yale University (2007).
"All the members of the Brac staff, in their commemoration, remember the eternal source of inspiration that the founder will continue to be in their life. They have pledged to stand beside the poor and marginalised communities and work hand in hand to build equality for all," the NGO said.
The event will be commemorated online through discussions hosted online.