Schools, colleges to reopen on March 30
Govt announces reopening plan; students of classes 5, 10, 12 to have in-person lessons daily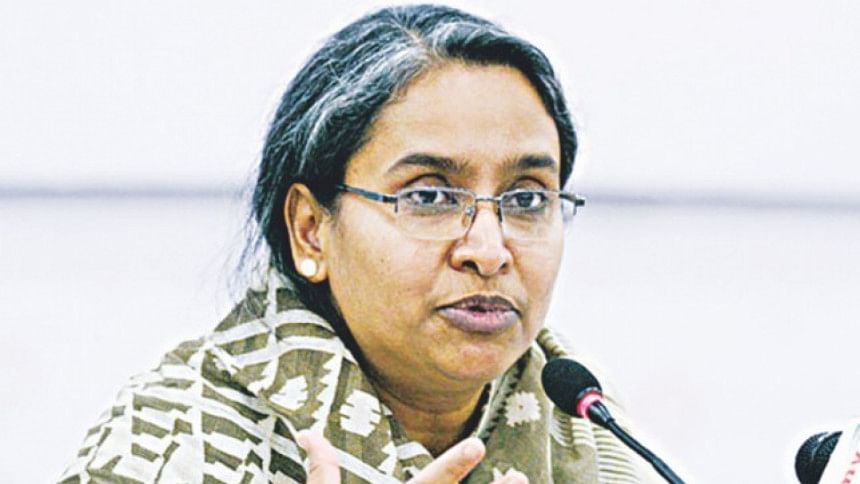 After a year of closure due to the pandemic, and significant academic losses, the government yesterday announced that all schools and colleges will be reopening on March 30.
It was a sigh of relief for many students and their parents.
The government decided to resume in-person classes at all primary, secondary, and higher secondary schools in phases, Education Minister Dipu Moni said last night after holding an inter-ministerial meeting on reopening educational institutions.
She said fifth graders, and SSC, and HSC candidates will be brought back to schools and colleges for daily classes.
Pupils of class-IX and -XI will attend classes twice a week and students of others class will have classes once in a week.
Pre-primary students will not go to schools now.
"After some days … in phases, we will head towards normalcy."
Ramadan holidays will be reduced, she said.
Usually, schools remain closed during the month of Ramadan.
She also said SSC exams would be on the shortened syllabus and the lessons for those could be completed in 60 working days. The same goes for HSC but it would take 80 days of imparting lessons.
Dipu Moni added that she was hopeful that all school teachers and employees would be vaccinated before resuming classes.
Around 1.5 lakh teacher have already taken the first shot of the Covid-19 vaccine.
Health workers and education officials would monitor whether the Covid-19 guidelines are being maintained at schools and colleges.
Agriculture Minister Muhammad Abdur Razzaque, Home Minister Asaduzzaman Khan, Health Minister Zahid Maleque, Information Minister Hasan Mahmud, State Minister for Primary and Mass Education Ministry Zakir Hossain and top officials of the ministries were in the meeting.
On February 22, the government had announced that in-person classes at all public and private universities would resume on May 24, after Eid-ul-Fitr, and that all dormitories of universities would reopen on May 17.
On March 17 last year, the government closed all educational institutions aiming to contain the spread of coronavirus. The closure led to cancellation of exams and left academic calendars in disarray.
Educational activities of around four crore students were being hampered due to the coronavirus crisis.
The government started TV education for primary and secondary students so that students could make up some of the losses.
Authorities of many schools, colleges and universities also started online classes but many students could not access these regularly due to the lack of digital devices and/or internet facilities.
The pandemic led to the cancellation of the Higher Secondary Certificate and equivalent exams, originally slated for April 1, 2020.
The government also cancelled last year's Primary Education Completion, Junior School Certificate and their equivalent exams due to the pandemic.
Primary and secondary students were promoted to the next grade this year without any annual examinations.
EDUCATIONISTS WELCOME REOPENING
Former director of the Institute of Education and Research at Dhaka University Prof Siddiqur Rahman and Campaign for Popular Education Executive Director Rasheda K Choudhury welcomed the government announcement.
Siddiqur said students' seating arrangements should be made keeping in mind health guidelines. If needed be, classes should be held in two shifts.
"There will be some pressure on teachers but they have to take the responsibilities," he said.
Siddiqur said since the students were out of class for a year, previous lessons should be imparted in class before starting lessons for this year.
Rasheda said there were concerns about schools being ready for reopening. Field-level oversight was needed regarding the matter, she said.
She said there should be a strong campaign that "schools are ready for reopening and please send your children to school".
Rasheda said school managing committees, local government bodies as well as NGOs should be involved in the campaign.
Some parents, however, had mixed reactions yesterday.
Razia Sultana a guardian from Dhanmondi said it was timely decision while Sajedur Rahman of Mirpur said government could have taken some more time.
REOPENING PROCESS
Directorate of Primary Education and Directorate of Secondary and Higher Education in late January sent school reopening guidelines asking all primary and high schools to be ready for reopening by February 4.
Both the guidelines said students, teachers, staffers, and others concerned must wear masks in schools.
Only two students would be allowed to sit on each bench, said the DPE guideline.
The DSHE prioritised maintaining three feet of physical distance.