Samrat 'falls sick', taken to hospital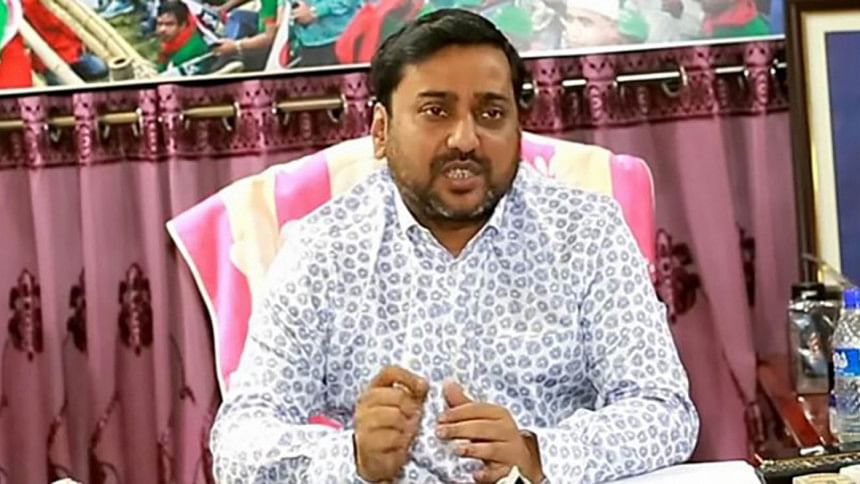 Former Jubo League Dhaka South president Ismail Hossain Chowdhury Samrat, an alleged kingpin of illegal casino business in the city, was admitted to the National Institute of Cardiovascular Diseases (NICVD) yesterday as he "felt sick".
His condition is now stable and he is undergoing treatment at the coronary care unit, Prof Afzalur Rahman, director of NICVD, told a press briefing at the hospital.  
A seven-member medical board, headed by the director, was formed for his treatment.  
"The medical board sat in a meeting to discuss Samrat's health. The board also suggested carrying out some tests," said Prof Afzalur, adding that his primary test reports were fine.  
The director, however, said Samrat would be under observation for 24 hours.  
Samrat underwent a heart valve replacement surgery around 15 years ago, say NICVD doctors.  
In the morning, the authorities of Keraniganj Central Jail took Samrat to Dhaka Medical College Hospital after he complained of chest pain. Later, he was moved to NICVD.  
On Sunday, Rab arrested Samrat and his close aide Enamul Haque Arman, also expelled vice-president of Jubo League Dhaka South, in Cumilla.
A mobile court, led by Rab Executive Magistrate Sarwoer Alam, sentenced Samrat to six months' imprisonment under the Wildlife Conservation Act after Rab recovered two kangaroo hides from his office in the capital's Kakrail.
Rab members also recovered an illegal 7.65mm pistol, five bullets, 1,160 yaba tablets, 19 bottles of foreign liquor and devices used for torturing people from there.  
Samrat was sent to Keraniganj Central Jail on Sunday night.  
Samrat, who according to different media reports was involved in various misdeeds and corruption, came under the spotlight after Rab busted his illegal casino business in different sporting clubs in the capital.  
Rab filed two cases with Ramna Police Station against him under the arms and narcotics control acts on Monday.  
He amassed a huge amount of money through the illegal casino business, tender grabbing and extortion, say statements of the cases.