Sabrina washes her hands of JKG
Evidence against her pile up; placed on a 3-day remand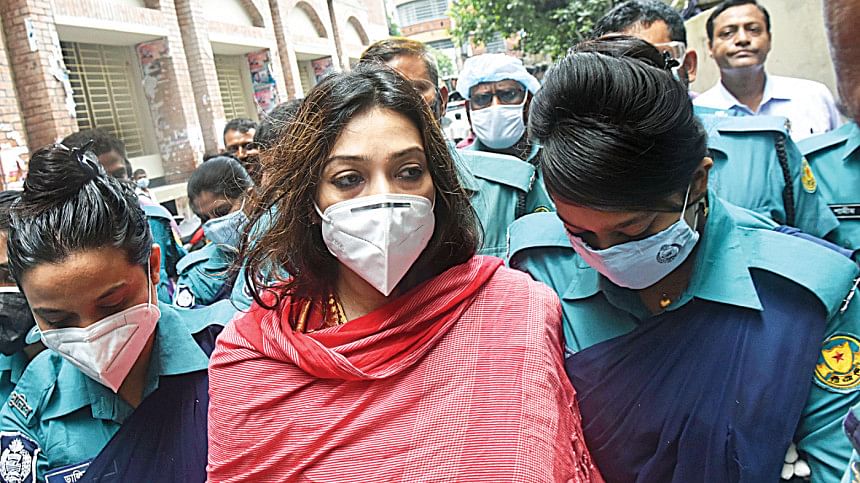 Since JKG Health Care's alleged involvement in the fake Covid-19 test report scam surfaced late last month, Dr Sabrina Arif Chaudhury has been claiming that she was never the organisation's chairman.
She also refuted her links with any forgery.
Also in court yesterday, Sabrina, a suspended registrar (cardiac surgery) at the National Institute of Cardiovascular Diseases (NICVD), denied holding the post of chairman at any private organisation, said court sources.
Some documents, website of an event management firm connected to JKG Health Care, and Sabrina's LinkedIn profile, however, mention her as the chairman of Oval Group, which was established in 2008.
In its official documents, Oval Group says its sister concerns are JKG Health Care, Dhaka Expo, Oval ad, Vital Security Services (VSS) Limited, Oval IT, A&M Fashion, Booking BD, Moment, and ROW-DY.
Dhaka Expo's website still shows Sabrina as the chairman of the group. The firm's Facebook page also has photos where she is seen participating in its programmes.
Besides, Sabrina gave interviews to the media as a spokesperson for JKG after some of its staffers were allegedly assaulted at Titumir College on June 2, said investigators.
The investigators also said, lobbying the government high-ups, Sabrina managed to get JKG the job of collecting Covid-19 test samples after showing it a non-profit organisation. Sabrina's influence also brought the firm several government contracts, including those of the health ministry, said the investigators.
All was apparently going well until her relationship with her husband, Ariful Chaudhury, chief executive officer of Oval Group, turned soured lately, they said.
On June 8, Sabrina filed a general diary with the capital's Sher-e-Bangla Police Station, alleging that Ariful assaulted her at her workplace NICVD.
Five days later, an official order issued by Oval Group and signed by Ariful said Sabrina and three others were no longer a part of the group.
When police asked how a CEO could terminate the chairman of a company, Ariful said the decision was made for violating company rules, including collecting Covid-19 test samples from people's homes, said one of the investigators.
Mahmud Khan, assistant commissioner of DMP (Tejgaon zone), told The Daily Star that they were investigating Sabrina's role in Oval Group and sought relevant information from the company.
"We talked to their employees. All said she was the chairman of Oval Group," the police official said.
Meanwhile, Sabrina was placed on a three-day remand yesterday in connection with a case filed over issuing fake Covid-19 test reports.
She was arrested on Sunday, about three weeks after the scam came to light. Police said as she is the chairman of JKG, she cannot avoid "the responsibility".
Before being arrested, Sabrina told the media and the police that she no longer had any ties to JKG. Besides, she sent a divorce letter to her husband, she said.
The same day, the health ministry suspended Sabrina from the post of registrar at NICVD. According to the ministry's order, she was suspended for professional misconduct -- holding the post of chairman of a private organisation while in public service -- and also corruption allegations.
The scam surfaced on June 23 after Tejgaon Police arrested Humaun Kabir Hemu, chief visualiser at Oval Group, and his wife Tanzina Patwary, chief of staff (nursing) at JKG Health Care, over their alleged involvement in issuing fake coronavirus test reports.
They were terminated, along with Sabrina, on June 13.
Police also claimed to have found pages with fake letterhead of Institute for Developing Science and Health Initiatives, a government certified Covid-19 testing laboratory, at the couple's home in the capital's Ashkona.
"Apart from collecting samples, they would give a set of 10 questions to each person. If five of the answers matched the symptoms of Covid-19, they would issue a fake certificate saying the person has tested positive. No tests were done, they would simply throw away the samples," AC Mahmud said.
The next day, police raided JKG's office in Gulshan, arrested three people, including JKG Healthcare CEO Ariful, and seized five laptops.
The police official said JKG Health Care used to collect Covid-19 test samples from people's homes through their two platforms -- Booking BD and Health Care.
Humaun and Tanzina later gave confessional statements before the court. They also said they faked test reports on Ariful's instructions.
Throughout the day yesterday, The Daily Star contacted several employees of Oval Group for comments on the issues, but all the mobile phones were found switched off.
The hotline numbers were unavailable as well.
Later at night, an official responded and said, "We all used to call Dr Sabrina 'Chairman Sir'."