Rohingya Genocide Remembrance Day: In silence they remembered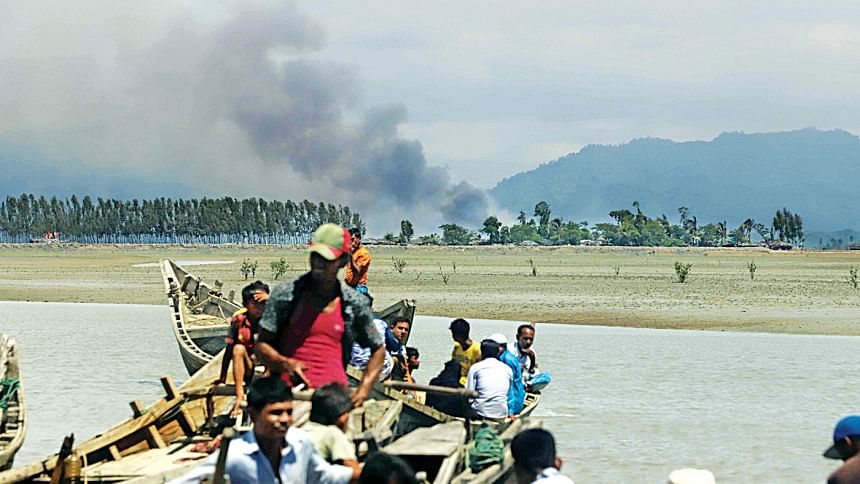 Rohingyas across the world yesterday silently observed "Rohingya Genocide Remembrance Day" commemorating the brutal military campaign beginning this day in 2017 that forced some 750,000 Rohingyas to flee to Bangladesh.
Rohingya villages were burnt, members of the ethnic community were killed and women and girls raped in thousands.
Though Rohingyas have their origin in Myanmar centuries back, they were denied citizenship and ethnicity and other rights, including freedom of movement and higher education. Time and again, Rohingyas fled to Bangladesh and many other regional countries, Middle East, Europe and North America.
Commemorating the day in silence and sadness, the Rohingyas sheltered in camps in Cox's Bazar stayed inside their makeshift homes and prayed for those killed and tortured.
"No, there was no gathering of people anywhere in the camps. All the activities in the camps were off. We stayed indoors. Some went to mosques and prayed for those killed," said Mohammad Noor, leader of a camp at Kutupalong, reports our correspondent in Cox's Bazar.
"Those of us involved with NGOs also did not work. It was almost a total silent day," said Badrul Islam, another camp leader known as Majhi at Noapara in Teknaf.
"We still didn't get our rights and still all Rohingya people and other ethnics in Myanmar continuously face this threat. It's because the UN officially didn't declare the crimes as genocide," said a joint statement of several Rohingya organisations. Those include Rohingya Students' Union, Rohingya Students' Network, Rohingya Youth for Legal Action, Arakan Rohingya Society for Peace and Human Rights, Rohingya Youth Federation, Rohingya Community Development Program, Education For Rohingya Generation and Rohingya Women For Justice and Peace.
They demanded that the UN declare August 25 as Genocide Day for the Rohingya.
Meanwhile, Burmese Rohingya Organisation UK (BROUK) said the world must not forget the ongoing genocide against the Rohingya people.
"This is a day when Rohingyas everywhere remember the genocide and the worst crimes committed against us in our history," said Tun Khin, president of BROUK, in a statement.
"But just because the headlines have become fewer today, it does not mean that the Rohingya people are no longer suffering. Make no mistake -- the genocide is going on, and Myanmar's leaders are still intent on erasing the Rohingya as a people."
For the 600,000 Rohingya, who remain in Rakhine today, life continues to resemble an open-air prison, he said. Close to 128,000 Rohingya, who were displaced by state-sponsored violence in 2012, continue to live in squalid displacement camps, with limited access to education and other basic necessities. Besides, renewed fighting in Rakhine between the Tatmadaw and the Arakan Army, combined with the Covid-19 pandemic, has further imperiled the lives of civilians in the region.
BROUK said the Bangladesh government has generously sheltered some one million Rohingyas, but restrictions on refugee rights, access to education, work and freedom of movement remain matters of concern.
Tun Khin said despite well-documented serious human rights violations by the Tatmadaw and others against the Rohingya, not a single person has been meaningfully brought to justice over the past three years. However, following the Gambia's case last year, the International Court of Justice issued a provisional order for Myanmar to prevent acts of genocide, while the International Criminal Court approved an investigation.
BROUK has furthermore brought a universal jurisdiction case in Argentina against Myanmar's military and civilian leadership for their role in the genocide against the Rohingyas.
"We do not want revenge, but a chance to build a life of dignity, which is only possible if there is justice for crimes against us.
"The world must support international justice efforts. We call on more states to support the Gambia's case at the ICJ, and to launch universal jurisdiction cases in their own countries," added Tun Khin.