RMG owners divided when lives at risk
No specific govt guidelines on factory closure; workers left in uncertainty; some factories kept open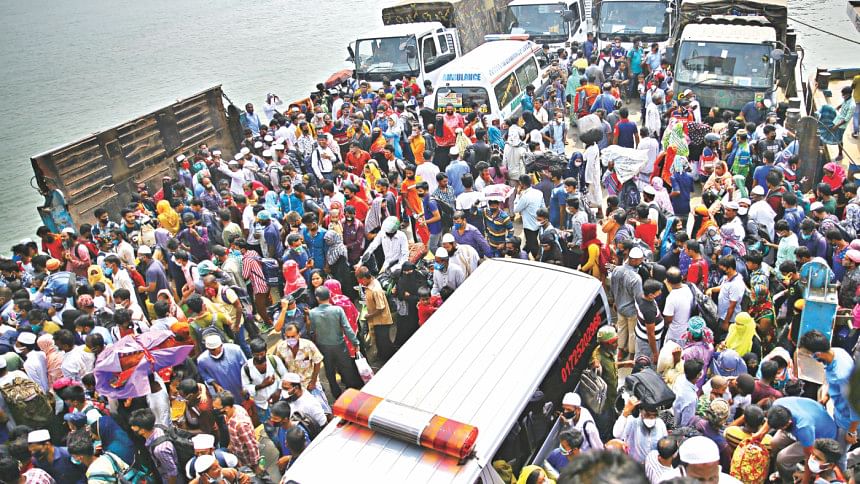 Division among influential owners over the closure of garment factories and an absence of specific instructions from the government had sent thousands of workers into a dangerous scramble to get back to Dhaka.
These workers braved risk of coronavirus infection and trudged to Dhaka only to find their factories closed.
The apex body of the garment industry, Bangladesh Garment Manufacturers and Exporters Association (BGMEA), did not notify workers about the extension of the shutdown declared by the government on April 1.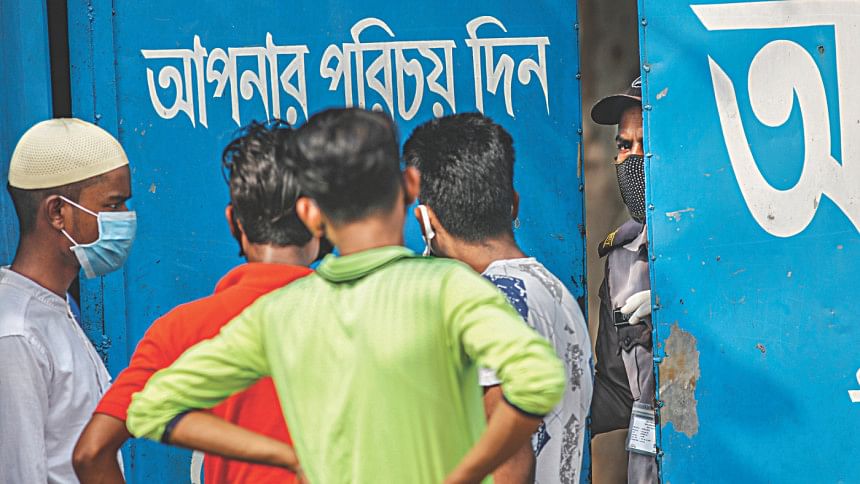 Citing a lack of authority to close factories, it waited for the government's Department of Inspection for Factories and Establishment (DIFE) to make the announcement as factories need DIFE's permission to shut down.
But the DIFE did not make any such announcement, saying many factories had pending work orders and some were making Personal Protective Equipment (PPE), the production of which is crucial.
This led thousands of workers to head to Dhaka and its adjoining areas like in Savar, Ashulia, Maona, Gazipur, Tongi, Narayanganj and Mirpur.
Most of the factories were closed on March 26 when the 10-day closure to slow down the coronavirus outbreak began.
A few factories continued production as the BGMEA and DIFE both had said that the factories could run if they had work orders or were making masks or other protective gear.
Shibnath Roy, inspector general of the DIFE, said "The DIFE did not ask for the closure of all factories even in the second circular published on April 1."
They had always said factories could run if they took proper safety measures, he said.
"The situation could have been avoided had the factory owners notified the workers about the extension of the government's general holiday up to April 11."
He said the factory owners had the time to do so but they could not reach a consensus in this regard. Some influential owners were in favour of implementing health and safety measures and continuing production, he told The Daily Star over phone.
The BGMEA and Bangladesh Knitwear Manufacturers and Exporters Association (BKMEA) leaders, and officials of DIFE had a meeting in Tejgaon on Saturday afternoon but failed to agree on closing the factories.
Some RMG factory owners wanted to reopen their units from yesterday.
But by Saturday evening, things turned south for the owners, BGMEA and DIFE as widespread criticism poured in. It was only then the BGMEA and BKMEA requested their members to shut down their units.
Rubana Huq, president of the BGMEA, said she on March 20 wrote to the labour ministry seeking measures about shutdown of factories.
A meeting was held on March 21 and many owners said their factories could stay open implementing health and safety measures, she said.
"Even then, the BGMEA went ahead and recommended closure on March 26. We made no announcement from the BGMEA to reopen factories… After seeing the procession of people, we again recommended closure," Rubana said.
"We are urging all our members to pay the workers their March salaries as soon as possible."
She said some 190 factories under the BGMEA membership were open yesterday.
Talking to The Daily Star, Mohammad Hatem, vice-president of BKMEA, also hinted at a division between factory owners.
He said many factory owners had told them that they had emergency shipments pending and could not close their units. Most factories were, however, closed.
Regarding Saturday's coming back of the workers, Hatem said they came mainly for salaries.
"It was really difficult for us to reach a consensus," Hatem told The Daily Star over phone. He said 60 percent of the knitwear factories were running yesterday.
He claimed that most of the workers who came to Dhaka came for their salaries.
Both Hatem and Rubana said that Commerce Minister Tipu Munshi at a meeting last week said the factories could run if safety of the workers was ensured.
Around 100 garment factories in Savar and Ashulia restarted yesterday but most were closed.
Most of the workers returned to Dhaka fearing they would lose their jobs.
Murshid Ali, a sewing machine operator at a garments factory in Savar, yesterday said, "After shutdown of my factory on March 25, I went home in Kumarkhali of Kushtia.
"I had to come back and suffer on the road as a factory official called me and told me to join work on April 5 or get fired," he said.
"I returned to save my job, otherwise I would not have returned," he said, adding, "I had to walk for two and half hours and change five vehicles to reach Savar. I spent Tk 1,500 in fares."
When he reached his factory yesterday, he learnt it was closed until April 11.
"I am worried about when my salary would be paid as the factory authority did not say anything about that," he added.
Kohinur Begum, who works for a factory in Ashulia, said, "A factory official told us that they would pay our salaries by April 7."
Her factory restarted.
Azijul Haque, assistant general manager (admin) of Winter Dress Ltd in Savar, said his factory restarted yesterday.
"We restarted as we have some urgent work orders pending."
RAK Liton, general manager (HR) of AR Jeans Producer Ltd in Ashulia, said, "We have declared our factory closed till April 10 due to coronavirus outbreak. We made the decision to protect our workers."
He said they were sending the workers' salaries via mobile banking channels.
Abdus Sobhan, general manager of Dhaka Export Processing Zone, said there were 100 factories in DEPZ and 50 restarted.
Citing poor work performance, two garment factories in Savar fired around 173 workers yesterday. The factories said the workers' dues would be paid by April 30.
Nazma Akter, president of Sammilito Garment Sramik Federation, said, "Thousands of workers went to the factories on foot, risking their health and the spread of coronavirus. They need salaries and livelihood but many factories laid off workers and fired them without pay."
She said what was being done to the workers was appalling. "How would the workers and their families survive with no jobs and healthcare?" she said.
"Global unions, ITUC, Industriall, UNI, AFLCIO, other unions, should make a joint call on the government, the BGMEA, and brands to ensure workers' pay and put an end to their sufferings," Akter said.
Transparency International Bangladesh in a statement yesterday protested the factory owners' decisions that led to the sufferings of garment workers.
In Chattogram, at least 133 garment and other export-orientate factories were operational yesterday.
Two lakh workers were working in those factories. Most of them came from different parts of country on Saturday suffering a lot on the road.
Factory owners claimed that they opened their factories to keep the work order of buyers.
MA Salam, first vice-president of the BGMEA, told The Daily Star, most buyers cancelled or postponed of their orders due to the Covid-19 pandemic. However, some buyers from the Fareast were waiting for their goods.
He said 38 out of 421 BGMEA-registered factories in Chattogram zone were running. The factories are manned by around 1 lakh workers.
He said there were some factories running outside the EPZs and some were not registered with the BGMEA.
At least 30 factories registered under the BKMEA, 65 factories in three EPZs of Chattogram, producing non-garments goods, opened yesterday.