Dhaka city polls 2020
Refrain from influencing the polls
Ishraque urges rival as he criss-crosses Old Dhaka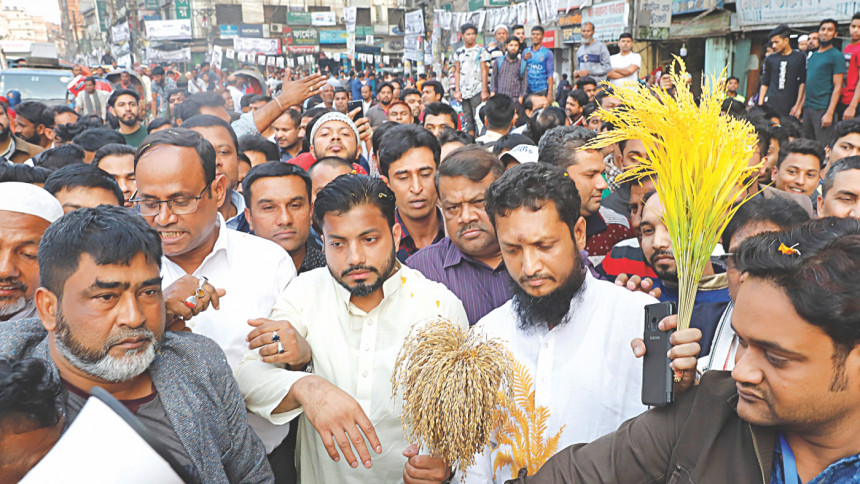 It was 3:30pm yesterday in Old Dhaka's Ray Shaheb Bazar Mor area. Traffic at the intersection halted as several hundred BNP leaders and activists surrounded their party mayor candidate Ishraque Hossain. 
The candidate for Dhaka South City Corporation campaigned in different parts of Old Dhaka.  
With attractive promises to woo voters, Ishraque went door-to-door for over five hours in Nayabazar Bagdasa, Zindabahar Jame Masjid, and Bongshal areas.  
In the evening, his campaign gained momentum with the participation of an increasing number of BNP leaders and activists who shook hands with people, hugged them, exchanged greetings, and distributed leaflets on behalf of their candidate in Bongshal, a business hub in Old Dhaka. 
From both sides of the streets, enthusiastic leaders and activists showered flower petals on Ishraque, who was seen holding his party's election symbol -- "sheaf of paddy".
"If I am elected, people will get their democratic rights back," said Ishraque.
He added that the country would "again be safe for people" and he would continue his fight against corruption and irregularities. He also pledged to make Dhaka a modern city.  
He sought everyone's vote for "sheaf of paddy" on February 1.
Earlier in the day, the BNP mayor candidate called upon his rival Awami League contender Sheikh Fazle Noor Taposh to refrain from establishing supremacy in the polls using his family's influence.
"So far, I know Taposh is a gentleman. I like to call upon him not to influence the election. Besides, law enforcers and election officials will have to discharge their duties in an impartial manner," Ishraque said.
Ishraque, son of former undivided Dhaka City Corporation mayor Sadeque Hossain Khoka, said this while talking to journalists at his Gopibagh home.
He said the country is not a "inherited property" of anyone. "We will accept the polls result whatever it is unless any irregularity takes place on election day."
The BNP candidate urged police to play an "unbiased role" and condemned attacks on BNP men, including party mayor candidate for Dhaka North City Corporation Tabith Awal, in different parts of the city. 
"A fair election is not possible under such Election Commission which is failing to create a level-playing field," he said. 
About his being elected, Ishraque said he was getting a very good response from people. 
At the beginning of his campaign, people said they were unsure of going to polling stations, remembering their bad experiences during the last parliamentary election. But they are being motivated to cast their votes, he said.
Now it is the responsibility of the EC to ensure a participatory election, he added.
His yesterday's campaign ended with views-exchange meeting with BNP leaders and activists at the Dhakeshwari Temple at night.