Quad, China's Reservations: Uncalled for advice
International relations experts urge the govt to focus on economic cooperation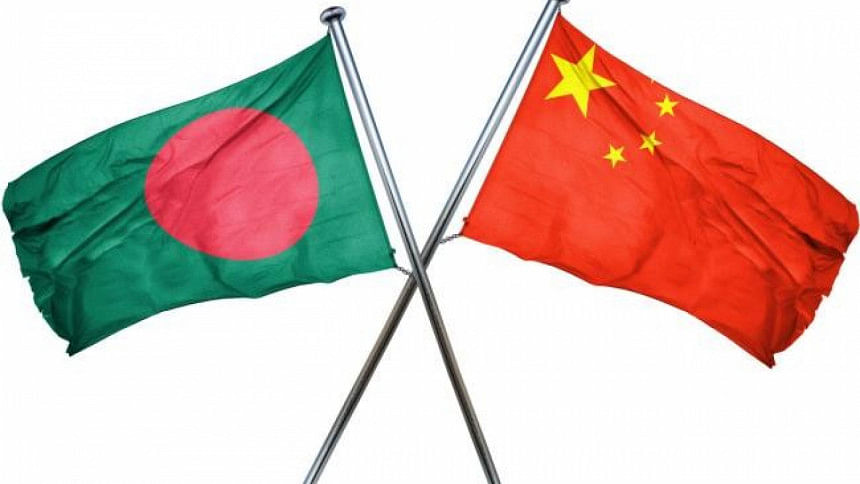 An uncharacteristically indelicate exchange regarding a four-country alliance called "the Quad", which includes India and the US, seems to have heated up the otherwise smooth Dhaka-Beijing diplomatic relations.
Even though the Quad, a US-led initiative, is not quite open to membership, considering that it was initiated particularly to contain China, its ambassador in Dhaka had said in a statement that Bangladesh should not join the initiative.
Speaking to The Daily Star, Jahangirnagar University International Relations Professor Shahab Enam Khan said Bangladesh should carefully observe how the Regional Comprehensive Economic Partnership (RCEP) along with global vaccine politics unfold, as these two factors will determine the strategic equations in and around the Indo-Pacific region in the coming months. 
"The Quad is a strategic move but its future largely depends on post-Covid India and the growing military mismatch between China and its immediate neighbours India and Japan. Therefore, Bangladesh should pursue a policy that will serve its national interests in terms of economic stability and absolute strategic autonomy."
The Bangladeshi foreign minister countered by saying it would be a sovereign decision of Bangladesh and not within the remit of other countries.
He even went on to say that the Chinese ambassador was speaking out of turn.
Shahab Enam, also research director at the Bangladesh Enterprise Institute, said Bangladesh is already a member of the Belt and Road Initiative (BRI) as part of its commitment towards multilateralism.
"It is very difficult to envisage an alternative to the BRI to stimulate economic and infrastructural growth. Hence, market and economic realities will compel the emerging economies to remain plugged into the BRI.
"I must remind that South Asia has already stepped into an arch of instability spanning from Afghanistan to Myanmar. We need to understand these changes and craft our responses above our emotional prejudices."
The initiative of the Quad was first established in 2007 to form an informal strategic consultative platform between the United States, Australia, Japan and India.
After a decade of inactivity, Japan initiated the Quad's revival in 2017 under the Trump administration. It had its "first-ever leader-level summit" on March 12, 2021, with a focus on collective efforts to fight the Covid-19 pandemic.
After the summit, Quad leaders issued a joint statement called The Spirit of the Quad.
The statement, in addition to fighting the pandemic, pledged "to strengthen our cooperation on the defining challenges … promoting a free, open rules-based order, rooted in international law to advance security and prosperity and counter threats to both in the Indo-Pacific and beyond."
On March 14, US President Joe Biden, Japanese Prime Minister Yoshihide Suga, Indian Prime Minister Narendra Modi and Australian Prime Minister Scott Morrison wrote an op-ed in the Washington Post.
Chinese Ambassador to Bangladesh Li Jiming on Monday said that if Bangladesh joins the Quad, its relations with China would to be "substantially damaged".
Former diplomat M Human Kabir said Bangladesh always focuses on advancing the economic component of relationship and its priority is to promote economic cooperation with countries all around the world, including extended neighbours, such as India, China, Japan and other Asean countries.
"I think the comments made by the Chinese ambassador are speculative, as Bangladesh never said or showed interest in joining any military alliance including the Quad. I think they made such a comment from their perspective and as a part of preventive diplomacy."
He added that being at the current state of economic development, Bangladesh prioritises bilateral, regional and global collaboration for the alleviation of poverty, creation of employment for the new generations, intensifying the fight against the ongoing Covid-19 pandemic and the challenges emanating from climate change.
"I think the next few decades will demand our focus on these issues. And we want to keep good relationships with all countries but more specifically with China, India, Japan, Asean, the EU and the USA as our economic partners. We would prefer to see that a peaceful environment prevails in the region with a view to facilitating such a process of growth and prosperity."