Procurement Delays: Boro farmers of Sylhet in trouble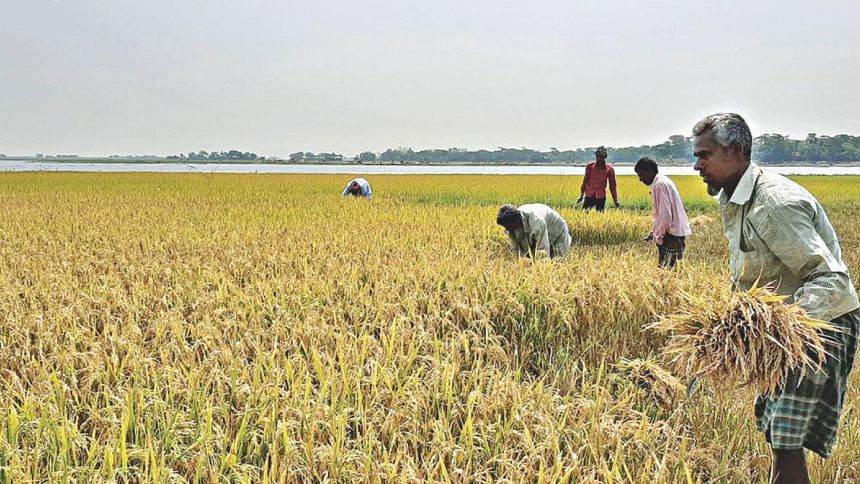 Delay in government procurement is forcing desperate farmers to sell their paddy at lower prices to rice mill owners and hoarders in Sylhet region.
The authorities earlier announced that procurement of boro paddy would begin from April 26. But officials are now saying that the farmers' list needed for the procurement will not be prepared until another week. 
"We have not received the farmers' list from the district-level officials. We will start purchasing after getting the lists," Azizur Rahman, assistant sub inspector at Sylhet Division Food Office, told The Daily Star.
The government will buy 8 lakh tonnes of paddy from farmers across the country for Tk 26 a kg this season.
Rahman said 4,278 tonnes would be bought in Sylhet division.
Meanwhile, cash-strapped farmer Jisan Mia said he has in the last few days sold sacks of paddy for around half of what the government had announced.
The farmer of Hakaluki Haor in Moulvibazar's Kulaura added that there were many others like him.
Makhan Lal Das, a farmer in Sunamganj's Shalla, said it cost him around Tk 750 to 800 to produce each mound of paddy.
But rice mill owners were not offering him any more than Tk 600 a mound against the government announced rate of Tk 1,042.
"I need money right now to repay the village lenders and buy essentials for the family," he said.
Abu Sufian, a freedom fighter and acting president of Sunamganj Haor Bachao Andolan, said the food department must act quickly.
"Any more delay would mean more profit for the middlemen and loss for farmers," he said.
Abdul Hannan, general secretary of Bangladesh Krishak Samiti in Kulaura, alleged that corrupt officials of the Department of Agricultural Extension (DAE) were naming hoarders in the list of farmers. He demanded that the list be made public.
Communist Party leader Chittaranjan Talukder said an overwhelming majority of the farmers cultivate the paddy by taking loans at high interest rates and they could not afford to wait. 
Several Department of Agricultural Extension (DAE) officials, who have been preparing the list of farmers, said they were too busy monitoring relief efforts at villages and finalising the lists would take at least a week.
"We also have a manpower shortage and our officers have other tasks. However, we will make the list within the next one week, said Hasan-ud-Daulah, upazila agriculture officer in Tahirpur, Sunamganj.
Safar Uddin, deputy director at DAE in Sunamganj, said, "We will make the list by May 5 and verify it by May 7… and purchase will start from May 11."
Debol Sarkar, upazila agriculture officer in Barlekha, Moulvibazar, also said finalising the list may take at least another week.
According to the DAE, paddy was cultivated in 4,74,195 hectares this year. Over 27,96,000 tonnes of paddy is expected to have been produced. More than 41 percent of the produce has been harvested as of last Sunday.
Each farmer will be allowed to sell a maximum of three tonnes to the government this year.