Primary schools may also reopen next month
Says state minister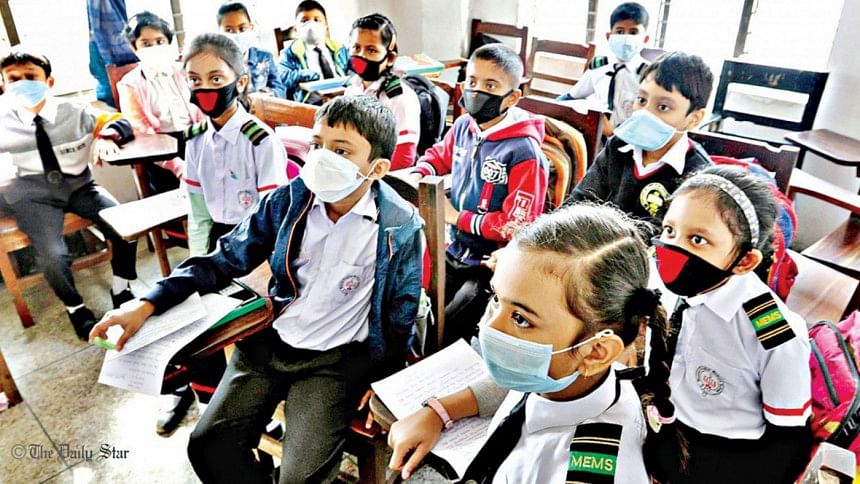 In line with the resumption of secondary-level schools and colleges, the government is also planning to reopen primary schools and kindergartens after 10 months of shutdown.
The Directorate of Primary Education (DPE) has already sent a guideline to all primary schools to prepare for reopening by February 4.
Zakir Hossain, state minister for primary and mass education, yesterday said, "We are planning to reopen primary schools on any day of February.
"Schools may reopen on the first or second week of February with the permission of the prime minister."
About the primary schools, he said, the authorities would operate classes from the first to fifth grades in multiple shifts.
"Students of fifth grade will get priority. The rest will visit schools in person once a week," he said.
Asked about the kindergarten schools, he said, those institutions too could reopen on any day.
"We have no probation for those who are not enlisted. If the enlisted ones want to reopen, they can talk to us," he added.
The state minister also said that they were thinking about increasing the fund for school-level improvement plan (SLIP) under the Primary Education Development Program to ensure hygiene in educational institutions.
All educational institutions have remained closed since March 17 because of the coronavirus pandemic, hampering academic activities of about two crore students of more than one lakh primary schools and kindergartens.
GUIDELINES
On Sunday, DPE sent the directives to all district primary education officers for taking the necessary preparation to reopen schools.
As per the directives, school authorities, upon getting approval of the authorities concerned, would prepare the timing of school opening and closure and distribute mid-day meals in a way that would avoid the gathering of students and guardians.
The DPE guideline wrote that safe water and sanitation facilities should be prepared and enough arrangement of water tape for hand washing should be ensured before reopening schools.
For measuring body temperature, non-contact thermometers must be collected.
The guideline read, "Only two students will be allowed to sit on each bench at classrooms after the reopening of primary schools. Every student, teacher, and other staffers have to wear masks.
"The compound of schools must be cleaned and the dustbin should be disinfected every day. Floors of the offices and classrooms, benches, the handle of doors and grips of stairs should be disinfected before and after every shift of classes."
The guideline also directed the schools not to conduct assembly and take adequate measures to ensure physical distancing.
"The phone number of one or two teachers along with Headmaster will be displayed in an open space for the advantage of communication," it added.
The guideline also instructed school authorities to spent money from the SLIP programme to buy necessary items for maintaining hygiene.