Poverty declining at a slower pace
BBS report shows 1.2pc annual drop in poverty in 2010-2016 compared to 1.7pc during 2005-2010
Poverty continues to decline but at a slower pace since 2010 though the country has recorded more than 6.5 percent economic growth annually during the period, according to Bangladesh Bureau of Statistics data.
Between 2010 and 2016, the percentage of poor people dropped to 24.3 percent of the population, registering a decline at a yearly rate of 1.2 percent.
But the annual rate of drop in poverty was 1.7 percent from 2005 to 2010, shows the BBS's latest Household Income and Expenditure Survey (HIES).
Releasing the final report of the HIES 2016 yesterday, BBS Director General Krishna Gayen said the percentage of poor people decreased further to 21.8 percent last year.
Dipankar Roy, project director of HIES, said that given the current pace of poverty reduction, the nation would be able to eradicate poverty by 2030 set in the Sustainable Development Goals.
The BBS carried out the survey on 46,080 households in 2016, nearly four times the samples taken in the previous 2010 survey.
The latest estimate by the BBS showed that the rate of annual reduction in poverty edged up slightly since 2016 but still remained below the annual rate of 1.74 percent between 2000 and 2010, raising questions among economists about the quality of economic growth.
"The deceleration in the pace of poverty reduction during a period when GDP growth accelerated is indeed a puzzle. Clearly, the benefits of growth did not trickle down as much as it used to," Zahid Hussain, lead economist at the World Bank's Dhaka office, told this newspaper.
The key reason appears to be the slowdown in the rate of job creation as evident from the labour force survey data, particularly in sectors where jobs are more remunerative, he said.
In its latest HIES, the BBS found that the overall calorie intake of people dropped and consumption of food fell between 2010 and 2016. At the same time, people's expenses rose at a rate higher than that of income.
And non-agriculture sectors' share in jobs declined in 2016 compared to 2010 despite an increased contribution of the industrial sector to the Gross Domestic Product (GDP).
By contrast, agriculture sector's share in employment rose during this period, meaning more people were dependent on farming in 2016 than in 2010.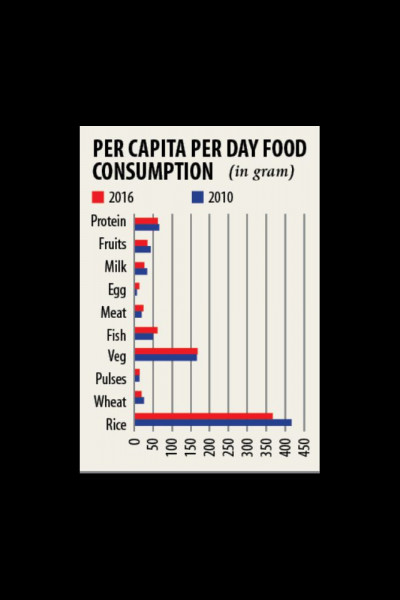 Zahid said growth acceleration appears to have come from domestic market-driven sectors where production is less labour intensive, as opposed to export-oriented activities.
Citing BBS Quarterly Labour Force Surveys, he said female employment in the industrial sector declined by 11.3 lakh, and in services by 1.5 lakh in 2016 compared to 2013.
According to him, 1,200 garment factories have been closed for remediation and relocation since the Rana plaza collapse that claimed the lives of more than a thousand workers.
"This accounts for the decline in the proportion of employment in non-agriculture sector, as reported in HIES," said Zahid.
KAS Murshid, director general of Bangladesh Institute of Development Studies (BIDS), said an increased use of technology would be a reason behind sluggish job growth in manufacturing.
"Jobs are not growing in line with the growth of investment in the industrial sector," he said.
Murshid said if people do not get any opportunity in non-farm sectors, they usually become dependent on agriculture. But one explanation could be that the farm sector is seeing a rise in investment, leading to creation of more jobs.
On the fall in daily calorie consumption, Murshid said calorie intake should not drop if the level of poverty falls. 
According to HIES, daily calorie consumption declined to 2,210 kilo in 2016 from 2,318 kilo in 2010.    
"We should examine the calorie intake of poor people," he noted.
The distribution of consumption should be examined to see whose calorie intake has fallen, he said.
"Has the calorie intake of the poor declined or those people who used to consume an increased amount of rice have reduced its consumption to diversify their diet."
"It is important to see who is eating less," said Murshid.
Selim Raihan, executive director of the South Asian Network on Economic Modeling (SANEM), said the country saw an accelerated GDP growth rate since 2013, and the GDP growth rates in recent years are the highest in the country's history.
But the pace of poverty reduction has been slowing. "This means the benefits of accelerated and high economic growth are unable to reach the poor as per expectations," he said.
"This is a big concern."
Citing the reasons behind this, Selim said, "High GDP growth over the past few years has not led to large-scale job creation. The country is witnessing a phase of jobless growth."