Plasma Therapy for Covid-19: Experts bemoan 'complete anarchy'
They say indiscriminate use poses serious health risks, call for a guideline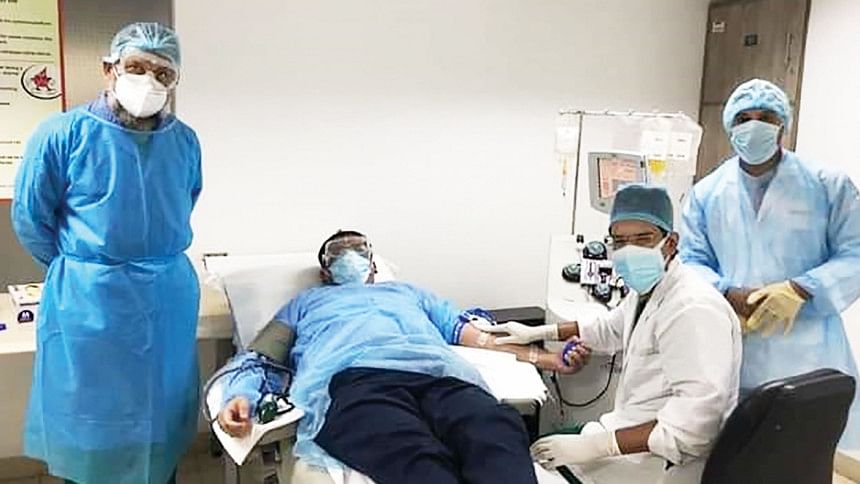 Although plasma therapy holds hope for the treatment of critical Covid-19 patients, indiscriminate use of it in the absence of a guideline is posing serious health risks in the country, experts said.
The government only last month gave permission to three public hospitals -- Dhaka Medical College Hospital (DMCH), Bangabandhu Sheikh Mujib Medical University (BSMMU) and Rajarbagh Police Hospital -- to conduct randomised clinical trials of plasma therapy for Covid-19 patients.
But many hospitals in the country have already been providing plasma therapy to Covid-19 patients without such a guideline in place.
Prof MA Khan, a haematologist at DMCH, termed the current situation "hopeless", saying, "There is a complete anarchy over plasma therapy in Bangladesh."
Plasma therapy for Covid-19 involves taking antibodies from the blood of a person who has fully recovered from the novel coronavirus and transfusing these antibodies into a critically ill Covid-19 patient, to help improve their immune system.
"In most cases, the plasma therapy is given to a patient at the last moment, which is not advisable," said Prof Khan.
He told The Daily Star that he sent a proposal to the national technical advisory committee over formulating a policy on plasma therapy on June 20, but was yet to receive a reply.
"Doctors are still confused as to when to give plasma therapy. The government should take the initiative to formulate a guideline. We are tired of repeating ourselves on this issue."
Providing convalescent plasma therapy to a Covid-19 patient without a guideline is risky and may endanger the life of the patient, healthcare experts said.
They said a guideline, among many things, can regulate the person's eligibility to donate plasma and whether the donor has developed the necessary antibody levels in their blood. This requires several standard testing protocols. Plasma therapy is now at the clinical trial stage, not for treating coronavirus patients, they added.
"The way plasma therapy is being given in Bangladesh without proper screening and testing is completely unethical," said Prof Khan.
Experts said several factors must be addressed before the plasma is deemed safe to use and plasma therapy can be performed.
For example, on an average, 14 percent of people in the country have other viral infections in their blood, they said. Without maintaining proper procedures, indiscriminate plasma therapy can be disastrous for patients. Negative HIV and hepatitis B and C tests are required otherwise the donor is disqualified.
Most important, however, is the level of antibodies -- if not sufficient, preferably at 80 percent, then the whole exercise will be futile, experts said.
The donor has to have passed 14 days since fully recovering from Covid-19 and show a negative RT-PCR test; an ELISA test, a method through which plasma-neutralising antibody testing is done, is also required to check whether sufficient antibodies have developed in the donor's blood.
Plasma neutralising antibody test kits are still not widely available in the country -- with the government giving permission for this test to be conducted in the country on June 21.
Dr Sheikh Saiful Islam Shaheen, assistant professor of the Department of Transfusion Medicine at BSMMU, said the permission at the moment is only for clinical trials, not for treating patients.
"After the clinical trial, the decision will be taken on using plasma therapy. Besides, we don't have any capacity right now to do antibody tests for plasma therapy," he said.
Dr Shaheen, who is leading one such clinical trial at BSMMU, said, "Antibody measurement of the donor is a must. If sufficient antibodies are not formed, it may harm the patient. In some cases, it may create mild to severe allergic reactions, which may endanger the life of the patient."
Prof Dr Mohammad Shahidullah, head of the national technical advisory committee on coronavirus, said, "We have started randomised clinical trials and after getting trial results, we will decide whether we will form the guideline. Now, people are giving plasma therapy without knowing many things which is risky."
"During a pandemic, transfusion of convalescent plasma is used as empirical treatment for severely ill and critically ill patients."
Hospitals in the country are giving plasma therapy as part of ethically practicing in a desperate situation, when patients are critically ill, he added.
GLOBAL PICTURE OF PLASMA THERAPY
Many countries have endorsed clinical trials of plasma therapy.
In neighbouring India, there is a specific guideline for plasma therapy -- laboratory tests including CBC [complete blood count], hepatitis B virus, hepatitis C virus, HIV, malaria, and syphilis are conducted before giving plasma therapy.
A serum Covid-19 specific immunoglobulin G antibody concentration higher than 80 is preferred, says its guideline.
Only people aged between 18 and 60 and weighing not less than 50kg are eligible for plasma donation in India. Those with comorbidities such as diabetes, hypertension, and cancer are excluded.
In the US, the Food and Drug Administration has not approved plasma therapy for Covid-19 treatment.
But the FDA issued guidance for health care providers that recommends using convalescent plasma therapy for clinical trials and for patients with serious or immediately life-threatening diseases who aren't eligible to participate in trials.