Partial Resumption of Classes: Schools, colleges asked to prepare
Govt sends guidelines to secondary educational institutions; preparations by Feb 4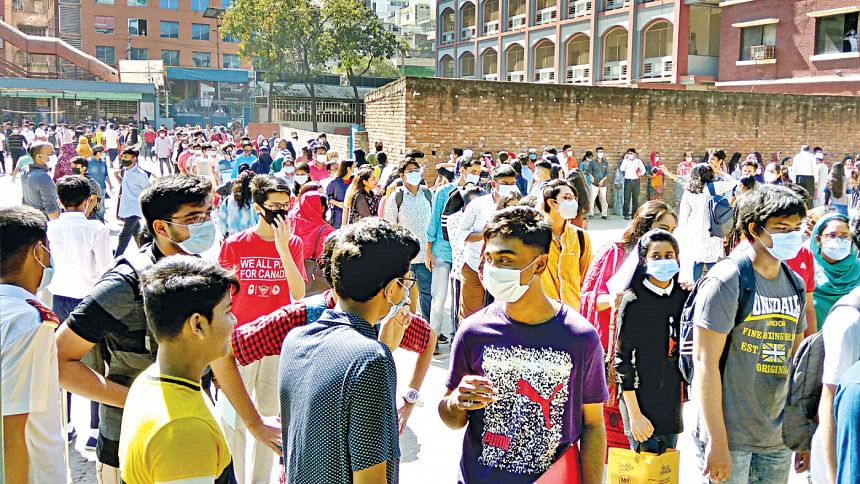 Only the 10th and 12th graders have to attend classes in person every day while other secondary school and college students may visit their classrooms once a week when their educational institutions reopen during the pandemic.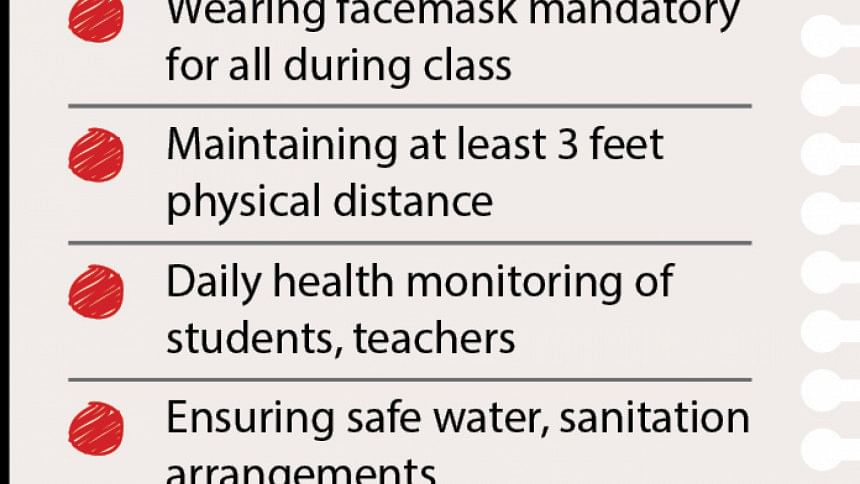 The government will decide when to reopen the schools after analysing the situation and consulting with the National Technical Advisory Committee on Covid-19, Education Minister Dipu Moni told parliament yesterday.
The Directorate of Secondary and Higher Education (DSHE) on Friday instructed all schools and colleges to complete their reopening preparations by February 4.
She said the government will bring students of classes 10 and 12 back to schools and colleges for the sake of their studies ahead of the SSC and HSC exams.
The minister said this while discussing the Bangladesh Technical Education Board (Amendment) Bill, 2021.
She said students of grades VI, VII, VIII, IX, and XI will come to educational institutions once a week and collect their tasks.
Many classes get crowded due to the number of students, she said, "It is not possible to maintain health directives properly… as a result, there will be no scope to bring all students at a time to the educational institutions."
On December 29, Dipu Moni told a press conference that classes for SSC candidates would be held from February to April and for HSC students from February to May.
She said the government was planning to hold the SSC exams in June and the HSC exams in July or August if there was no surge in new cases of Covid-19. Usually, the SSC exams start on February 1 and the HSC on April 1 every year.
It was decided earlier that the size of the syllabuses for the exams would be reduced.
The National Curriculum and Textbook Board has submitted the shortened syllabuses and to the education ministry, an official of the board said.
The syllabuses were modified keeping in mind that the students who pass must have the basic competence needed to proceed to the next course of their education, NCTB Chairman Prof Narayan Chandra Saha said.
On March 17, the government closed all schools to contain the spread of coronavirus.
The closure, which led to cancellation of exams and left academic calendars in disarray, has recently been extended to January 30.
After the school closure, the government started TV education through Sangsad TV for secondary and primary students. The school authorities are working to continue imparting lessons remotely.
Most students in urban areas have access to the internet, but the digital divide has so far proved to be a great disadvantage for the underprivileged learners as they face the prospect of dropping out, mainly for the lack of devices and poor access to the internet.
On January 19, the interim Education Watch Report 2020-21 said about 69.5 percent of students did not participate in distance learning, and 57.9 percent of them said they could not join the classes due to a lack of devices.
Of the students in rural areas who were interviewed for the report, about 69 percent said they could not take part in classes because they didn't have access to the digital devices.
On the other hand, 16.5pc of students interviewed said they did not find online classes "interesting" and that was why they skipped them.
"Distance learning programmes, by and large, remain ineffective. Students said they do not have TVs, laptops, computers and smartphones," Mostafizur Rahaman, one of the study team members, told The Daily Star.
The study report said 75 percent of students surveyed want to be back in the classroom soon and 76 percent parents, 73 percent district-level education officials and 80 percent education-related NGO officials are in favour of reopening the schools.
DSHE GUIDELINES
DSHE, with Unicef's assistance, recently published a guideline on reopening educational institutions maintaining health guidelines and public health safety measures.
It was prepared in line with different government directives as well as guidelines of the World Health Organisation, Unesco, Unicef, World Bank, and the US government's Centers for Disease Control and Prevention (CDC).
The guidelines, available on the DSHE website, prioritised ensuring that all students, teachers, staff and others concerned wear face masks throughout school hours.
It also prioritised maintaining three feet of physical distance between everyone at the institutions, classrooms and during other relevant activities.
Besides, the guidelines place importance on discouraging large numbers of attendance at a time.
The guideline says educational institutions need to assess how many students could be accommodated in one classroom considering its size.
For example, it said, if a classroom can accommodate 10 benches of less than five feet in length, then only six students could be accommodated in that classroom, with just one student per bench or desk.
In the above example, the second and fourth benches have to be removed to ensure the requisite physical distance. If it is not possible to remove the benches then those have to be cross-marked so that students do not sit there.
On the other hand, if the length of a bench is five feet or more, then two students will sit on it.
According to the guideline, to monitor the daily health situation of everyone, including teachers, students, staff and cleaners, necessary steps like installing contactless thermometers and maintaining a daily database have to be ensured at educational institutions.
The guidelines also said educational institutions must arrange a required number of safe water and sanitation facilities for all and consider ensuring toilets for students.