OC taped Nusrat, then passed it on
PBI finds in its probe into suspended Sonagazi OC's role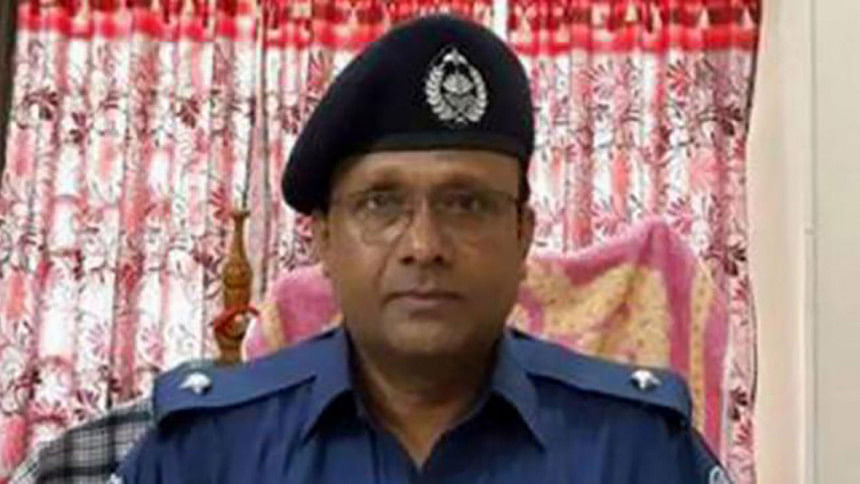 A team of Police Bureau of Investigation found involvement of Moazzem Hossain, suspended officer-in-charge of Sonagazi Police Station, in recording the interrogation of madrasa student Nusrat Jahan Rafi and sharing the footage with another person.
PBI chief Banaj Kumar Majumder shared the findings with The Daily Star yesterday after he sent those to Dhaka Cyber Tribunal.
He, however, said the probe team did not find Moazzem's involvement in spreading the footage on social media.
The person with whom Moazzem shared the clip may have spread the footage, he said.
On April 15, Syed Sayedul Haque Suman, a lawyer of the Supreme
Court, sued Moazzem under the Digital Security Act in connection with recording the footage without Nusrat's consent and spreading it on social media.
After Suman instituted the legal proceeding against Moazzem, Dhaka Cyber Tribunal instructed the inspector general of PBI to investigate the matter and submit a report.
"In the case, the complainant brought many charges, but our investigation found evidence supporting three charges against the accused," the PBI chief said.
In his complaint, Suman mentioned that Moazzem took Nusrat along with another student and the madrasa principal to his office and questioned Nusrat.
During the questioning, Moazzem taped Nusrat without her consent and illegally posted it on social media, the complaint read.
The footage shows that Moazzem was asking Nusrat multiple "insulting and objectionable" questions one after another.
The complainant also appealed to the court to issue an arrest warrant for Moazzem.
On April 10, Moazzem was withdrawn as Nusrat's family alleged that he was not cooperating with them.
On May 8, Moazzem was suspended over negligence of duty and attached to the office of DIG (Rangpur range).
Nusrat, a student of Sonagazi Islamia Senior Fazil Madrasa in Feni's Sonagazi upazila, was set ablaze on April 6 allegedly for refusing to withdraw a case filed against madrasa principal Siraj Ud Doula for sexually harassing her on March 27.
Nusrat died on April 10 at Dhaka Medical College Hospital.