News Analysis: They don't deserve it
Govt to lay-off around 25,000 workers, shut down 25 state-owned jute mills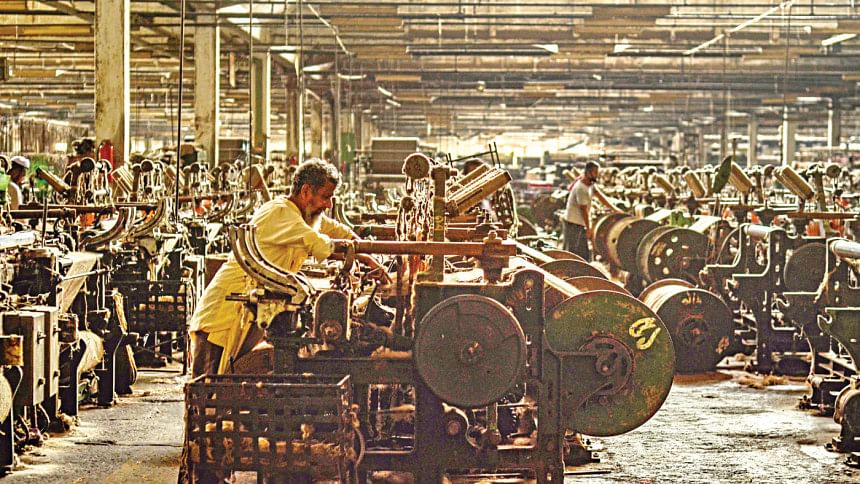 The government's decision to shut all state-run jute mills could not have come at a more inopportune time for the barely surviving workers in this sector.
With the coronavirus pandemic causing serious damage to life and livelihood in the country, Monday's announcement, of closing down the 25 state-run jute mills and laying off its 24,886 workers, by Textile and Jute Minister Golam Dastagir Gazi is also at odds with the government's stated intentions of avoiding job cuts in such desperate times.
It was learnt from top officials of BJMC, the regulating body of the country's jute mills, that the decision would be effective from July 1.
On Thursday, UNB reported that Prime Minister Sheikh Hasina chaired a meeting that confirmed the decision.
Textile and Jute Minister Gazi on Monday said, during a virtual press briefing, "The step has been taken as Bangladesh Jute Mills Corporation (BJMC) continues to incur heavy losses."
He also said the financial benefits of all retired workers, and wages and benefits of all current workers would be paid in due course. A Tk 5,000-crore fund will be allocated for this purpose.
"The mills will be modernised and re-opened under PPP [Public-Private Partnership], joint venture or lease process. And, these laid-off workers will be given priority while manning these modernised mills," said Gazi, who himself is a successful businessman.
That the BJMC has been a losing concern over the years and privatisation is a popular way out for the government is nothing new.
But the pertinent question is whether it was the right time for the government to make such a decision when protecting every job, be it in the formal or informal sector, should have been the utmost priority.
The government had announced a stimulus package of over Tk 1 lakh crore to revive an economy battered by the pandemic. The objective of the package was to keep the factory running and avoiding massive unemployment.
In that context, the decision to lay off jute mill workers was anything but protecting the working class. Rather, it amounts to throwing those workers into the deep end of poverty. Besides, it will also embolden private entities in the country to follow suit.
Reacting to the decision, Rashed Al Mahmud Titumir, a professor of Dhaka University's Economics department, told an English language daily on Monday, "If the government shuts down factories and terminates workers, it could encourage other sectors to fire workers."
The government should provide cash grants to people in need to contain the ballooning poverty; it cannot make people jobless, he added.
But the question is why was the government in a mad rush to close them down, going against an otherwise visibly generous approach of providing subsidies in some other sectors?
According to Centre for Policy Dialogue (CPD), in FY 2019, the government paid Tk 8,992 crore as capacity payments to the power sector -- a 398 percent increase from FY 2010, when the subsidy was Tk 1,790 crore.
And that astronomical figure (Tk 8,992 crore in FY 2019) is higher than the Tk 5,000 crore the government has offered to pay through what it called a "golden handshake".
For the deeply aggrieved jute mill workers, it was the final nail in the coffin. Mizanur Rahman, a worker of Platinum Jubilee Jute Mills in Khulna, summed up the grim prospect well.
"The government decided to sack us at a time when we are already in deep trouble due to the pandemic.
"We have been living in quarters for labourers at the jute mills for generations. Where will we go with our family members during this pandemic? Where will we get jobs when all the factories are firing workers?" Mizanur was quoted in a The Daily Star report titled "Workers protest jute mill closure" on June 30.
It means workers will not only lose their jobs, but will also be ejected from their homes and their children deprived of free education.
The coronavirus pandemic is showing no signs of slowing down and the World Health Organization chief Tedros Adhanom Ghebreyesus on Monday said, "We all want this to be over. We all want to get on with our lives. But the hard reality is that this is not even close to being over."
And this is more pertinent for Bangladesh where Covid-19 infections and deaths are still rising. Besides, the country's healthcare experts are not sure how long it will take to return to normalcy.
The jute and textile minister said the laid-off workers will get job 'priority' once factories are modernised and relaunched through public-private partnership or by private enterprises. It is not only a distant reality, but proved to be a hollow promise in the past, and has been well-documented.
The two investigative reports in The Daily Star in recent memory –- "JUTE DAY: Reality vs Labour law" and "Jute Workers: No pay scale in 9 years, no pay for months" -- have shed light on how the once topmost foreign exchange earning sector has faced a gradual decline and how the workers were deprived over the years.
However, who is responsible for the fall of the public jute mills is not an issue at the moment.
The issue is whether the jute mill workers deserve such harsh treatment from the government in such a trying situation. Do they deserve to be just thrown away only because they are not profitable? Do family members of workers deserve to be deprived of basic rights like accommodation and education?
We beg to differ.