New hurdle for fresh migrants
25,000 Saudi-bound workers spending additional money as they need to submit all papers again for reissuance of visa expired amid pandemic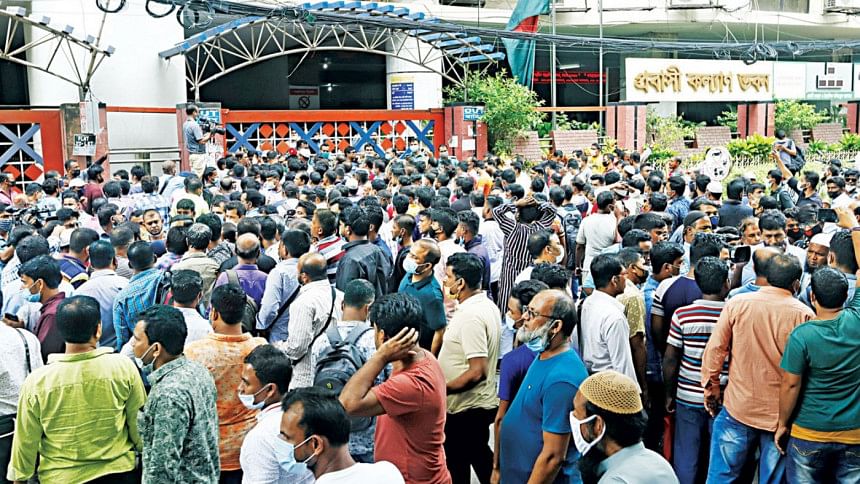 Around 25,000 aspiring migrant workers are facing new hassles as Saudi Arabia asked them to resubmit documents for reissuing their visas, expired amid coronavirus pandemic. 
Potential migrants who secured visas before the pandemic but could not travel because of the outbreak will again have to submit the medical reports and "police clearance" certificates along with fresh papers provided by their prospective Saudi employers, said industry insiders.
But a large number of the aspirants, who have already invested borrowed or hard-earned money for "lucrative" overseas jobs and facing financial crunch due to the Covid-19 fallout, now find it difficult to fulfil these requirements.
Take the case of Md Shahadat.
The man in his late-20s from Chandpur got an employment visa for the job of a date farm labourer in Saudi Arabia. He already paid Tk 50,000 for the employment visa and agreed to pay another Tk 2.5 lakh upon making the flight.
Besides, he spent Tk 20,000 on medical fees and other expenses.
He was due to fly on March 26 but all flights got suspended because of the global outbreak of Covid-19.
"It will be a burden if I have to spend Tk 20,000 again," Shahadat told The Daily Star.
Similar is the case of Kamrul Hassan, 30, of Tangail's Ghatail. He had to collect his "police clearance" certificate from the local police station by himself.
"Now I have to go through the same process again," he said.
The reissuance of visas will also put potential migrants at the mercy of Saudi employers who will decide whether they will hire the workers amid the Covid-19 downturn, though they earlier placed their demands for the workers and gave "power of attorney" to local recruiting agencies.
Shariful Hasan, head of Brac Migration Programme, said the new move by the Saudi government will increase the cost of labour migration for poor workers.
Many workers invested money, which are significantly large amounts considering their economic condition, but largely remained unemployed in the past seven to eight months, he said.
"If they have to pay additional money now, this will make them economically more vulnerable."
Shameem Ahmed Chowdhury Noman, secretary general of Bangladesh Association of International Recruiting Agencies (BAIRA), said prior to the pandemic, they had about 80 percent of 86,000 new employment visas and visa advice copies for jobs in Saudi Arabia, which mostly expired.
The member agencies of BAIRA, the country's apex trade body in the labour migration sector, recently started submitting the expired visas to the Saudi Embassy in Dhaka, so that those can be cancelled and reissued, he told The Daily Star by phone on October 7.
The agencies started doing so following a verbal instruction from the Saudi Embassy, Noman said, adding a stamped Saudi employment visa remains valid for three months.
Visa stamping is the process of endorsing a visa in the passport.
On September 30, Foreign Minister AK Abdul Momen told reporters that Saudi Arabia has agreed to reissue about 25,000 new visas.
The same day, Expatriates' Welfare Minister Imran Ahmad said the Saudi Embassy will cancel and reissue the visas which were obtained by potential migrants in March but could not be used.
Both ministers made their remarks after a meeting with mission officials of some labour-receiving countries, including Saudi Arabia, in Dhaka.
This year, Saudi employers hired about 1.33 lakh workers from Bangladesh till March, according to data of Bureau of Manpower, Employment and Training (BMET).
Bangladesh's labour migration process stopped in mid-March amid the pandemic.
BAIRA Secretary General Noman said the aspiring workers will not be able to go to Saudi Arabia if Saudi employers do not renew documents.
He said for visa reissuance, the documents provided by Saudi employers will be "a kind of power of attorney".
Before the pandemic, the employers placed demand letters to Bangladeshi recruiting agencies for hiring workers in certain projects. Now the same employers will have the jurisdiction to decide how capable the agencies are to recruit workers in the same projects, he added.
Contacted, Shamsul Alam, director general of BMET, said they have issued smart cards (BMET emigration clearance cards) to aspiring migrant workers upon taking fingerprints.
"The smart cards will remain effective," he said, adding such smart card holders do not have to do anything new at BMET.
VISA ADVICE COPIES ALSO EXPIRED
According to BAIRA, the 86,000 new employment visas and visa advice copies of different countries were at stamping and pre-stamping stages in March when the pandemic halted the process.
Noman said a visa advice copy which is sent along with a demand letter remains valid for one year.
However, recruiting agencies in Bangladesh usually get the visa advice copy five to six months since its date of issuance by the concerned Saudi authorities.
So, the visa advice copies that recruiting agencies had in March mostly expired, he added.