Murder in Pallabi: Ex-MP Awal arrested
Rab says he was the mastermind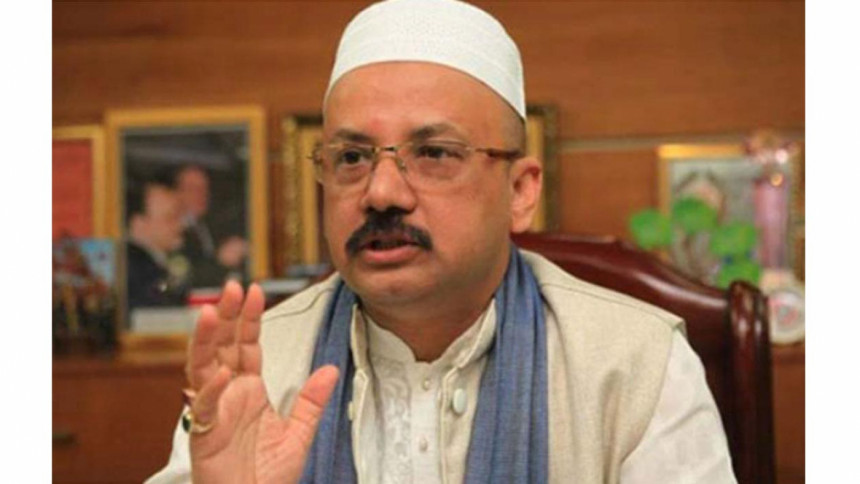 Former lawmaker MA Awal, along with two others, made a blueprint for the murder of Shahinuddin, a businessman in the capital, said Rab. 

The murder was planned four to five days before Shahinuddin was hacked to death before his son in the capital's Pallabi area, the elite force said. 

Commander Khandaker Al Moin, director of (legal and media wing) of Rab, said, "After the killing, Sumon, who led a group of assailants, called over Awal's mobile phone and said 'sir finished'." 

Then the people involved with the killing went into hiding in Dhaka and elsewhere, he said while attending a press briefing. 

The elite force made the claim hours after arresting former Lakshmipur-1 lawmaker Awal in Kishoreganj's Bhairab area. 

Awal was elected from the constituency in the 2014 elections as the secretary general of Bangladesh Tarikat Federation, a partner of the political alliance led by the ruling Awami League. He was later sacked from his party. 

Two other accused -- Hasan, 19, and Zahirul Islam Babu, 27 -- were also arrested in connection with the murder. 

Separate Rab teams arrested them from Chandpur's Haimchar and Patuakhali's Bauphal respectively. 

Hasan was arrested around 11:30pm on Wednesday whereas Babu was arrested around 5:00am yesterday. 

A day after the murder, the victim's mother filed a case with Pallabi Police Station against 20 named and 13 to 14 unnamed people. The former lawmaker was made primary accused in the case. 

The Rab director said they found the involvement of the accused during primary interrogation. 

Responding to a query, he said they heard from the victim's family that Awal spent Tk 30 lakh on the assailants for murdering Shahinuddin. 

Since 2004, Shahinuddin and Awal had been involved in a feud over land. 

Kazi Wazed Ali, officer-in-charge of Pallabi Police Station, said this long-standing feud led to the murder. 

According to a Rab press release, the murder was planned at Awal's Kalabagan office where Taher and Sumon, two more accused, were present. 

Sumon was assigned to execute the murder while 10 to 12 others directly took part in the killing. Several others were around as associates, the press release added. 

On May 15, those who took part in the killing, including Sumon and Babu, had a meeting and as per plan they went to the spot in the afternoon of May 16 where Shahinuddin was asked to come to Mirpur-12 on the pretext of resolving a land dispute. 

When Shahinuddin approached there around 4:00pm with his seven-year-old son, 10 to 12 persons including Sumon, Monir, Manik, Hasan, Iqbal, and Murad, started to hack him indiscriminately with sharp weapons, killing him on the spot. 

The whole operation took five to seven minutes to complete, he added. 

Immediately after the incident, Rab started shadow investigation and earlier arrested FIR named accused Dipu, 28, from Nagarpur in Tangail on May 17. 

Rab officials said that Awal was mainly a property and land developer. He used to pay Tk 10,000 to Tk 12,000 each month for grabbing land and committing other criminal activities. 

"They also used to get extra payment for special tasks," they added. 

Sumon and his group members were also involved in extortion, snatching, narcotics trade, and gambling in the area, they further said. 

Meanwhile, the Detective Branch of Dhaka Metropolitan Police arrested two more accused -- Sumon Bepari, 33, one of the masterminds of the murder, and Rony Talukder, 25 -- from Dhaka's Jatrabari and Pallabi areas respectively, said Ahsan Khan, additional deputy commissioner of Pallabi zone, who led the drive. 

"We are trying to arrest other accused," he said, adding that DB has taken charge of the case. 

Earlier, Pallabi police arrested two persons in this connection. 

A group of criminals led by Sumon attacked Shahin in front of his house around 4:45pm on Sunday. They stabbed him indiscriminately with sharp weapons, leaving him dead on the spot. A CCTV camera installed nearby recorded the incident.