A murder in cold blood
Slain Major (retd) Sinha's sister says in statement to magistrate; police asked to register it as regular case; Rab tasked with probing the incident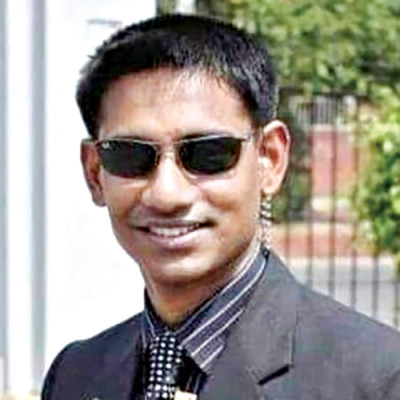 Around 9:25pm on Friday, Inspector Liaqat Ali of Baharchhara Police Investigation Centre and Sub-inspector Nandadulal Raxit of Teknaf Police Station stopped Maj (retd) Sinha Md Rashed Khan's car at Shamlapur police checkpost on Marine Drive in Teknaf.
In that car were Sinha and one of his associates Shahedul Islam Shifat. After Sinha revealed his identity to the policemen, the cops flung open the passenger door of the vehicle and dragged Shifat out.
As Shifat also told them who they were, the two policemen became furious. At this, Sinha came out with hands up and yet again said he was a former major of Bangladesh Army. 
"I have seen many majors like you. I'll now show you how the game is played," Inspector Liaqat yelled at Sinha. 
While continuing to abuse Sinha and Shifat, Liaqat made a phone call to Pradeep Kumar Shaha, officer-in-charge of Teknaf Police Station. At one point, the inspector told the OC, "Alright. [I] am going to finish this scoundrel."
Before Sinha could realise anything, Liaqat fired several shots at him in cold blood.
This is how Sinha's elder sister Sharmen Shahria Ferdush narrated the sequence of events that led to the death of her brother, in a case filed with Teknaf Senior Judicial Magistrate Court around 11:30am yesterday.
She accused nine people, including Liaqat, Pradeep and Nandadulal. Liaqat is the number one and Pradeep is the number two accused.The case mentioned 10 witnesses.
Senior Judicial Magistrate Tamanna Farha directed Teknaf Police Station to record the case. She also ordered the Rapid Action Battalion (Rab) to investigate the incident and submit a report on the progress of investigation within seven days. 
Sinha, who served in the Special Security Force (SSF) and took voluntary retirement from the army two years ago, was killed in police firing at the checkpost, triggering an uproar across the country.
Thirty-six-year-old Sinha had been making travel documentaries for a YouTube channel called "Just Go". He had been staying at Nilima Resort in Himchhari of Cox's Bazar along with Shifat and two other students of a private university for around a month to film a travel documentary.
On the fateful night, he was returning to Cox's Bazar from Teknaf along with Shifat in his car after a shoot.
But the police claimed in the FIR that Sinha had aimed his pistol at them after obstructing a search of his vehicle and they shot back in self-defence. They also claimed that they seized drugs from the vehicle.
Two cases have been initiated over the incident. But the police account raised many questions, prompting the government to form a committee to investigate the incident.
"PREMEDIATED MURDER"
In the case, Sharmen alleged that it was a premeditated murder and inspector Liaqat shot his brother in cold blood after being instigated and instructed by Pradeep over the phone.
The case statement said Sinha fell to the ground in a pool of blood and when he attempted to stand up to flee for his life, accused Safanur Kabir and Constable Mostofa pinned him down on the ground again.
Liaqat then fired one more bullet at Sinha to make sure he is dead, said the case document.
After a while, OC Pradeep appeared at the scene. He kicked Sinha's face and body to find out whether he was dead.
Pradeep also tried to mutilate Sinha's face by rubbing his boots on it, the statement said.
The plaintiff of the case alleged that the accused policemen then drove away the eye-witnesses and locals by flaunting guns.
Sinha was brought to Cox's Bazar Sadar Hospital at 11:45pm and the duty doctor declared him dead, the statement said.
The statement said to hush up the killing, a false and baseless allegation that Sinha tried to fire at police was made up by the cops and two separate cases were filed against Sinha and Shifat. Even after such a cruel murder, the accused were out to hatch conspiracy with their seniors to divert the incident to a different direction, it added.
After coming out of the courtroom, Sharmen said, "I demand justice for my brother's killing. My brother was a warrior."
Lawyer Md Mostafa, who represented her in court, said they expect to get justice.
WHERE IS OC PRADEEP?
The officer-in-charge left his police station on Tuesday saying he was sick, said Cox's Bazar Superintendent of Police ABM Masud Hossain.
A high official of district police said that Pradeep would be withdrawn soon.
A recent video message from the OC has been doing the rounds on social media where he says yaba traders from every neighborhood in Teknaf would be arrested. Those who cannot be found; their houses, shops and vehicles would be "uprooted".
"Those homes will be ghostly attacked. Some houses will ghostly catch fire. Some vehicles may catch fire ghostly," he adds.
The OC also said they would declare Teknaf as a drug free zone by December 16.
The video message had created a stir in Cox's Bazar with many questioning how a responsible law enforcement officer could publicly threaten to attack and set fire to houses, shops and other establishments.
Many locals said houses and boats of drug traffickers were being attacked, vandalised or set on fire after "all efforts" by law enforcers to eradicate drugs have failed.
According to police sources, more than 100 houses were attacked before the country was hit by Covid-19 in March and people in the area are in panic following the OC's public announcement.