Movement Pass: Confusion, hassles add to chaos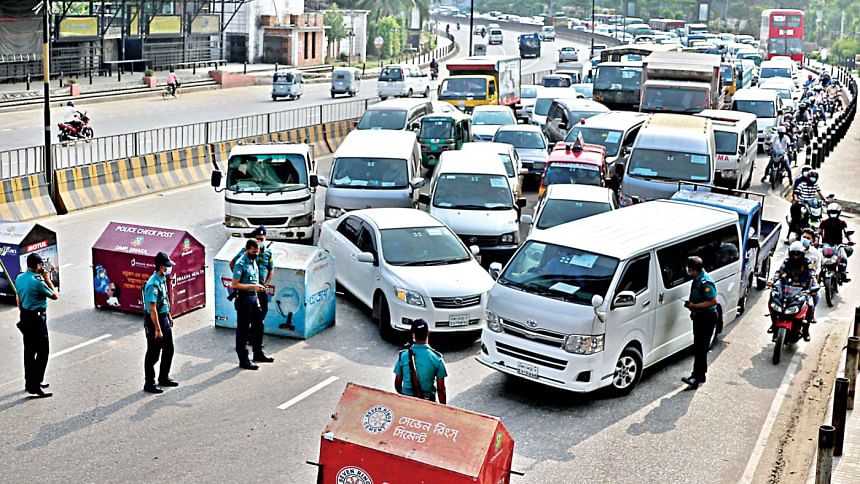 Different streets and intersections in the capital witnessed increased traffic on the second day of the weeklong "strict lockdown" amid the second wave of coronavirus.
There was also confusion among people over who must apply for the passes to be outdoors and who should not.
The Police Headquarters (PHQ) says people engaged in emergency services would not need a pass. But many people in services that can be considered emergency complain that they were stopped and harassed on the streets by the police.
With several departments, banks, and factories remaining open, there were long tailbacks at police checkposts.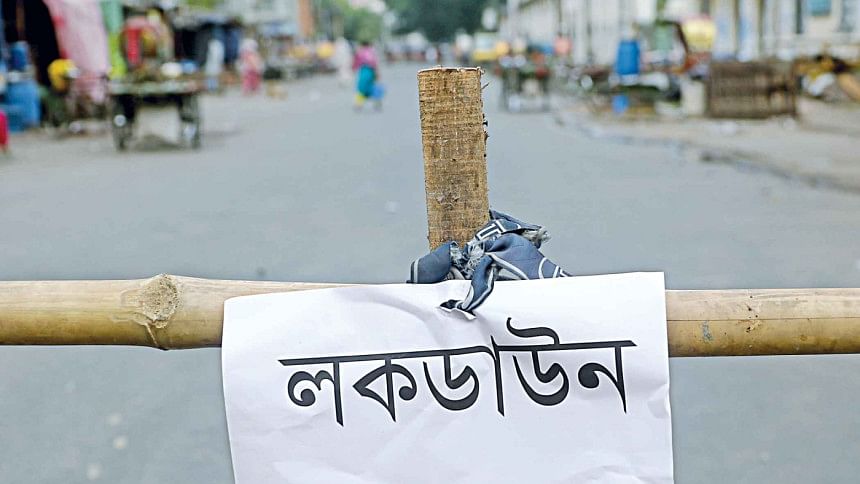 There was congestion in front of Radisson hotel as early as 7:45am, because police stopped almost every vehicle at the checkpost, asking people why they were out and about. This affected traffic flow on other sections of Airport Road.
"We have instructions to check each and every vehicle on the road," said an officer at the checkpost.
Meanwhile, thousands of garment workers had to commute to and from their factories amid the restrictions.
In Savar around 6:30am, photographer Palash Khan of The Daily Star saw hundreds of garment workers walking on highways to their factories. Many others were travelling in packed human haulers. 
Most of them said their employers had not arranged buses for them as per the government direction.
The workers in human hauliers said they had to pay up to three times the usual fare.
A government circular mentioned that factories and industries would remain open during the "strict lockdown", but the management must make arrangements for picking up and dropping off workers.
The situation was similar in Hemayetpur and Ulail bus stations in Savar.
At Gabtoli bus terminal, police were checking vehicles, mostly cars, IDs of the passengers, and asking why they were travelling. Very few cars, rickshaws and motorcycles were seen in the capital.
But as the day progressed, the number of vehicles, mostly cars and motorcycles, increased. There was congestion at several places.
Our correspondents saw five police checkposts between Shanir Akhra and Farmgate. The streets were mostly empty.
Shafiqul Islam, who was travelling on a rickshaw van from from Signboard area to Old Dhaka, said he was going to see his ailing brother.
A correspondent of this newspaper was stopped at Jatrabari and Gulistan checkposts and was allowed to go after showing his identity card.
A police constable in Gulistan area said the number of people on the roads increased on the second day of the lockdown.
In Shahbagh, a Rab-assisted mobile court led by Executive Magistrate Palash Kumar Bosu conducted drives.
Those who did not have the police-issued pass or mention a cause serious enough to be outside were fined. The magistrate also warned people who did not wear masks or did not maintain health rules.
POLICE PASS
According to the PHQ database, 3,46,430 passes were issued from 11:00am on Tuesday to 2:45pm yesterday. The number of visitors to the "movement pass" app was 16,18,29,521, which was 9,946 per minute on an average.
The number of total registrations on the app was 4,87,891 yesterday afternoon, said Farhan Kabir, an assistant superintendent at the PHQ.
He said the "movement pass" was one of the most popular searches on Google in Bangladesh during the period.
"We had no idea the app would get such a response. We have a back-up so that the app can operate smoothly," the ASP said.
If someone has trouble registering, they should refresh the page on the browser, he said.
Sohel Rana, assistant inspector general at the PHQ, said people involved in emergency service just have to show their identity card at checkposts.
The emergency services include hospitals, banks, media, production units, garment factories, utility, phones, internet, postal, government service, law enforcement, fire service and port management, he added.
However, Jiban Ahmed, a photographer of Daily Manabjamin, said police officers at a checkpost in Agargaon fined him Tk 4,000 for being outdoors and not having a drivers' licence even though he was on professional duty.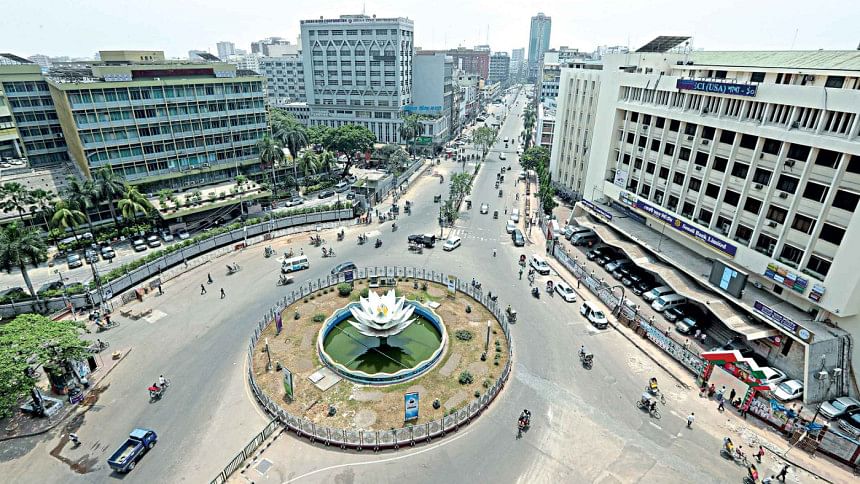 "I requested them to fine me just for my driver's licence. But they would not hear," Jiban said.
Senior reporter of dhakapost.com Saeed Ripon alleged that he was harassed in Mirpur-1 area while he was reporting.
Ripon said an officer took his phone away and returned it later.
On Wednesday, Nazmul Islam, a doctor at Square Hospital, alleged that he was fined Tk 3,000 while going to his workplace from Munshiganj.
Haider Ali Khan, deputy inspector general at the PHQ, told The Daily Star that those in the emergency services did not need a pass. But they have to show a document from the organisation or an identity card to prove that they actually are involved in an emergency service.
"An emergency worker who is outdoors for non-work related matters will not be allowed to move," said the DIG.
"Many doctors do not have identity cards. In that case, they must get a paper from the hospital they work for and show it to the police," he explained, adding that journalists should also have the ID.
About the allegations of harassment at checkposts, Haider said, "That is not supposed to happen. If we find any deviation, we correct them immediately."
Meanwhile, users complained that they couldn't register for the pass as the site kept telling them that "your number has already been registered".
Many others alleged that the site kept freezing.
"I tried at least 50 times and didn't succeed," said Shafiq Hasan from Dhanmandi.