Mob yells drowned father's cries for help
Family tells how 28-year-old Siraj got killed when he went to meet his daughter; experts blame frustration, distrust of police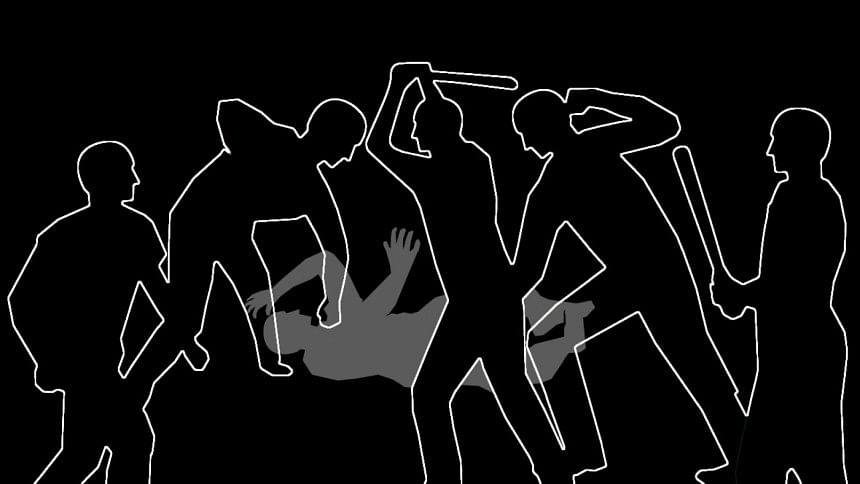 Md Siraj, 28, died because he loved his daughter. When a mob descended upon him, suspecting him to be a kidnapper, the deaf man could not even express his innocence for he could not speak. 
"He would have been alive if he had not gone to see his daughter," said Siraj's father Abdur Rashid. Siraj was killed by a mob on Saturday in Mizmiz area of Narayanganj.
"After his wife left him and married another person, she took her daughter with her to live in Mizmiz area. But my son used to miss his daughter a lot," Rashid said.
On his final day, Siraj had borrowed Tk 100 from his family members, which he used to buy a packet of chips and bangles for his daughter. He had been going to see her at her school for the past two months.
Seeing the 28-year-old, an unknown face in the area, near the gate of a school, a mob set upon him. 
Siraj's life ended in the silence of the screams of a mob and now   Abdur Rashid, the helpless father, is seeking justice for his son's murder.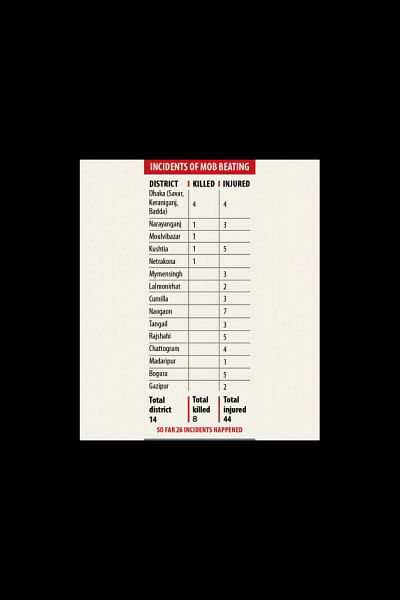 "He died because he went to see his daughter." 
 While Siraj was being murdered by a mob, a few kilometres away in the capital's Badda, another mob mercilessly beat up and killed Taslima Begum Renu, a mother of two kids, suspecting her of being a child abductor. 
On Monday night, her daughter, four-year-old Tuba, was getting ready.
She put on her shoes and then asked her cousin to get ready as well. "Let's go look for mother," she said, unaware of the fate that befell Renu.
Since Renu's burial at her Lakkshipur house on Sunday evening, Tuba has been looking for her mother. Tuba's brother Mahin Hossain, 11, has gone silent since his mother's death. 
Eight people were killed by mobs on suspicion of being child abductors in 26 incidents in different parts of the country in the last two weeks. Many say the recent spate in mob killings started when rumours began circulating about humans being sacrificed for the Padma bridge construction. 
The mob beatings took place in 16 districts, leaving 44 others injured.
Home Minister Asaduzzaman Khan recently said that 81 people, out of thousands of accused, had so far been arrested in connection with the murders. 
Analysing the incidents, it can be seen that most of the victims were either physically or intellectually challenged. Some were beggars.
In Narayanganj, seven people were murdered by mobs in the last four days. Five of the victims were intellectually challenged. 
Elsewhere in Cumilla, all three mob beating victims were beggars; in Rajshahi, five NGO workers and five fishermen were beaten on suspicion of kidnapping.  
The growing incidents of mob beatings lead one to ask why these are happening. 
According to rights body Ain O Salish Kendra, a total of 39 people were killed in mob beating across the country last year.
But this year such incidents took a sharp rise. From January to June, 36 people had already been killed in such incidents. 
GROWING MOB MENTALITY?
Eminent psychologist Mehtab Khanam said when people become frustrated that leads to aggression. "Mob psychology is a manifestation of severe frustration. When people see one thing happens repeatedly and there is no remedy, then they become frustrated…," she said. 
She said the media should focus on such cases in depth to understand the reasons. "A detailed case study will help people to understand the problem and work on it. By doing surface reporting, are we really helping the people?"
Prof Zia Rahman, head of the criminology department at the University of Dhaka, said, "Developed countries have established criminal justice systems. But we have not been able to contain aggressive behaviour. In our culture, there is still hostility and aggression.
"Mob beatings have been happening in Bangladesh for a long time. For instance, a mob catches an errant driver after an accident and beats him to death. Sometimes, a pickpocket is left at the mercy of a mob after being caught," he added.
The criminology professor also said there was too much superstition in the society, which is why many people saw the face of Sayeedi, a war criminal, on the moon.
"These superstitions are so prevalent in our society that we tend to believe anything without justifying it scientifically or rationally," he said.
Dr Nehal Karim, professor of Sociology at University of Dhaka, also said such incidents were not new. 
He said the role of law enforcement agencies and local government representatives should be brought under the scanner. 
"If intelligence agencies worked properly, the situation would have been different. The ward commissioners can play a big role in maintaining peace and containing rumours in their areas," he said.
He also alleged that people had no confidence in the police and judicial system, which led many to take the law in their own hands. 
In terms of police's role or lack of it in meting out justice, the Amin Bazar incident in the outskirts of Dhaka two years ago makes an interesting case study. 
Al Amin, the sole survivor of the mob beating which left six of his friends dead, said while a Dhaka court earlier this month framed charges against 60 people, they were beaten by around 15 people. Family members of the victims feared the high number of accused would prolong the case proceedings.
They also expressed surprise that no policemen were indicted even though a judicial probe had found police negligence in protecting the victims. In fact, an investigation by The Daily Star revealed that a police official who was demoted to the rank of assistant sub-inspector for his negligence was again promoted back to his former rank after only a year.
Meanwhile, Law Minister Anisul Huq said, "Rumours of kidnapping creates a charged atmosphere and the situation becomes uncontrollable. But this is not a justification; we are trying to bring all the culprits to book."
Voicing his suspicion, Anisul said, "The violence is clearly being orchestrated by vested quarters. A rumour starts in one part of the country and travels to other parts like wildfire." 
Rajib Nandy, assistant professor of the Communication and Journalism Department at the University of Chittagong, researched mob violence and concluded that mob psyche was different from individual psyche. 
"When an individual acts, there is a sense of responsibility. But in a mob, there is a dispersion of responsibility and guilt," he said.
The researcher said social media played a big role in spreading of rumours. "When new media expanded in Bangladesh, people of the country were not educated on how to behave responsibly [when using it]." 
He also said people still had faith in the law, as they handed over the pickpockets or snatchers to police in some incidents.
The mob justifies its act as heroism to save the community, their identity, their children, themselves, he said.