Mayhem in Noakhali
50 hurt as AL factions clash; 9 bullet-hit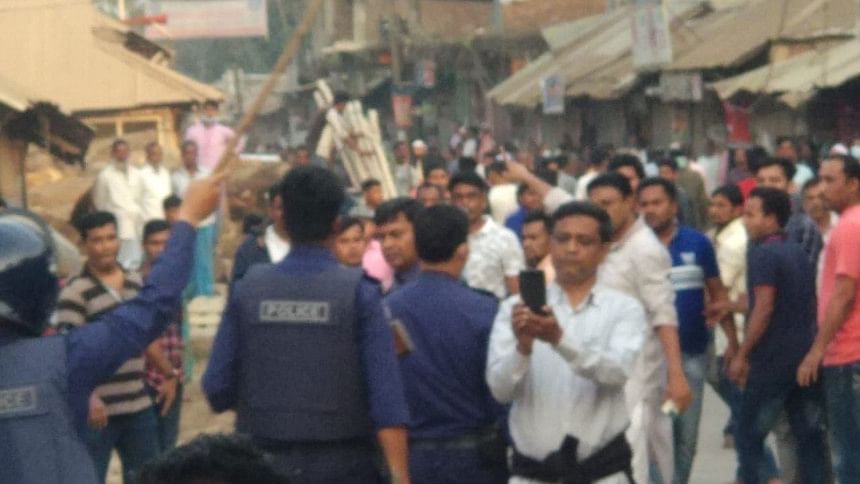 At least 50 people were injured in clashes between two factions of ruling Awami League over establishing supremacy in Noakhali's Companiganj upazila yesterday.
One group was led by Abdul Quader Mirza, younger brother of AL General Secretary Obaidul Quader, said police.
The other group was led by Mizanur Rahman Badal, organising secretary of upazila unit AL, also a follower of lawmakers Ekramul Karim Chowdhury and Nizam Uddin Hazari.
At least nine people, including a local journalist, were hit by bullets during the incident. They were shot in their chests, heads, and necks.
Of them, two were critically injured. They are Borhan Uddin Muzakkir, 30, correspondent of local online portal Barta Bazar, and Kamal Uddin, 60, an AL activist. The two were shifted to Dhaka for better treatment. The rest were undergoing treatment at Noakhali General Hospital, said Syed Mohiuddin Abdul Azim, resident medical officer of the hospital.
The clash ensued in front of the AL party office at Chaprashirhat East Bazar around 4:45pm, police said. It continued till 7:00pm, turning the area into a battlefield.
Meanwhile, Quader Mirza called a dawn-to-dusk hartal in Companiganj upazila today, "protesting the attack on his men".
Besides, he announced that he would hold a press conference at 10:00am today at Basurhat, while Badal called a press conference around noon at Chaprashirhat over yesterday's incident.
According to locals and police sources, Badal, also a former chairman of Companiganj upazila, asked his supporters to come to the Chaprashirhat party office at 4:30pm to exchange views over holding a press conference today against Quader Mirza's recent comments on party leaders.
But before that, supporters of his rival group, led by Charfakira Union Chairman Jamal Uddin Liton, a man of Quader Mirza, gathered there.
The supporters of the two groups got locked into an altercation. At one point, chase, counter-chase and clash took place between them. Bullets were also fired. At least 50 people of the two sides were wounded.
On information, Companiganj police rushed to the spot and fired blank shots to bring the situation under control.
Journalist Burhan Uddin was hit by bullets while covering the incident.
Shortly after the incident, followers led by Quader Mirza, mayor of Basurhat municipality, attacked Badal's house near Chaprashirhat Bazar. They went there in two microbuses and over 100 motorcycles, Badal alleged.
On the other hand, in a Facebook live, Quader Mirza alleged that his men were attacked by the men of lawmakers Ekramul and Nizam. He claimed that at least his 50 supporters were hurt in the attack.
"If any of our leaders and activists dies, Road Transport and Bridges Minister Obaidul Quader, Companiganj Upazila Parishad Chairman Shahab Uddin, MP Ekramul Karim Chowdhury, MP Nizam Hazari and former Upazila Chairman Mizanur Rahman Badal will be held responsible for this," Mirza Quader said.
He also alleged that his men were shot by his rival group in presence of police.
Mir Jahedul Haque, officer-in-charge of Companiganj Police Station, who was present on the spot, told reporters that during a procession led by Badal, there was a scuffle between the supporters of UP Chairman Jamal and Badal at Chaprashirhat.
After that, some followers led by Quader Mirza went to Chaprashirhat Bazar and another clash took place. At that time, police brought the situation under control by firing shots in the air, he added.
Md Alamgir Hossain, superintendent of Noakhali police, said the clash ensued over the political rivalry between Quader Mirza and Badal.
Police fired 10-12 bullets to disperse the clashing groups. Riot police have been deployed to fend off further untoward incident in the area, he added.
Quader Mirza has been making comments against corruption and misdeeds committed by AL men in Noakhali and Feni for the last two months. He even on multiple occasions came down heavily on government officials for their alleged involvement with corrupt politicians.
On February 18, Quader Mirza and his followers enforced a half-day shutdown in Companiganj upazila, demanding the transfer of some government officials and punishment of some party men for "their involvement in corruption".