Managing Dhaka's 26 Canals, Box Culverts : Charge goes to two city corporations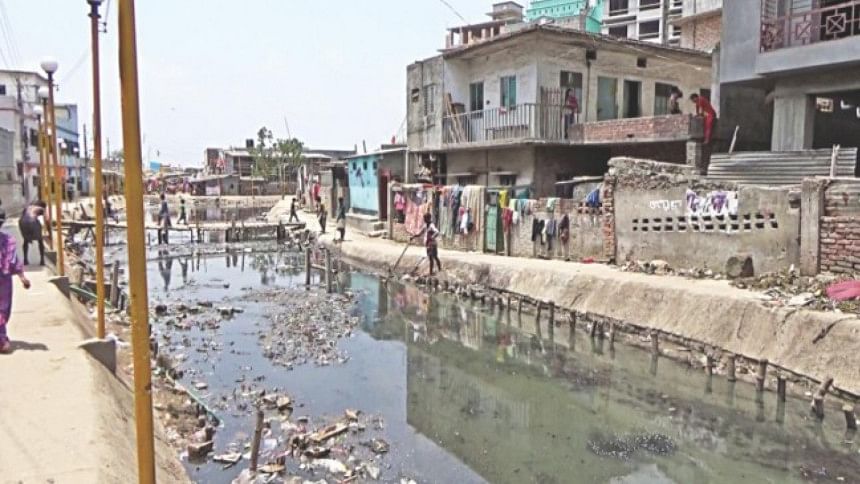 The capital's city corporations yesterday formally took over the management and maintenance responsibilities of 26 canals and 10 kilometres of box culverts from Dhaka Wasa, raising hope that the city's long-standing waterlogging problem would be solved.
Dhaka Water Supply and Sewerage Authority (Wasa) had been responsible for the 26 canals (84.5km) and the 10 box culverts (around 10km) since 1988. It also looks after 385km of storm water drainage.
The DNCC and DSCC have been managing 2,200km of pipe and surface drains.
Chief Executive Officer ABM Amin Ullah Nuri of Dhaka South City Corporation (DSCC), his Dhaka North City Corporation (DNCC) counterpart Md Selim Reza, and Managing Director of Dhaka Wasa Taqsem A Khan signed an MoU on behalf of their organisations at a city hotel yesterday.
LGRD Minister Md Tazul Islam at the ceremony said, "From today the two city corporations will have the responsibilities of solving the waterlogging problem of Dhaka city and they will have to do the work taking help from other agencies and residents of Dhaka city."
He said they had held a meeting on the issue last month and formed a technical committee.
With the committee's recommendations and the prime minister's approval, Wasa handed over the canals and drainage system along with the necessary manpower, equipment, and technical documents.
Tazul said many water bodies in Dhaka city had been encroached upon and occupied, even by the government. The city corporations with the help of public representatives would take steps to recover them.
"We have to rescue the water bodies from the encroachers in phases," he said.
Tazul said they were preparing projects to build walkways along the canals and water bodies and to facilitate water transport.
DSCC Mayor Sheikh Fazle Noor Taposh said they would start cleaning up of three canals -- Jirani, Manda, Syampur -- and two box culverts in Panthapath and Segunbagicha from tomorrow.
"We will continue the clean-up work until March and we will do the same for other canals like Kalunagar and old Buriganga channel and Dholaikhal box culvert by June," he said.
Taposh said they would not wait for the government funds and would do the work with their own money.
"We will set up boundary pillars, remove all encroachers and protect the recovered land.
"We will also take steps so that the canals are not refilled with garbage again," he said.
Taposh said they would take measures to connect all the canals and if they succeed, Dhaka would be as beautiful as Venice.
"We just need to keep the canals clean, increase connectivity, and do the maintenance work properly," he said.
DNCC Mayor Md Atiqul Islam said there were over 100 canals in Dhaka city and most of them have already disappeared. He said the city would not have any waterlogging if all the canals were there.
He said, "According to experts, 25 percent open space and 12 percent water bodies are needed in a city. We have a lot less than the required."
The mayor said they have to arrange a water transport system and create more water retention areas.
"We have to demarcate all the canals through city survey, evict all encroachers from the canals and increase water carrying capacity of the canals through excavation."
Requesting the LGRD minister to take necessary steps, Atiqul proposed building elevated roads on the eastern end of Dhaka instead of flood protection embankment that had been done on the western end.
Joint Secretary Iqbal Habib of Bangladesh Poribesh Andolon said even though the two city corporations have taken responsibility of the canals, they did not become their custodians with full authority. The deputy commissioner's office remains as their custodians.
He, however, said the city corporations do have the power to conduct eviction drives.
As mayors and councillors are public representatives, they would be able to recover the water bodies ensuring public support, which would be effective, he said.