Mamata's win: For Dhaka not much hope for Teesta deal
Say international relations analysts; 'relief that secularism triumphed'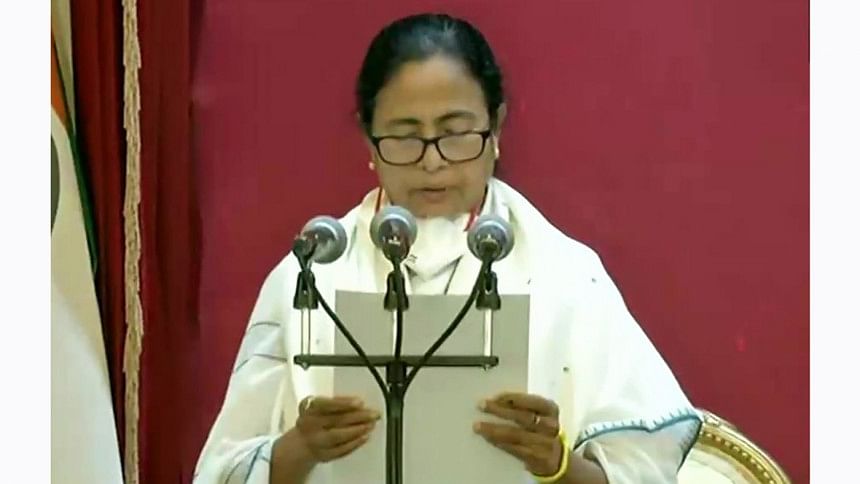 Over the last decade, West Bengal Chief Minister Mamata Banerjee has been widely known in Bangladesh for her last-minute opposition to the Teesta water-sharing deal that could not be signed during the then Indian prime minister Manmohan Singh's visit to Dhaka in 2011.
Now, upon any Indian dignitary's visit to Dhaka, the most prominent question is when the Teesta deal will be signed.
The response is always that it depends on West Bengal, as "the Indian constitution guarantees the state's right to say on international agreements on transboundary rivers".
As India's ruling party BJP conducted a major campaign spree in West Bengal before the polls, it had indicated the signing of the deal if BJP won the polls.
Even though the BJP bagged 77 seats in the assembly polls -- a significant advancement from the three seats it won in 2016 -- it is the Trinamool Congress, led by Mamata Banerjee, which has secured 213 of the state's 294 constituencies and is forming government for the third consecutive term.
Bangladesh Foreign Minister AK Abdul Momen congratulated her for her victory.
"We believe, with your cooperation and commitment, the relations between the two countries will strengthen further and help resolve any outstanding issue," he said in a message sent to Mamata yesterday.
However, is the much-talked about Teesta issue really going to be resolved?
Former foreign secretary Touhid Hossain says the Teesta deal is not dependent on who's in power in West Bengal. It has been hanging for long and is likely to remain the same for a while longer.
"Teesta is not anymore an issue of water but of politics. Even if the BJP won the West Bengal election, it would not go for signing the treaty to share water with Bangladesh and give Mamata Banerjee an issue for politics," he told The Daily Star on Monday.
He said the argument that Mamata uses with regard to the water-sharing treaty is that "there is no water [enough to share] in the Teesta", which is just not right.
Teesta is a relatively small river and it is obvious that it will have less water during the dry season. If there was a good will, that water could be shared as the international law says the lower riparian country will have a share of water from the upper riparian country.
Amena Mohsin, professor of Dhaka University's International Relations Department, echoed the same.
"I don't think the Teesta deal would be signed even if BJP would come to power in West Bengal because it is not actually a state issue, but a central government issue," she said, adding that any international deal is signed by the central government, not the state government.
She said Mamata Banerjee has been saying that there is little water in the Teesta during dry seasons.
But that too is because the central government built a dam over the Teesta in Sikkim, blocking the water flow downstream and diverting it somewhere else, Amena said.
She further said if there was no dam, there would be more water in the Teesta and Mamata could not have given this argument then.
So, Teesta deal does not depend on the party in power in West Bengal. Any party in power there would use the Teesta issue for political gains, she thinks.
"If we are to address the river water issue, we need to go for a regional approach. We should go for basin wide management of rivers. We should also engage China here as an upper riparian country," she said.
Both the foreign policy analysts also agree that the Trinamool coming to power in West Bengal is positive because it has a secular ideology against BJP's religious and nationalistic one, with their top leader even making indecent remarks on Bangladesh.
"West Bengal is an Indian state bordering Bangladesh. It's positive that there's a secular party in West Bengal," he said.
Amena Mohsin observed that the BJP has been practising politics of deep polarisation.
"Wherever it is, we must get out of politics that creates divisions among people, politics that nourishes hatred against any particular sect of the society," she said.
Foreign Minister Momen, in his congratulatory message, said he is thankful to Mamata as she spiritedly upheld the long-cherished values of Bengal -- the principles of religious harmony and brotherhood that Bangabandhu spearheaded throughout his life.