Let me see my son before I die
Pleads the mother of a man missing for 3 years; families going through similar ordeal gather to share their anguish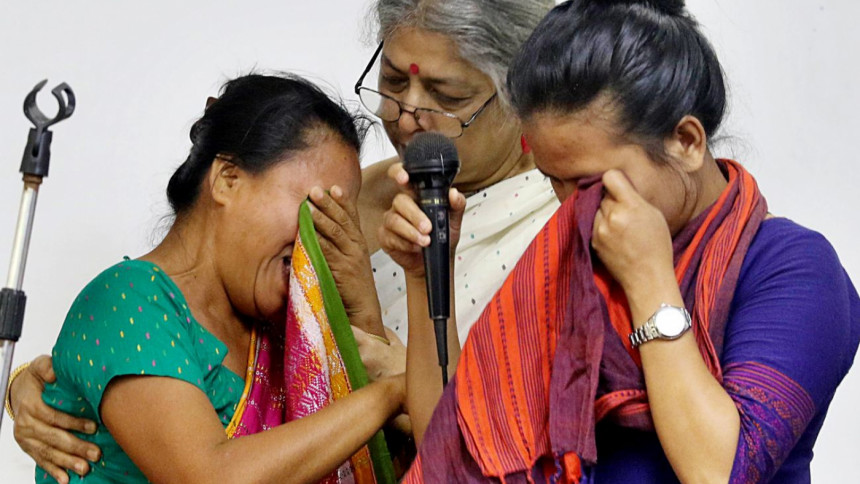 "I am growing old. I am becoming sick… I want to see my son for one last time before I die."
The voice of Saleha Begum, 65, was cracking repeatedly as she sought to know the whereabouts of her son Moazzem Hossain Topu.
A former BCL leader, Topu was allegedly picked up by plainclothes men from the capital's Bashundhara area in 2016 when he was just 28.
"Already 1,186 days have passed. Shocked, his father died in a heart attack. I met the prime minister four times and the home minister 36 times. But there has been no progress," said Saleha, clearly frustrated.
She is not the only one to have lost a loved one to this new trend of enforced disappearance.
Between January 2009, when the Awami League government took office, and 2018, at least 507 people have fallen victims to enforced disappearance, according to the International Federation for Human Rights (FIDH).
Of them, 62 people were later found dead while 286 returned alive. The whereabouts of 159 is still unknown, the Paris-based rights body said.
In the first three months of this year, at least 12 people simply vanished in telltale signs of enforced disappearance. The figure was 92 last year.
Seeking answers, family members of 25 victims gathered at the Jatiya Press Club yesterday. The Committee for the Protection of Fundamental Rights organised the event.
The families were joined by rights activists, civil society members and university teachers.
Speaking at the programme, most families alleged that their relatives were picked up by law enforcers, who say they have no hand in this.
One recent victim is United Peoples Democratic Front (UPDF) leader Michael Chakma, who went missing on his way to Dhaka from Narayanganj on April 9.
The cry of his elder sister Shuvadra Chakma made the air heavy in the hall room.
 "Fire is raging in my heart. Where will I find my brother? Where…," she said, breaking down in tears before she could finish her sentence.
A photo of Shuvadra holding a placard has already gone viral on social media.
The placard reads: "I have never come to Dhaka in my life. I just came to find my missing brother Michael Chakma. Could you please tell me how can I find him?"
Families alleged that in some cases police seemed cooperative at first. But now they are behaving mysteriously and are not helping them in any way.
Marufa Islam, sister of BNP leader Sajedul Islam Sumon, who was allegedly picked up by law enforcers in December from the capital, said they wrote to the National Human Rights Commission 20 times seeking redress.
"But the toothless commission could not give any reasonable answer," she said.
Missing BNP leader M Ilias Ali's wife Tahsina Rushdir Luna, who too met Sheikh Hasina seeking her intervention to trace her husband, also spoke at the programme.
She said the government's failure to find her husband only frustrated her.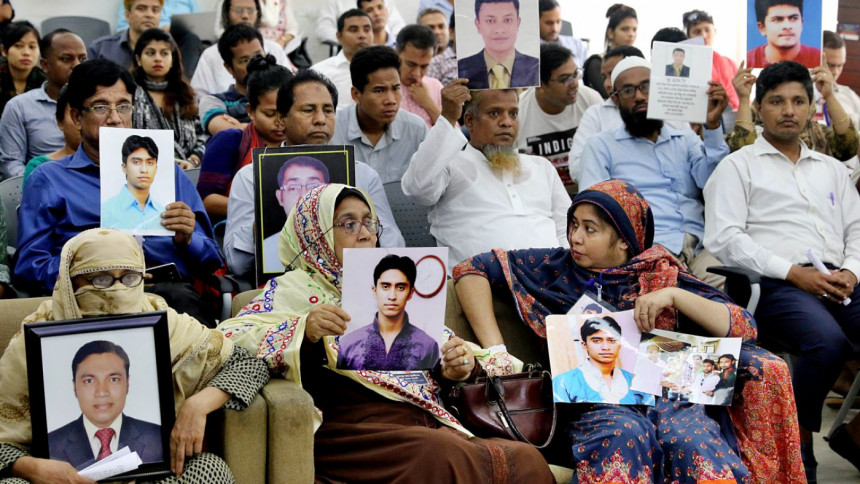 'JUSTICE WILL BE DONE'
Speaking as the chief guest, eminent jurist Dr Shahdeen Malik said those carrying out extrajudicial killings and enforced disappearances will be brought to book one day.
"In 1971, the Pakistan army picked up people this way. There is no confusion that justice will be done. It's a matter of time," Malik said, calling on the victims' families to keep raising their voices.
Prof Anu Muhammad said at least one person was being killed in so-called crossfires every day.
"The higher authorities are educated people who are lying every day. There is no accountability. The whole state is lying," he said.
It's law enforcers' job to investigate cases of disappearance and find the missing persons, he noted.
"But when they [law enforcement agencies] are dillydallying, it is assumed that they are involved in it," Prof Anu said, adding that the government was carrying the legacy of the BNP government who started "crossfire" in the country.
"The government is now taking credits for GDP growth. But can they ensure normal deaths?" he said, criticising the civil society for not raising their voices.
Barrister Sara Hossain and Prof Rahnuma Ahmed also spoke at the programme, moderated by Shireen Huq, founding member of the Committee for the Protection of Fundamental Rights.