Kishore goes to court for redress
Recounts how he was tortured in custody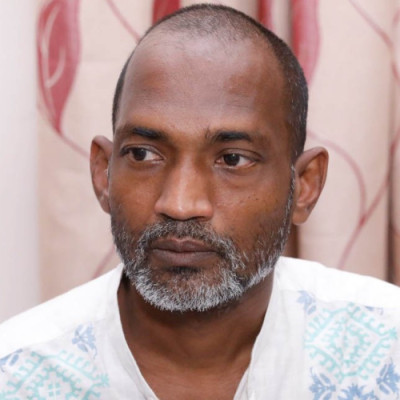 Cartoonist Ahmed Kabir Kishore yesterday filed a complaint with a Dhaka court over being tortured in custody.
He lodged the complaint with Metropolitan Sessions Judge's Court of Judge KM Emrul Kayesh against unknown persons under The Torture and Custodial Death (Prevention) Act-2013, seeking redress.
Kishore, who was prosecuted under the controversial Digital Security Act (DSA), languished in jail for around 10 months. He got out on bail recently. Immediately after his release, he revealed to the media how he was brutally tortured before he was shown arrested in the case.
Before Judge Kayesh, he recounted all the horror yesterday.
Kayesh, who had delivered a landmark judgment in a case filed under the Torture and Custodial Death (Prevention) Act-2013 against three policemen over the custodial death of a person in the capital's Pallabi, recorded Kishore's statement for about half an hour.
After recording the statement, the judge said he would pass an order on the matter within a day or two.
In the statement, Kishore said contrary to what was said in the First Information Report (FIR) filed by Rab-3 in the DSA case, he was picked up on May 2 last year by 16-17 people in plainclothes.
The FIR Rab-3 filed records Kishore being arrested on May 5 at 2:30am.
Kishore stated that he was kept in an unknown place between May 2 and 4 last year and tortured.
On May 2 around 5:45pm, Kishore woke up to a loud knocking on the door of his Kakrail home, according to his statement, a copy of which was obtained by The Daily Star.
"When I opened the door, an unknown person yelled at me saying, 'Why are you not opening the door? Change out of the lungi and wear a clean shirt."
"They searched my room but could not show me any arrest warrant. They took all my digital devices, including mobile phone, computer CPU and portable hard disc illegally," reads Kishore's statement.
He also mentioned that he was handcuffed and a hood was put on his head so that he could not see while the unidentified men forcibly took him to an unknown and secluded place.
At that place, Kishore was shown on a projector cartoons he had drawn and asked what they meant.
"At one stage of the interrogation, one of the men got up and slapped me on my ear so hard that I lost my consciousness for a while," the statement quotes Kishore as saying, adding that soon after he felt blood coming out of his ear.
They also repeatedly tortured Kishore with steel-plated sticks, according to the statement. He said he lost consciousness.
Kishore said he was tortured like this several times till May 4 after which he found himself in a Rab office, where he saw writer Mushtaq Ahmed.
"Mushtaq told me he had been electrocuted while being tortured," the cartoonist said.
Both the men were handed to Ramna Police Station on May 6, he added.
"I am still recovering from the torture, my ear is still seeping, I cannot walk ... ."
In the statement, he said he was suffering from complications from the torture.
Meanwhile, Kishore's lawyer Jyotirmoy Barua said he filed an application requesting that all items seized from Mushtaq Ahmed be returned to his family. The court said it would issue an order after 10 days, during which time they would verify the ownership of the objects.
Mushtaq died recently in prison custody after languishing in jail for over nine months in the same DSA case. Like Kishore, he was refused bail six times.
Jyotirmoy said Minhaz Mannan, another accused in the case, was granted permanent bail.
"The investigation officer wanted to question another accused Didarul Islam, and his lawyer requested the court to hold a hearing, but the court rejected his appeal. At that point, I presented a statement to the court on behalf of Didarul and the court then rejected the investigation officer's request to interrogate Didarul," he added.