Khaleda Zia freed, gets back home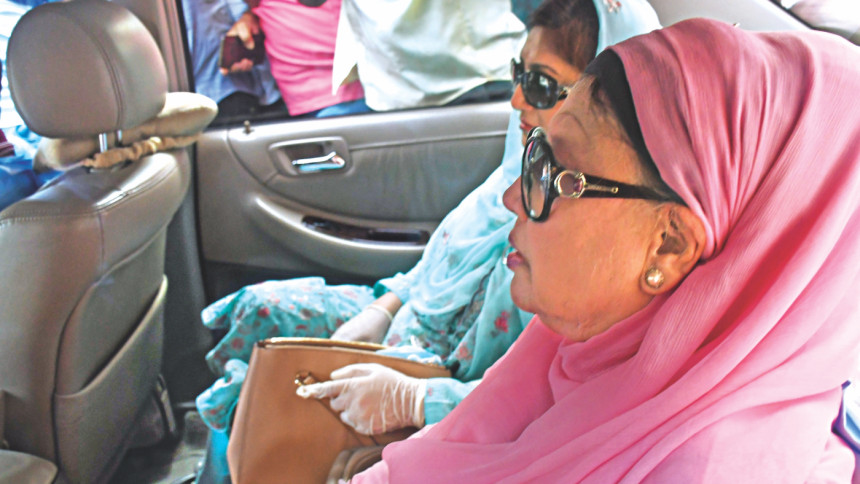 BNP Chairperson Khaleda Zia was released from prison yesterday after 776 days.
The government through an executive order released her for six months on conditions that she will stay at her home in the capital and not leave the country.
The 74-year-old former prime minister is out jail at a time of global crisis over the Covid-19 pandemic.
Wearing her signature pink saree, surgical mask, and white gloves, Khaleda came out of the hospital cabin in a wheelchair around 4:15pm.
Hundreds of BNP leaders and activists who had been waiting there since the morning chanted slogans although the hospital authorities, law enforcers and party leaders repeatedly asked them not to form crowds.
She went to her home Firoza in Gulshan in her brother's car. There were four other vehicles used by her bodyguards and family members.
Many BNP leaders and activists wearing masks and gloves followed the vehicles from Bangabandhu Sheikh Mujib Medical University to Gulshan.
Law Minister Anisul Huq told journalists on Tuesday that Khaleda would be released from jail on humanitarian grounds for six months.
The government made the decision as per section 401 (1) of the Criminal Code of Procedure (CrPC), the minister mentioned.
The BNP chief landed in jail on February 8, 2018, after a special court sentenced her to five years in prison in the Zia Orphanage Trust corruption case. On October 30, 2018, the High Court raised her punishment to 10 years.
Party leaders threatened to take to the streets and fight legally to release her. After they failed to get her released, the family members repeatedly urged the government to release her on bail.
They alleged that her health had declined due to improper treatment at the BSMMU where she had been admitted since April 1 last year. They wrote to the government twice and also met Prime Minister Sheikh Hasina.
While coming out of the hospital, she neither talked to reporters nor waved at the activists.
In the Zia Charitable Trust corruption case on October 29, 2018, a court jailed Khaleda and three others for seven years. The HC rejected her bail petition three times and the Supreme Court once.
Yesterday afternoon, BNP Secretary General Mirza Fakhrul Islam Alamgir, several other senior leaders and Khaleda'a family members reached the hospital about an hour before she was released.
Fakhrul repeatedly urged the crowd to disperse, but no one listened to him.