Khaleda taken to BSMMU
Being treated for arthritis, high blood sugar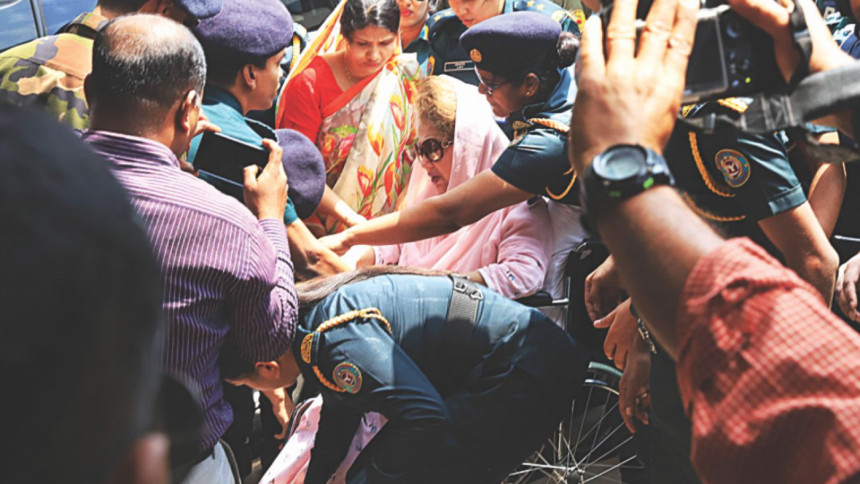 Imprisoned BNP Chairperson Khaleda Zia was shifted to Bangabandhu Sheikh Mujib Medical University yesterday with high blood sugar level and pain in joints due to arthritis, the medical conditions she has been suffering from over the years.
"…She walks with support. She cannot walk well without help," BSMMU Director Brig Gen AK Mahbubul Haque told reporters after a five-member medical board examined her. 
"She has pain in joints of her hands and feet. She is weak and does not have a sound sleep. Her blood sugar level was measured 14 [mmol/L] after having meal," he said.
The director ruled out any possibility of sending Khaleda abroad for treatment now, saying "she is not facing any such complexity which is not possible to be treated at BSMMU."
According to the jail authorities, Khaleda was so sick that she could not be produced before the court of Judge Sheikh Hafizur Rahman of the Special Judge Court-9 yesterday. The court was set up inside the Old Dhaka Jail for hearing on charge framing in connection with the Niko graft case.
The court fixed April 10 for the next hearing on charge framing in the case.
Khaleda, escorted by 15 vehicles full of law enforcers, prison and fire officials, was taken out of the prison at 12:20pm. She was taken to Cabin 621 after the convoy reached at the BSMMU at 12:38pm. 
Security was beefed up around the hospital centreing the shifting.
Mahbubul said they had reformed the previous medical board as its former chief Dr Prof Abdul Jalil Chowdhury took retirement a few days back.
"She [Khaleda] had gone through different tests a few days ago. No test is required right now," he said, adding that a doctor would check her health every day.
Mahbubul said Khaleda expressed satisfaction over the medical board that includes two of her personal physicians, including Abdullah AL Mamun.
Replying to a query about BNP's demand of shifting her to a specialised hospital, the director said, "The BSMMU is the super specialized hospital in Bangladesh."
Last year, a debate raged between the government and the BNP about whether Khaleda would be treated at BSMMU or her preferred United Hospital.
Though the BNP chief initially refused to take treatment at BSMMU, she finally agreed and was shifted there on October 6 that year.
The issue of Khaleda's shifting surfaced once again on March 5 when a six-member BNP delegation, led by its Secretary General Mirza Fakhrul Islam Alamgir, met Home Minister Asaduzzaman Khan and discussed her illness and the necessity of proper treatment.  Khaleda refused to be treated at BSMMU when the authorities made all arrangement on March 10.
Khaleda has been in jail since February 8 last year when a special court awarded her five years in prison in the Zia Orphanage Trust graft case.
The High Court later extended her jail term to 10 years in the case. She was also convicted in the Zia Charitable Trust graft case and handed a seven-year jail term.