Khaleda improving
Family hopes for sending her abroad once she is more stable and legal issues are settled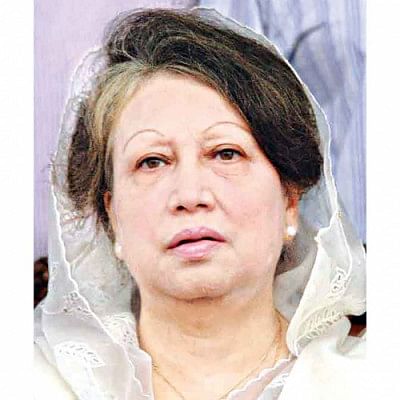 BNP Chairperson Khaleda Zia's doctors said she can be taken abroad once she becomes consistently stable.
With  oxygen support, her oxygen saturation level remains 100 percent and she  needs one litre of oxygen an hour, said a doctor involved with  Khaleda's treatment.
The doctor, who is in a 10-member medical  board, said the former prime minister's oxygen level fluctuates without  oxygen support, but the dependency has decreased.
"We advised the family members to take madam [Khaleda] abroad once she gains more stability," he told The Daily Star yesterday.
Her blood pressure was 120/80 at 5:00 pm yesterday when her respiratory rate was 15-20 per minute.
Doctors said the improvement should continue in order for her to be able to fly.
Family  sources said Khaleda's aide Fatema, her brother Shamim Iskandar and his  wife will accompany her if the government clears the hurdles to her  flight abroad.
She will be taken either to London, the UAE, Singapore or Thailand.
"Once  we get the passport, we will apply for a UK visa. We may also seek  visas for Singapore and Thailand," said a top BNP leader.
BNP  sources said Khaleda's family members received "a positive signal" from  the UK government regarding her treatment in a London hospital.
BNP  leaders said getting the government approval remained the main  challenge as she was released from jail through an executive order of  the government on the condition that she does not leave the country.
That is why Khaleda's brother Shamim Iskandar wrote to the home ministry seeking approval on Wednesday night.
The BNP chairperson can be flown abroad if the law ministry amends the order, BNP sources added.
Khaleda did a medical checkup in Singapore before her imprisonment, and if the government of the city-state allows, she might be flown there.
If they fail to take her to Singapore, her family members will consider taking her to Thailand.
Khaleda's  younger son Arafat Rahman Koko's in-laws live in Thailand, and when  Koko was released from jail after the army-backed caretaker government  assumed office in 2007, Koko went to Thailand and stayed there for five  years.
Khaleda's family members are also considering taking her to  the UAE and get her treated there for a few days before leaving for  London. That travel time can be divided that way.
"The family  prefers London because her son Tarique Rahman has been living there  since September 2008. But everything depends on the government's  approval and her physical condition," said a party source.
Khaleda  was admitted to Evercare Hospital on April 27, three days after she  tested positive for coronavirus for a second time. She first tested  positive on April 11. She also has arthritis, diabetes and eye problems.
She was taken to the hospital's Coronary Care Unit with breathing difficulties Monday afternoon.
The  government released Khaleda from jail on March 25 last year, suspending  her sentence as per section 401 (1) of the Criminal Code of Procedure.  The suspension was later extended twice.
The BNP chairperson  landed in jail on February 8, 2018, after a special court sentenced her  to five years in prison in the Zia Orphanage Trust corruption case. On  October 30, 2018, the High Court raised her punishment to 10 years.