Keraniganj Plastic Factory Fire: At least 1 killed, 33 others hurt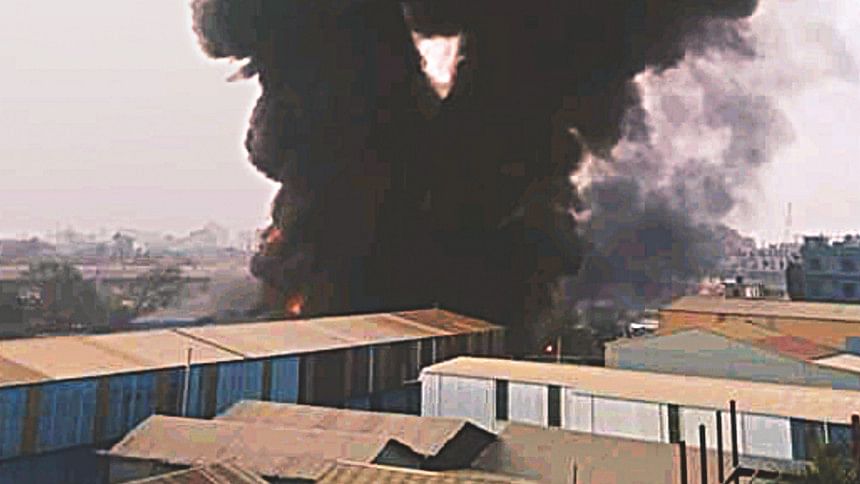 At least one worker was killed and 33 others were severely burnt in a fire at a plastic factory in Hijoltola of Keraniganj on the outskirts of the capital yesterday afternoon.
The man killed in the fire could not be identified as the body was charred beyond recognition.
"We admitted 33 injured patients. Ten of them have 100 percent burns. The rest suffered burns in at least 20 percent of their bodies," said Brig Gen AKM Nasir Uddin, director of Dhaka Medical College Hospital.
One of the injured workers Zakir Hossain, 22, said the fire broke out at a room where eight cylinders of inflammable gas were kept. He added that there was a leak in the lines.
Around 300 people worked in two shifts at Prime Patent Plastic Limited. Around 150 people, including many women, were working when the fire started, said Zakir, who has been working there for the last four years for a monthly salary of Tk 12,000. 
Hospital authorities said the injured were all men. They were aged between 19 and 55.
Zakir suffered burn injuries in his arms and legs.
"We were trying to douse the fire using extinguishers and hosepipes inside the factory when we heard an explosion and there were flames all around us. Most of the workers got injured instantly," he told The Daily Star at the DMCH.
Another worker Akash, who took his injured brother to DMCH, said, "After the explosion, me and my brother Mehedi Hasan ran for safety.  But a fireball fell on him."
He added that Mehedi, 20, who is also a student, was supposed to sit for admission tests today to one of the seven colleges affiliated with Dhaka University.
With burn injuries on most of his body, Mehedi was repeatedly asking his sister whether he would be able to sit for the exams.
State Minister for Power and Energy Nasrul Hamid visited the DMCH and told reporters that the factory had no approval from the authorities.
The DMCH director said additional doctors, nurses, and medical supplies have been made available to tackle the situation.
Anxious family members, many of them in tears, thronged the burn unit of DMCH yesterday evening.
Police said the fire broke out around 4:15pm and engulfed the large tin shack quickly.
The factory used to manufacture single-use plastic glasses and plates.
After around one and a half hours of relentless effort, 10 fire engines from Fire Service Headquarters, Postagola and Keraniganj doused the fire around 6:10pm, officials said.
Shah Jaman, officer-in-charge of South Keraniganj Police Station, said police found the charred body around 5:45pm.
After the fire broke out, several hundred locals started pouring water on the burning factory with buckets. They also helped the injured workers who came out of the factory.
They first took the injured workers to local hospitals for primary treatment. The ambulances with the injured started arriving at DMCH after sunset.
Hijoltola resident Imtiaz Ali told reporters that he and several others rescued 10 to 12 injured workers from the factory.