Jute workers, cops clash; 25 hurt
At least 9 workers' leaders arrested in Khulna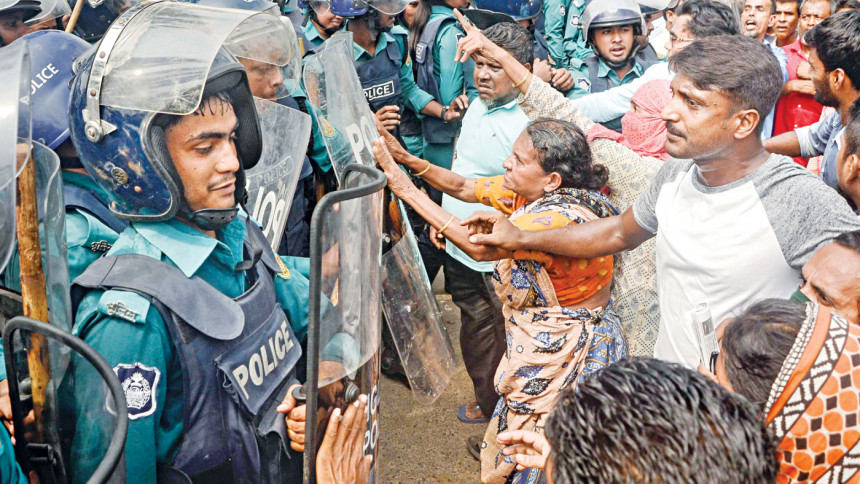 At least 25 people, including three police personnel, were injured in a clash between police and jute mill workers on Khulna-Jashore highway yesterday morning.
The clash broke out when nearly 1,000 laid off workers of the jute industrial belt in Khulna and Jashore blockaded the highway around 11:00am to press home their 14-point demand, which includes the reopening of 25 jute mills.
Police arrested at least nine workers.
Police first tried to negotiate with workers when they, under the banner of Sammilito Nagorik Parishad, blocked the road. As the agitated workers refused to leave the road, police charged with batons and fired tear gas shells, leaving 22 workers injured, said Kudrat-e-Khuda, convener of the parishad.
He told The Daily Star, shortly before being arrested himself, that police attacked the jute workers without any provocation.
They beat the workers mercilessly and used tear gas to disperse them, he said.
"Police picked up five workers from their homes," he added.
There were at least 12 women among those injured. Among them, Nazma, Shumi Roy, Shafali Bala, Suchitra Biswas were seriously hurt, he also said, adding that the injured were given primary treatment.
Several hundred workers and members of Sammilito Nagorik Parishad blocked the Khulna-Jashore highway in the Atra area, just opposite Eastern Jute Mills in Khulna around 11:00am. Around 11:20 policemen tried to chase them away, which resulted in the clash.
Workers threw bricks and branches at police from inside the gates of Eastern Jute Mills, where they had gone after the clash with police.
Police then entered the premises and arrested the workers.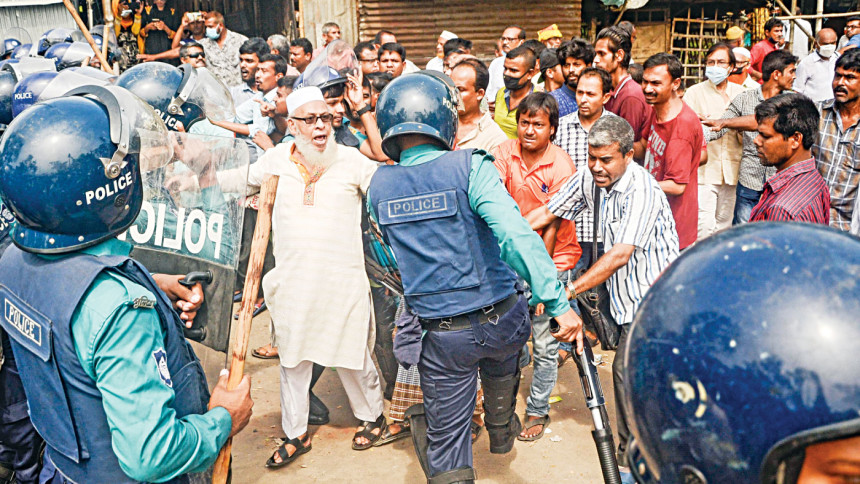 While police said they arrested nine people, Munir Chowdhury Sohel, convener of Gano Sanghaty Andolon said they arrested 14 leaders and activists. They include Oliar Rahman, Jute Mills Protection Movement; Al Amin Sheikh, convener of Chhatra Federation, Khulna district unit; SA Abdur Rashid, Communist Party of Bangladesh, leader of Khulna unit, Janardan Dutta Nantu, Bangladesh Samajtantrik Dal; and Kudrat-e-Khuda.
Police arrested inside the residential quarter of Eastern Jute Mills, he said.
Deputy Commissioner (north) Mollah Zahangir Hossain of Khulna Metropolitan Police said the three injured policemen were given primary treatment.
The government yesterday started paying golden handshake benefits to workers of state-owned jute mills in Khulna region.
At 12:00pm, State Minister for Labour and Employment Begum Mannujan Sufian inaugurated the programme at the Officer's Auditorium of Platinum Jubilee Jute Mills -- more than 10 km away from Eastern Jute Mills -- in Khalishpur area of Khulna city. Sufian is a lawmaker from Khulna-3 constituency, which has five government jute mills.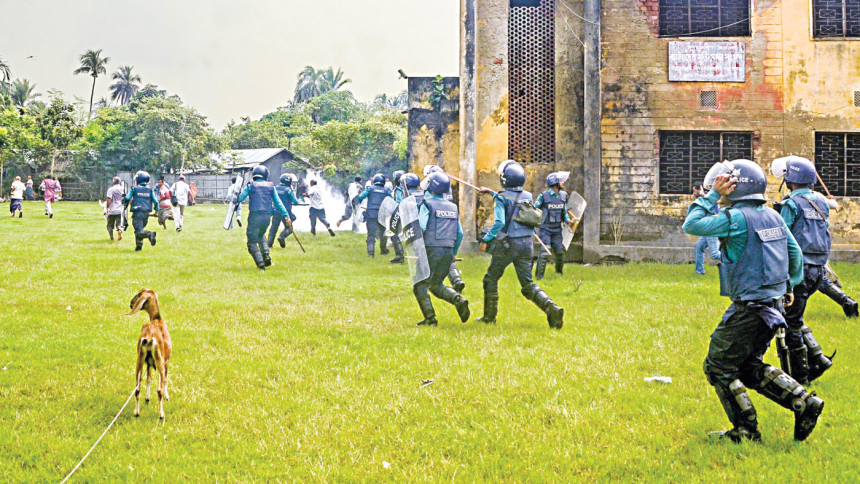 Yesterday, she handed over cheques and savings certificates to 45 retired and terminated workers of Platinum Jubilee Jute Mills Ltd. In total, 3,836 retired and terminated employees of Platinum will be given over Tk 216.28 crore and 3,674 workers will be given Tk 2.15 crore worth of three months' savings.
Talukder Abdul Khaleque, Mayor of Khulna City Corporation was the special guest at the programme. Khulna Additional Divisional Commissioner (revenue) Subash Chandra Saha, Khulna Range DIG of police Dr Kh Mohid Uddin, Khulna Metropolitan Police Commissioner Md Masudur Rahman Bhuiyan, Rab-6 Director Lt Col Raushanul Firoz, Superintendent of Police in Khulna SM Shafiullah were present among others at the programme.
Khulna Deputy Commissioner Mohammad Helal Hossain presided over the function.