Just vanished!
Numbers not adding up at Cox's Bazar Rohingya camps, local organisations say refugees leaving camps; govt officials deny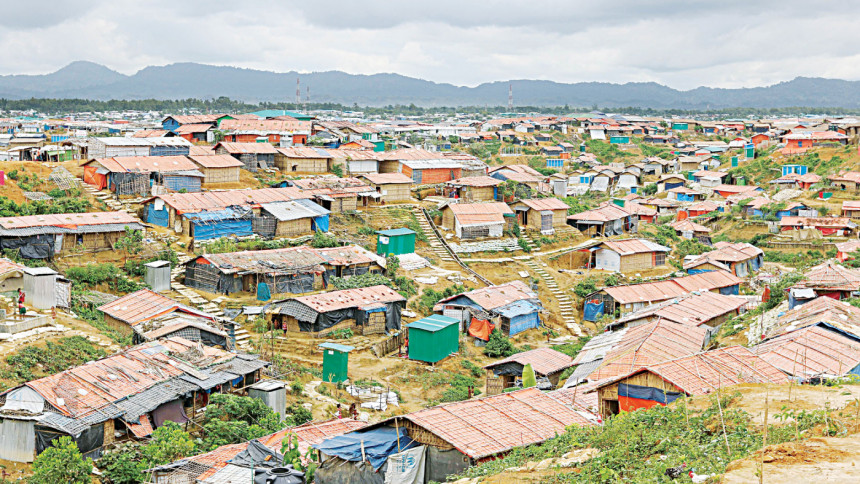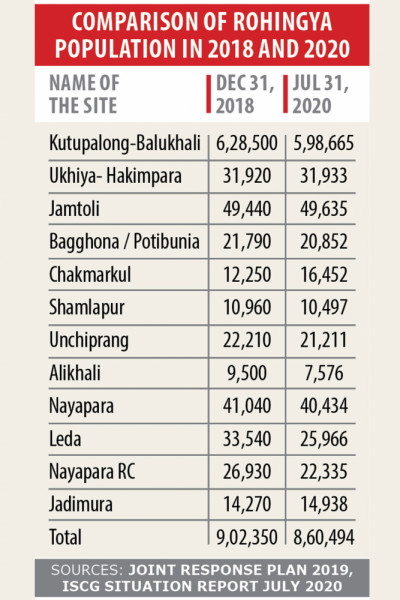 So where have they gone?
Despite 76,000 children being born in the camps in the last three years, the number of Rohingya refugees in all camps of Ukhiya and Teknaf has actually decreased to 8.60 lakh as of July this year.
It was about 9.57 lakh in December 2018, as per reports of the Inter Sector Coordination Group (ISCG).
Civil society members, local public representatives, and local non-government organisations working with the refugees say some Rohingyas have left the camps for good or some leave for certain periods of time.
But representatives of UN and international organisations remain tight-lipped about this, while government officials deny the possibility that Rohingyas are leaving the camps.
Mohammad Mahbub Alam Talukder, refugee relief and repatriation commissioner (RRRC), told The Daily Star recently that there is no chance for Rohingyas to escape from the camps.
"The camp environment is not like that and the refugees have access to proper food and treatment facilities," he said.
Even if they somehow manage to leave the camp without any knowledge of law enforcement officials, they come back after a few days. If any of the Rohingyas go out of the camp without permission, members of the forces deployed to maintain law and order detain them and bring them back, he said.
"I do not have any such information that listed Rohingyas have disappeared from the camps."
THE NUMBERS
Inter Sector Coordination Group (ISCG), the platform that coordinates among national and international NGOs and UN agencies working in the camps in Cox's Bazar, brings out monthly reports on its work.
Its situation report for July 2020 shows the total number of Rohingya refugees across all camps was 8,60,494.
One of their initial reports published on September 26, 2017 following the atrocities in Rakhine State of Myanmar and influx of refugees in late August 2017, noted 4.80 lakh Rohingyas had arrived in one month and that there were 2.12 lakh already living in the Cox's Bazar area before this latest inflow.
According to the ISCG's funding report for the following year titled "2019 Joint Response Plan for Rohingya Humanitarian Crisis", published in December 2018, 7.45 lakh Rohingyas had arrived in Cox's Bazar since August 25, 2017.
So, the total number of Rohingyas in the country can be estimated to have risen to around 9.57 lakh by the end of 2018.
In the 2019 Joint Response Plan and in a multi-sector needs assessment published in April 2019, the total number of Rohingyas was given as 9.09 lakh.
"With the newborn children in the camps, the number of refugees should be above one million," said an official of a prominent NGO working with the refugees.
On September 28, 2018 at the 73rd United Nations General Assembly, Prime Minister Sheikh Hasina mentioned there were 1.1 million Rohingya refugees in Bangladesh.
ISCG reports show the biggest Rohingya camp, located in Kutupalong ward under Rajapalong union of Ukhiya upazila, currently hosts 5.98 lakh refugees.
However, in December 2018, 6.28 lakh Rohingyas lived there.
In Leda camp, there were 33,540 refugees in December 2018; this figure decreased to 25,966 in July this year.
Nearby, Nayapara registered camp also saw a significant decline, from 26,930 to 22,335.
The number of refugees also declined in Alikhali, Unchiprang, Bagghona and Potibunia, and Shamlapur camps.
Even if some of this decline in numbers is due to resettlement of refugees across different camps, this still leaves a difference of over 40,000 refugees -- not taking into account the 76,000 births in the camps in the last three years, as per data from the NGO Save the Children until May 2020.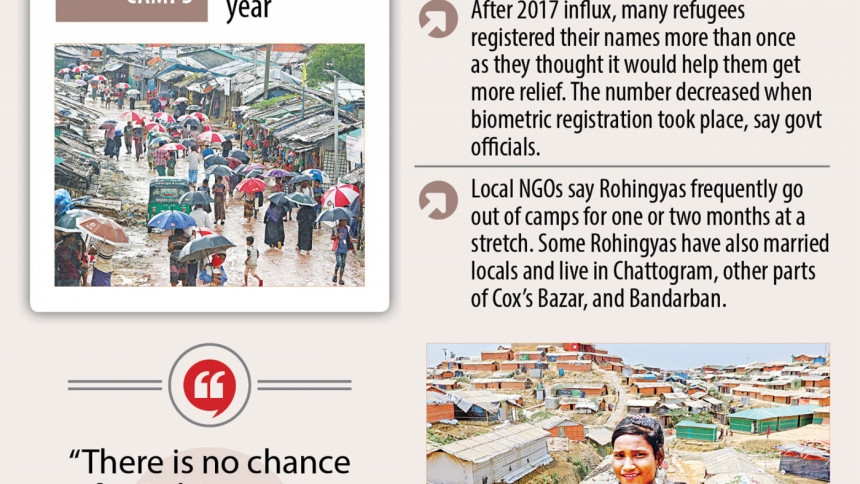 'CAMPS NOT PROTECTED'
Contacted, an official working with ISCG, choosing to remain anonymous, said during the first census which took place following the 2017 Rohingya influx, many of the refugees registered their names more than once as they thought it would help them get more relief.
But later, when biometric registration took place, the numbers decreased.
However, he said, many Rohingyas have left the camp. Those who are well off, rented houses in Cox's Bazar and live there and those who were able to, went abroad.
But these would only add up to a few thousand, he added.
Local representatives and NGO officials working for the refugees say otherwise.
They said Rohingyas frequently go out of the camp for one or two months at a stretch. Some Rohingyas have also married locals and live in Chattogram, other parts of Cox's Bazar, and Bandarban.
A good number of them work outside the camps as labourers in fishing trawlers and at construction sites, they said.
Abu Morshed Chowdhury Khoka, co-chairman of Cox's Bazar Civil Society and NGO Platform (CCNF), said it is an open secret that Rohingyas go out of the camps for work.
Rezaul Karim Chowdhury, executive director of COAST Trust, which has been working with the Rohingyas since the 2017 influx, said Rohingyas are desperate to leave the camps and integrate into Bangladeshi society as the repatriation process continues to be delayed.
While there are some check posts on the Cox's Bazar-Teknaf road, he pointed out that there is no vigilance in the hills around the camps.
"There is nobody to stop them if they want to leave the camps crossing over those hills."
The administration has to take care of this issue before it is too late, he added.
Zahangir Kabir Chowdhury, chairman of Rajapalong union, said the Rohingya refugee camps are not protected as there is no boundary wall around it.
So, it is impossible for a handful of police forces to keep an eye on tens of thousands of Rohingyas, he said.
While some return after spending a few days outside the camps, some do not, he added.
For example, local sources told The Daily Star's local correspondent that around 3,000 Rohingya families have settled in Bandarban.
"Around 500 families are already settled in Alikadom upazila for the last seven to eight years while there is even a village named Burmaiya [Burmese] Para in Alikadom," said Kafil Uddin, vice chairman of the upazila.
"Before 2007-08, there were no Rohingya families but now there are more than 200 Rohingya families living in Sualok union," said U Kaynue Marma, chairman of the union which is under Bandarban Sadar upazila.
"Among them, around 50 Rohingya families are registered in the voter list," the chairman added.
Palongkhali is another union near the Bangladesh-Myanmar border, where a large number of Rohingyas live.
Chairman of Palongkhali Union M Gafur Uddin Chowdhury, said the Rohingyas move freely from one place to another and that many have had Bangladeshi passports made and gone abroad.
On September 3, a 25-year-old Rohingya man was detained from Chattogram Panchlaish Passport Office while trying to get a passport. He presented a verified Bangladeshi NID.
Last year, Chattogram police and passport officials said several Rohingya refugees were making Bangladeshi passports using forged NID cards with the help of some locals and Rohingya brokers.
A section of unscrupulous EC staffers was involved in syndicates providing forged NID cards to Rohingyas in exchange for money, they added.
CCNF's Abu Morshed said women and children in the camp also often try to go to Malaysia by sea with the help of traffickers.
In February this year, at least 14 Rohingyas, reportedly all women and children, drowned when the boat carrying them capsized near Saint Martin's island.
In May, boats carrying Rohingyas turned around from Malaysia returned to Bangladesh, in one of several such ships stranded at sea for weeks before being brought in by the navy earlier this year.