Janata going BASIC's way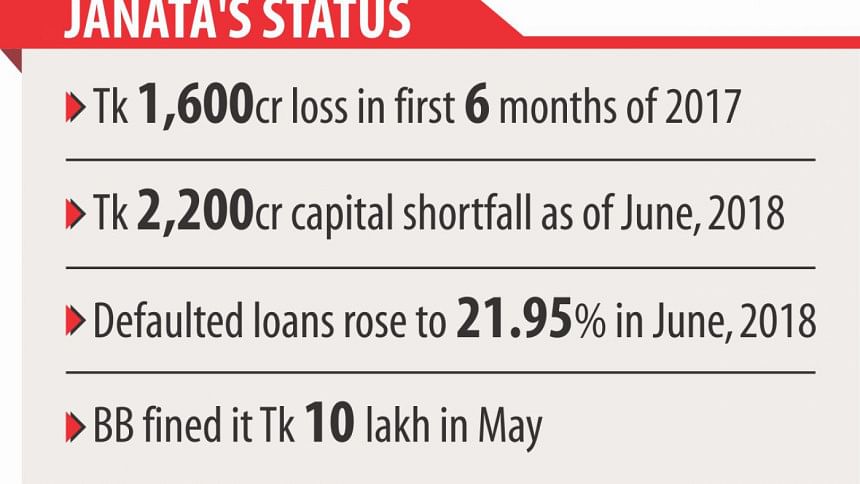 Janata was almost a sound bank, the best among its state-owned peers until last year.
It saw a dramatic fall in just six months since January this year.
All of a sudden, Janata seems to have been giving loans to a number of dubious business entities, and most of the loans have gone bad. It has got embroiled in a number of loan scams that saw at least Tk 8,300 crore pumped out of the bank, leaving it on the verge of insolvency.
Now, Janata appears to be going the BASIC Bank's way, which faced a capital shortfall of Tk 3,106 crore in June this year. And BASIC's defaulted loans stood at 57 percent.
As more and more of Janata's loans went bad, it faced a net shortfall in capital to the tune of Tk 2,200 crore in June for the first time in six years since 2012, and the gap is increasing. It is frequently and habitually breaching banking laws to favour dubious borrowers.
The bank has 12 large borrowers, and eight of them have defaulted on a combined loan of Tk 11,300 crore. Of the four others, three have had their loans restructured and are not paying their regular instalments timely.
Large borrowers are those who receive more than 10 percent of a bank's capital.
By any banking standards, this is just a perfect recipe for financial disaster and a reflection on the inefficiency of the bank's credit committee, management and the board.
A look under its hood will reveal Janata's other vital statistics too have nosedived in keeping with the way it is being run today.
A bank's capital adequacy ratio is a vital parameter to judge its health, which is measured by comparing its capital with its risk-weighted assets.
One and a half years ago, Janata's capital adequacy ratio was 10.69 percent, close to the mandatory ratio of 11.81 percent set by Bangladesh Bank. But in June this year, Janata's ratio plummeted to 5.53 percent.
When a bank's capital adequacy ratio falls below the BB-set benchmark, a red flag is raised and various restrictions, including a limit on giving fresh loans, are imposed on the bank.
Janata had only 5 percent of its loans marked as defaulted in December 2010, the lowest among all the state-owned banks. But with more and more of its large loans going bad, its defaulted loans rose to 21.95 percent in June this year. This is an astounding depletion of a bank's asset quality.
Janata began a new journey at the end of 2012 when fresh capital was injected into it after the bank had gone in the red by Tk 1,628 crore and faced a capital shortfall of Tk 2,011 crore.
In a span of one year, it posted a profit of Tk 955 crore at the end of December, 2013 -- a trend that continued for the next six years. It clocked up Tk 268 crore in profit the last time in 2017. All these years, Janata maintained the required capital.
But Janata's downfall began in January this year. It incurred a huge loss of Tk 1,600 crore in the first six months of this year alone.
Former BB governor Salehuddin Ahmed blames a lack of good governance and inaction against defaulters for Janata's sorry state now, once again after 2012.
"Instead of punishing the defaulters, the government is incentivising them."
Salehuddin feels the central bank, where he was at the helm once, is helpless, but it could still go after the defaulters and those responsible for irregularities.
"If large banks become weak one after another, it will affect the country's whole economy," he added.
Khondkar Ibrahim Khaled, who once served as deputy governor at the BB, raises a new concern -- weakness of the regulatory body.
Irregularities have been going on undetected at Janata for the last eight or so years, and some of the cases are being revealed now, he pointed out.
"It is a concern for the banking sector that the Bangladesh Bank took so long to identify the irregularities ...," he said, suggesting a special audit on Janata to find out undetected incidents of corruption.
But for now, much of Janata's ailments come from two large borrowers -- AnonTex and Crescent, both of which defaulted on loans in June this year. They now hold 73 percent (Tk 8,300 crore) of the total large loans from Janata.
The way these two groups were given loans against non-repatriated export bills is unprecedented. The Daily Star had earlier reported on their innovative scams.
Janata purchased unverified export bills of Crescent amounting to Tk 765 crore. The companies to which Crescent exported are shady and non-existent at their addresses. Janata did not comply with any of the rules in buying such export bills the proceeds of which were not repatriated.
The BB found complicity of Janata's top management, including its managing director, in the scam.
In case of AnonTex, loans were given violating the credit rules and norms. Though the company failed to repay its previous loans, Janata forked out more and more money for it.
Anomalies regarding other big borrowers too are rife.
Janata was fined Tk 10 lakh by the BB in May this year for violation of foreign exchange transaction rules. Its offence was to provide LC (Letter of Credit) facilities continuously to Beximco Group though the company didn't submit bills of entry -- the document to prove that the goods actually entered the country.
The central bank cancelled the dealer licence of Janata's Imamganj branch in June this year for massive irregularities in foreign exchange transactions.
The BB detected serious irregularities in foreign exchange transactions at Janata's Kemal Ataturk Avenue branch last year. The branch purchased fake export bills involving Tk 54 crore from four companies.
All this point to one thing -- Janata is in great danger of financial mismanagement and corruption.
BASIC Bank's downfall started with a scam of Tk 4,500 crore, while Sonali Bank came under the spotlight with the Hallmark scam of Tk 3,500 crore that put the bank in capital shock. Sonali is still suffering the consequences of the scam, as it faced a capital shortage of Tk 6,600 crore in June.
And now Janata is following suit.