It's a curb on free speech
Academics, journos decry Digital Security Act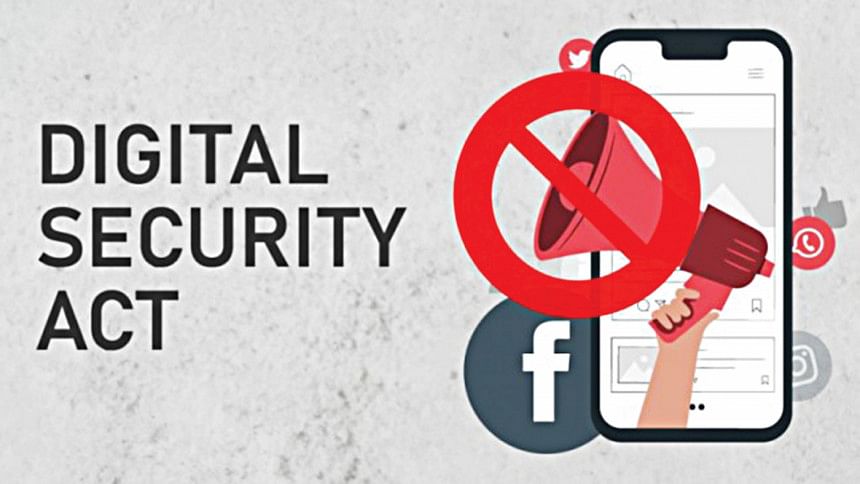 In the wake of the arrests of two university teachers and two students, prominent voices against the Digital Security Act (DSA) decried the law as a curb on free speech.
The online event, titled "Freedom of Expression, Citizen Laws and Digital Security Act – 2018" was organised by University Teachers' Network, a platform for private and public university teachers, and livestreamed on social media platforms.
The teachers and students were arrested for updating Facebook statuses criticising the health sector, following the death of former health minister Mohammed Nasim.
Faruq Faisel, regional director of Article 19 informed that 9 cases have been filed in total under DSA following the decease of the health minister.
"Something has been said about someone, but instead of that person filing a case, this law allows for another to lodge the case. This results in multiple people lodging several cases against a person for one act. How is this possible?" said Supreme Court lawyer Jyotirmoy Barua.
"A law's hidden agenda can be seen from what sections of the law are being used the most to prosecute people. The DSA has many sections pertaining to hacking, identity fraud, etc. but we never see any cases being lodged under those sections. Most of the cases filed under this law pertain to the sections that hamper free speech," he added.
Prof Fahmidul Haq, associate professor, Department of Mass Communication and Journalism, University of Dhaka, said, "When a case was filed against me there was an outrage. Nowadays there are so many cases against freedom of expression, this has been normalised."
"One can perhaps say that the Facebook statuses may not have been tasteful, but how can they be arrested," said Mahfuz Anam, editor and publisher of The Daily Star. "We are unable to even express the minimum dissent."
"This law criminalises hurting the spirit of the Liberation War. But the person in charge of deciding whether the spirit of the Liberation War has been hurt in any way is a police sub-inspector. How is an individual sub-inspector's judgment enough to decide whether a constitutional violation has been made or not?" said advocate Hasnat Quaiyum, also a member of the political thinktank Rashtrochinta, whose member Didarul Islam Bhuiyan is in jail after being arrested under DSA last month.
"Of the 20 provisions being presented here, 14 are non-bailable. Which criminal should not deserve bail? Die-hard criminals who will harm society if kept outside the jail. The minimum punishment is one year's imprisonment, while the maximum is lifetime [imprisonment]. According to the road accident law, drivers killing people have a maximum punishment of five years, whereas a journalist can be put inside for life sentence," he said.
Arrests don't require a warrant either, he added. "If the police think a crime is happening or about to happen, they can arrest without a warrant."
Teachers and students who were prosecuted and arrested under the law spoke about their experiences.
Maidul Islam, assistant professor, University of Chittagong spoke about how, on the days leading to his arrest, he was threatened on all platforms by his own students aligned with the ruling party.
"How is it that they can't be prosecuted under this law for threatening me, but I could be arrested for expressing my thoughts?" he observed.